After we cooked ourselves a Christmas breakfast feast in our hostel, we finally got around to composing our thoughts about the second half of our Indonesia trip. We had so much more to say about our month there! After all, Indonesia is Mica's favorite country so far (and here is why). This post will cover our time on the islands of Lombok and Bali. For a description of our time on Sumatra and Java, click here.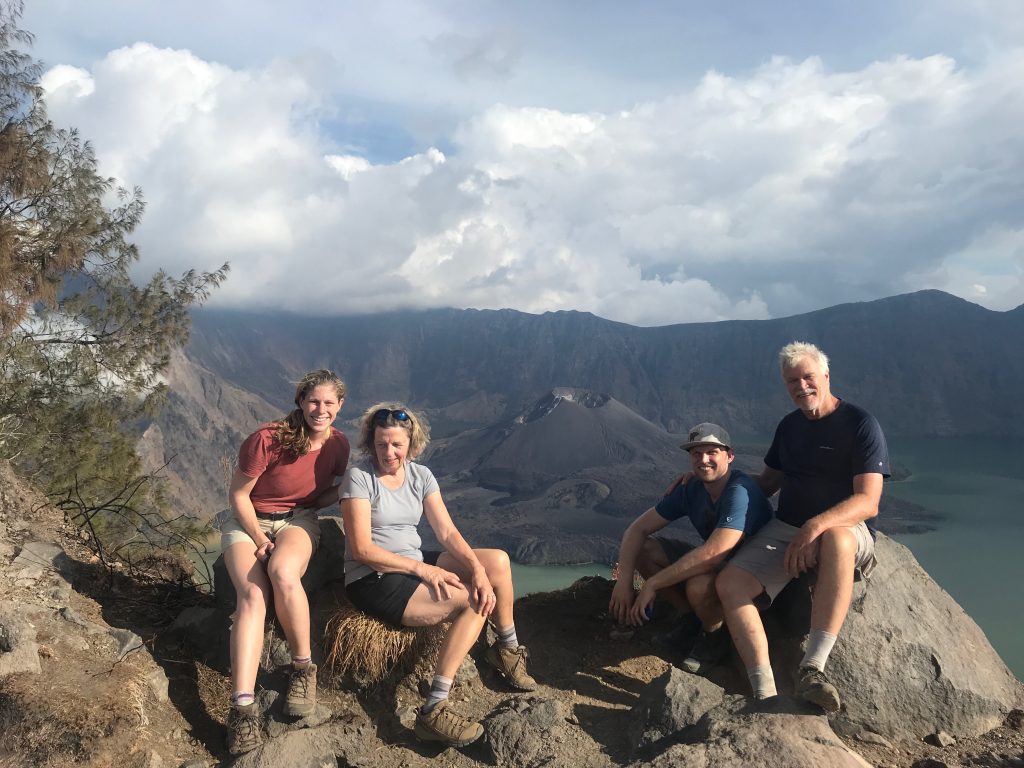 Why Lombok?
We were first drawn to the sun-baked island of Lombok by Fred's pursuit of surfing waves and an incredible picture of sunset on Mt. Rinjani in Backpacker Magazine over a year ago. While not undiscovered, the beautiful island of Lombok is just emerging from the shadow of neighboring Bali. In fact, we were on the inaugural direct AirAsia flight to Lombok from Java which meant live music, dancing airline employees, and free giveaways.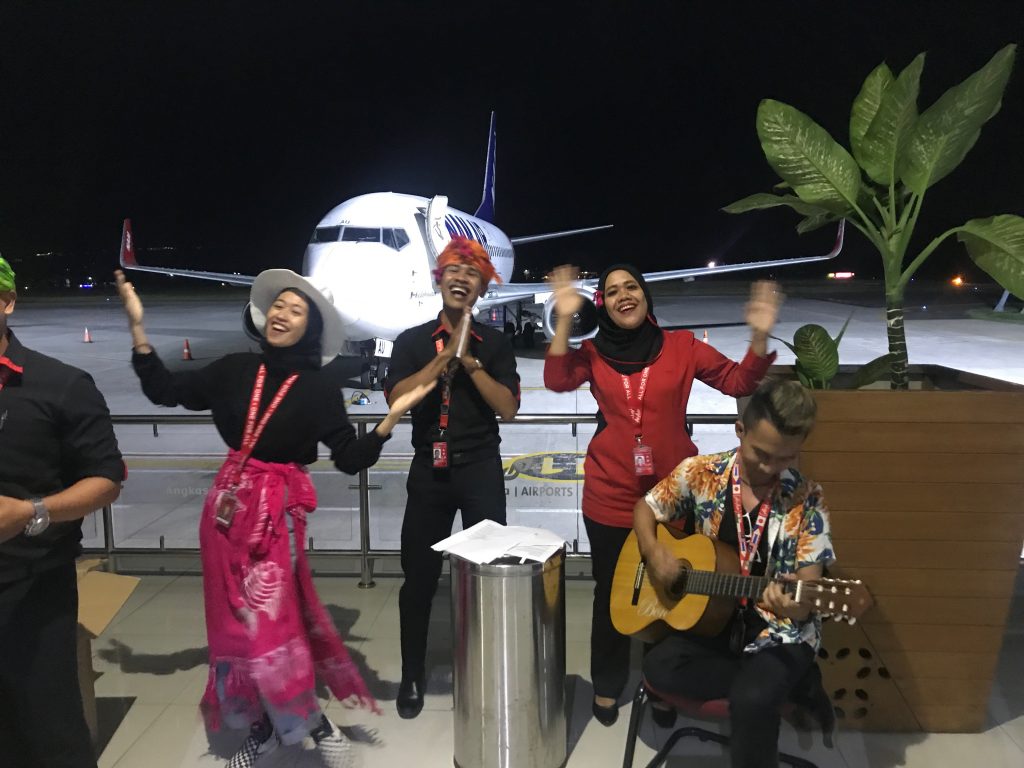 We landed after midnight and quickly drove 40 minutes down bumpy dirt (future) roads to the sleepy and authentic fishing village of Gerupuk. Arriving in Gerupuk feels like you have truly arrived at the end of a road…unless of course you are a surfer in which case you have arrived at the launching place for five different reef breaks off the coast. (See scattered thoughts and pictures of south Lombok in this post.)
SURFING THE SOUTHERN COAST
As a result of its waves, Southern Lombok is filled with young, tan Indonesian instructors offering to shuttle zinc-faced visitors from around the world out to the waves. So, we joined the "crowd" and headed out to surf! Fred and Victor went eagerly as more experienced surfers, but Mica had some ocean-related trepidation. After a rough first outing in which we accidentally started on the edge of the most advanced wave in Gerupuk, we headed out the next day to the beautiful (and tamer) beach of Selong Belanak where Mica crushed waves under the tutelage of a local instructor named Mans.
Southern Lombok was dominated by bays and waves, but that's not all we did.
Mica found time to visit a nonprofit that gives after school English language lessons to local kids. Of course, we also tried to find some interesting food.
On one night we walked down the street to find a place to eat and a local Indonesian chef with a flaming grill on his porch invited us in. We proceeded to feast on freshly caught fish, grilled chicken, tofu with spicy sambal sauce, mango salsa, and vegetable curry. On Thanksgiving, we made up for a lack of turkey by celebrating at a tiny, isolated, and authentic ramen noodle shop. Though we couldn't be with our entire family, we were grateful to have Fred and Tisna with us.
Enchanted by the coast and the immersion into the world of surfing, we decided we would post-pone our trip to Bali and return to the southern coast in a week.
But first we had a volcano to climb!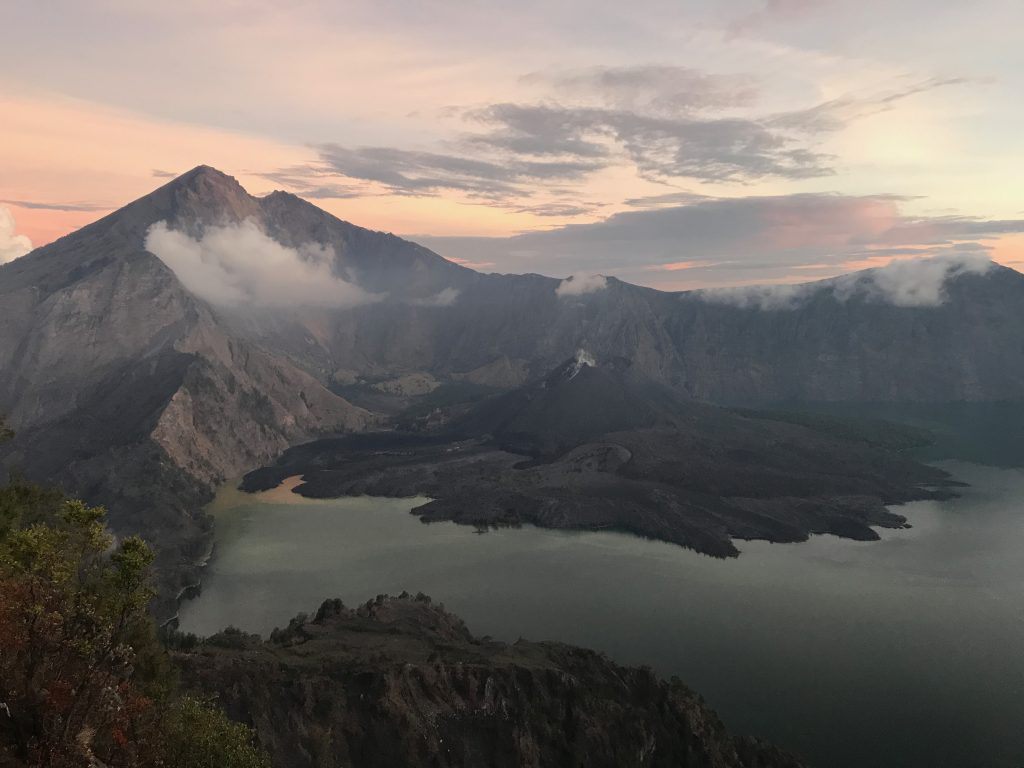 Climbing Mt. Rinjani
Standing at 3,726 meters (12,224 feet) and rising in a steady, virtually unbroken line from the nearby coastline, Mt. Rinjani is Indonesia's second highest volcano. And we—Mica, Victor, Fred, and Tisna—climbed to its crater rim at 2,639 meters (8,658 feet). The two day hike involves going up over 7,000 vertical feet one day and straight back down the next.
It was grueling, but we were helped by a great team of porters who carried water, gear, and even a beer or two to the top. (Thank you, Ali Trekking!) Throughout the climb and descent, Fred and Tisna completely blew us away with their strength and resilience.
In the end, the views from the crater rim were spectacular.
As the sun set we could see Mt. Agung on Bali, and the Gili Islands (our next destination) appeared off the Lombok coast as the tiny sand-spits they are. Spectacularly shaped clouds drifted by on all sides, breaking up the distant views and absorbing and reflecting a spectrum of hues. They alternated between obscuring Mt. Rinjani and drifting across the crater lake, and provided an hour long accompaniment to the sinking sun. All this was a truly majestic backdrop to the volcano within a volcano casually and quietly venting geysers of steam hundreds of meters below the ridge on which our tents were perched. While our hike was extraordinary, it was sobering to hear about the tragedy on White Island/Whakaari in New Zealand just a week later. (For more on this hike, see our photos and Victor's reflection on moments of awe on Rinjani).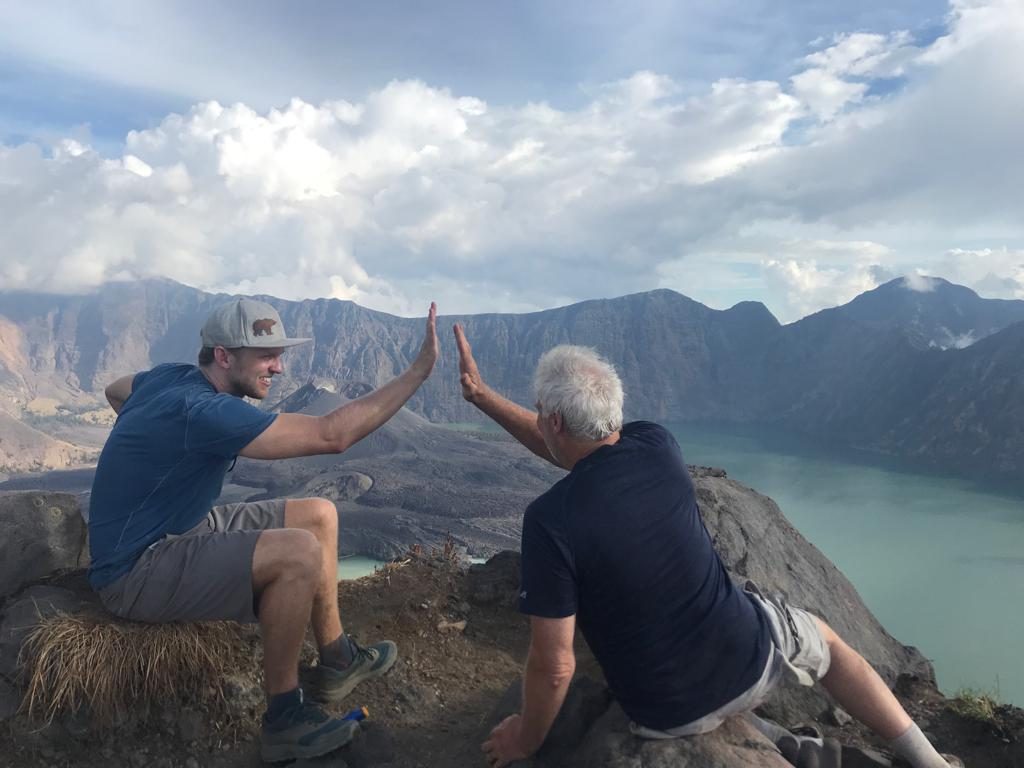 Relaxing on Gili Air
Legs aching, we headed to the island of Gili Air for some much needed R&R. There are three small Gilis (or islands) on the Northwest coast of Lombok that offer relaxation on sand beaches and great snorkeling amongst sea turtles, coral, and brightly colored fish. The only thing missing are cars and motorbikes; transportation is limited to bikes and horse-drawn rickshaws on sandy tracks.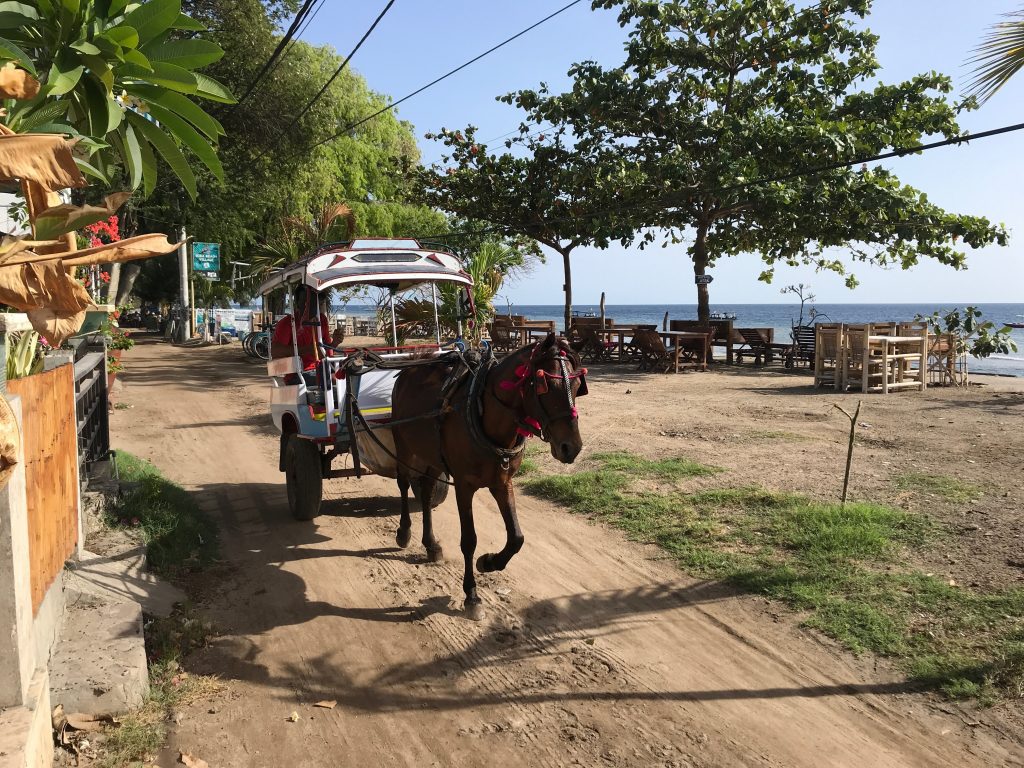 Gili Air was bliss. At least once we got there.
Our ferry from Lombok was only supposed to be a twenty minute trip. But it was on a terrible local boat over a decent ocean swell. Boarding required getting soaked as we waded aboard and then pushed through crowds of people to wedge ourselves and our gear onto the packed boat. As soon as we were seated, fresh rainwater poured off an overhead tarp down Victor's back. Once we got going–which was no guarantee with one engine failing and the other sputtering reluctantly into life–spray flew over everyone and the captain kept the boat going just enough to navigate the swell and keep the engine in the water. All was well enough until that lone working engine literally stripped off its screws and flew up into the air only to be caught in the arms of a passenger. It was a miracle no one was hurt and we got to the island without further mishap. You can be sure that three nights later Fred and Tisna booked the nicest ferry possible for their longer trip from Gili Air to Bali!
In any case, Gili Air was a delightful final three days with Victor's parents. We enjoyed the beach, went on a glass bottom snorkel tour of four different sites, ate well, indulged in 2 for 1 sunset happy hours, and generally soaked in the quiet of the island. It was sad to bid them goodbye as they headed to Bali and we returned to southern Lombok for more surfing. We were so grateful for their effort in planning such a varied and off-the-beaten-path adventure for us in Indonesia!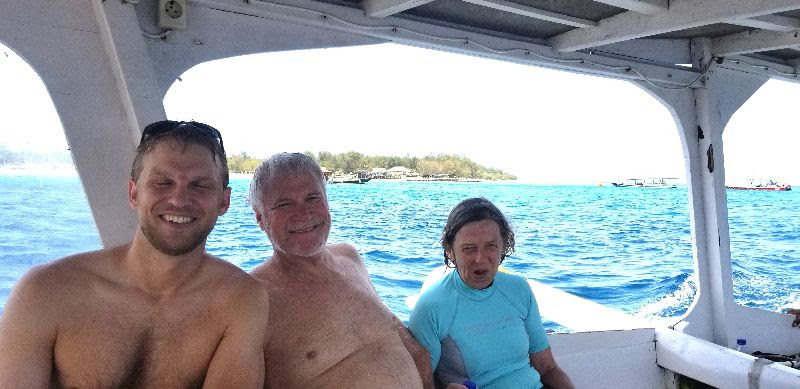 Kuta: Chasing More Surf in South Lombok
On our second trip to southern Lombok, we based out of the more central town of Kuta (not the Kuta in Bali). Kuta is a more happening town on the cusp of a major tourist explosion. We literally saw a restaurant and 2 stores open in the week we were there!
This phase of our trip was a little tough. We had to readjust to traveling on our own and the surfing was up and down in terms of weather and successful rides. Mica's experience with the nerves and excitement of surfing prompted a reflection on learning new skills as an adult.
Since Kuta is more centrally located than our initial south Lombok hideout in Gerupuk, we were also able to listen to an amazing band led by a badass singer in hijab and catch the Sunday night documentary at a yoga retreat. Another highlight was Gangsta Wrap, an NWA-themed hip-hop burrito truck that was staffed by three local women.
By the end, we were sad to leave south Lombok again, but ready to finish our time in Indonesia in the tourist mecca of Bali.
Buddhas in Ubud
We entered Bali with some trepidation about how many tourists there would be. (Recall Mica's post on being a self-loathing tourist.)
However, while Ubud was busy and commercial in its center, it remains a special and spiritual place. Brightly colored floral offerings dot the ground, and Hindu temples adorn nearly every corner. We spent our five days here immersing in yoga, indulging in massage, looking at art, and experimenting with Tibetan bowl sound and vibration meditation. Plus, Mica took a cooking class where she learned to make the delicious spice rub we'd been having on our grilled fish for the last month, as well as the peanut sauce used to top chicken sate. In short, we unabashedly did the "Ubud thing."
We also went on a city-wide hunt for Buddha statues to bring home. We hope these pieces will anchor us back to some of our favorite travel moments (visiting temples in Thailand, speaking with a monk in Laos, and meditating in Bali) when we return to the States.
It was a very relaxing way to end our wild, diverse adventure in this sprawling, fascinating archipelago.
Freshly grilled fish with a chili and spice rub!