We just finished spending a full month across four different islands in Indonesia—our longest stint in a single country so far. Despite the time here, however, we really only scratched the surface.
Indonesia is vast. It has more people than America and features a sprawling diversity across its 17,000+ islands. It is an archipelago in every sense of the word.
We began with a reunion in Medan, Sumatra (Indonesia's northernmost metropolis). We were excited to see each other after separate weekends in Singapore and Cambodia, and even more so, to be joined by Victor's parents, Fred and Tisna! They had put a ton of research and work into planning this trip, and we were eager to share a slice of our gap year with them.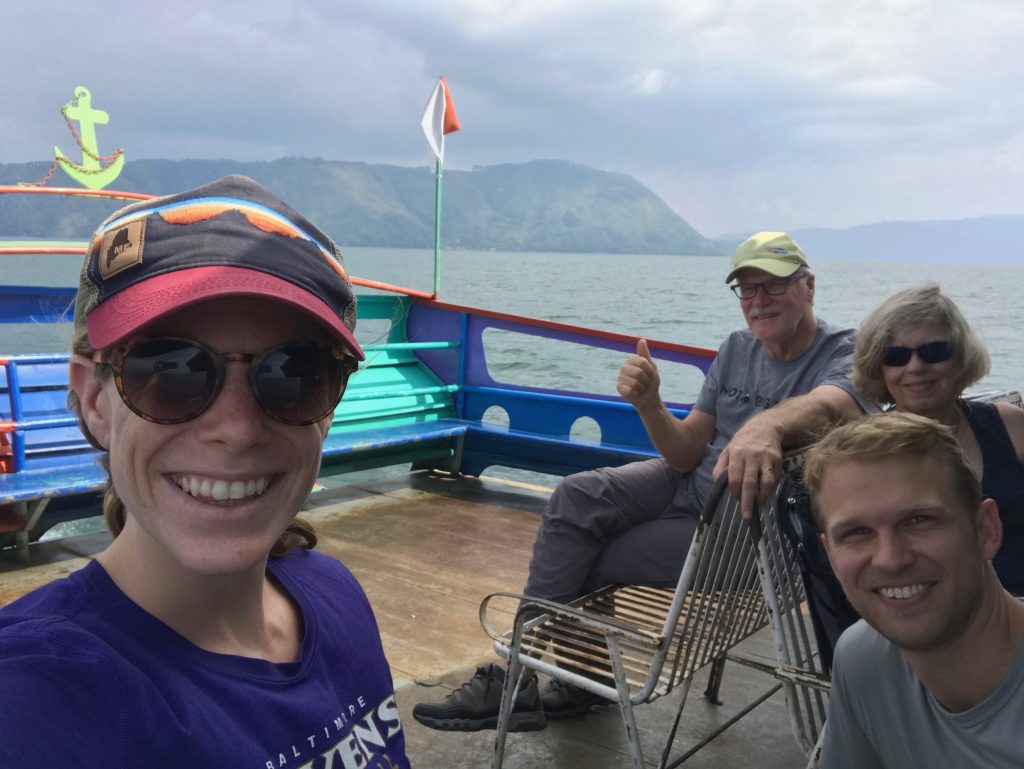 Sumatra
Sumatra is the 6th largest island in the world. So, even though we only covered a small section of its northern tip, getting to each region still took long hours of driving.
Our first destination was the island-within-an-island of Samosir in the middle of Sumatra's Lake Toba, the largest volcanic lake in the world. Just to give you a sense of Sumatra's massive scale, Samosir is as large as Singapore!
Samosir is unique in many ways. First, it is a heavily Christian island while the rest of Indonesia has a Muslim majority. Second, the island's population is Batak, with their own language and architectural style. One thing it had in common with much of Indonesia was a Caribbean, no-shirt, no-shoes, no-problem vibe (often complete with signs offering magic mushrooms for sale).
We immersed ourselves in this ethos by staying at Laster Jony's, a laid back guest house where the owner caught us a fish for dinner, pointed out the hills where his father used to grow pot, and jammed with his band late into the evening. Fred and Tisna aptly called this place a "funky Indonesian Rasta guesthouse." It was a great first introduction to the Indonesian archipelago.
After spending a day motorbiking around the island (including a waterfall, lunch on a beautiful yet deserted pier, and getting homemade ice cream at a Buddhist Zen retreat), we left Lake Toba to drive 8 hours north to the Orangutan Nature Reserve.
The drive was interesting, alternating volcano views and jungle scenery with miles of unsightly clear cut forests and wide-spread environmental destruction. It turns out the fragile Sumatran jungle, home to many endangered species, is rapidly being destroyed by large-scale palm oil plantations. Sadly, this type of pattern was a too-familiar sight to Fred who spent his career as a conservationist.
The drive ended at a charming eco-lodge in Bukit Lawang, our home-base for the next few days as we trekked to see orangutans! Orangutans are the only great apes outside Africa. They are only found on two islands in Indonesia, and they are the only great apes Fred hadn't yet seen in the wild. But before the apes, we had to contend with the hordes of monkeys living in the forest around the lodge. They were adorable…until one of them stared down Mica and stole her breakfast toast right off her plate. No one messes with Mica's bread! (And we would thus avoid monkeys as much as possible for the rest of our time in Indonesia).
The next day, accompanied by two guides, we trekked into the steamy jungle. Our efforts were soon rewarded. First, we saw a truly mammoth male orangutan. We were awed by its flexibility as it sagged in a split between 2 trees and nimbly bent trees to feast or lope amongst the upper branches. The burnt orange glow of its hair was magnificent.
After 20 minutes with him we moved on and soon came across a female with her curious and slightly spastic baby. It was fascinating to watch her carefully set aside the infant at a difficult tree crossing, swing across the gap, and literally stretch her body over the gap so that the little one could crawl over her to the next tree. The mom sat and watched us for several minutes, while the infant shook vines, threw branches down to the ground, and generally behaved like an exploring child.
To complete this adventure, we rafted down the river back to our hotel on inner tubes linked together with twine. Victor was bounced so hard on the white water that he actually flew out of the boat, but thankfully pulled himself back in quickly.
In Sumatra, we also learned our first phrases in Bahasa (the official Indonesian language). We were so grateful to be in a language with familiar lettering and phonetic pronunciation. It was a relief after the 6 tones of Vietnamese where locals actively discouraged us from attempting greetings in their language. In Indonesia, every "terima kasih" (thank you) was met with a huge, smiling "sama sama" (you're welcome). This was just one sign of Indonesia's friendly hospitality and one reason Mica quickly declared Indonesia her favorite country.
Java
After Sumatra, we flew to Yogyakarta, on the island of Java. Note: NOT the same as the enormous capital, Jakarta.
Yogyakarta is known as the Javanese cultural capital, and to capitalize on that we went on four different tours. First, we went on a neighborhood architecture and culture tour. The Javanese have perfected a nail-free style of architecture that is more earthquake resistant than many modern building techniques. Moreover, it was interesting to learn that fully half of each traditional house is actually a combination of indoor-outdoor social space where neighbors are welcome to come and sit (without invitation). In one neighborhood every house is owned by a different member of the same family. Talk about staying close!
This tour also reinforced the complex-yet-relaxed coexistence of multiple religions side-by-side in Indonesia. For example, the oldest mosque in Yogyakarta uses a Buddhist gong to call to worship and Hindu architecture on its gates.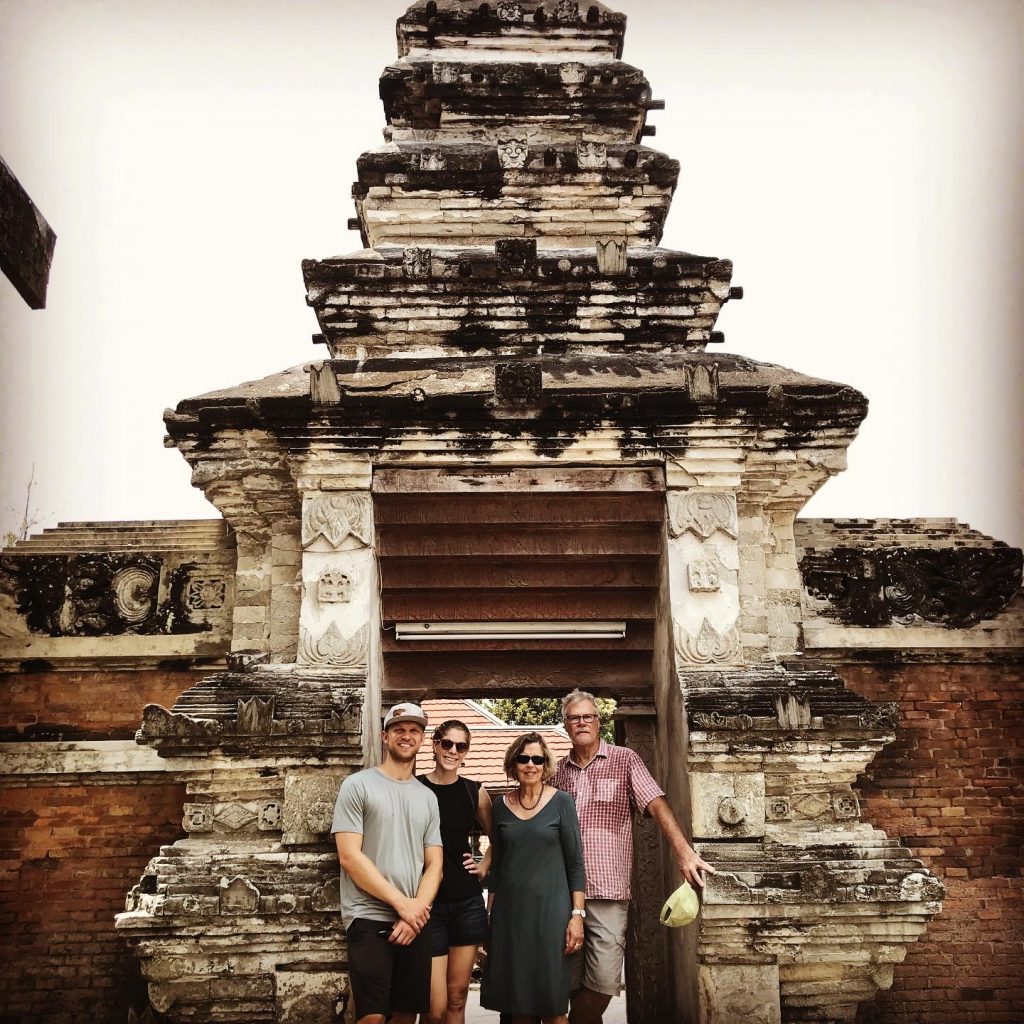 Our second tour focused on food. Alongside the British founders of the soft-drink company Square Root, we sampled sticky sweet jackfruit gudeg, bakmi noodle soup, charcoal coffee, and a variety of other dishes. Most notably, we discovered jamu, a spicy, ginger and turmeric-based, Indonesian health drink usually made by women squeezing spices through their hands in front of you and served to you in a coconut shell.
We also toured a batik factory. Batik is a centuries-old technique for dying clothes, and in this factory women were using wax to painstakingly apply patterned designs to fabrics. It can take over six months to dye a handmade cloth as between each layer of dye the wax must be reapplied.
Finally we had a phenomenal tour of Borobudur temple. This spectacular 9th century step-pyramid really took our breath away (even with the surrounding volcanoes covered in clouds). The temple consists of 9 levels representing a gradual transition from the banality of life (desire) to the pinnacle of nirvana. Each level is covered in amazingly preserved carvings depicting the life of Buddha and scenes from local 8th century Javanese life. At the top there are over 70 Buddha statues covered by bell-shaped stupas. Continuing the theme of Indonesian religious coexistence, the temple is cared for and celebrated by the Javanese, even though they are largely Muslim. Why and how such a Buddhist monument arose in a largely non-Buddhist region remains a mystery, but one thing is for sure, the temple is worth a trip to Yogyakarta in and of itself.