Within 2 days of our arrival, I declared that Indonesia was my favorite country. Victor balked at this hasty decision, but after a month here, I stand by my initial declaration. Here are a few reasons why I love this equatorial archipelago:
The Nature
From the endangered orangutans in the jungles of Sumatra to the rim of the volcano on Mt. Rinjani to the unspoiled, bright blue bays of south Lombok to the terraced rice paddies of Bali, there is so much natural beauty in this country! While clear-cutting old forests to create palm oil plantations has taken a toll on Sumatra and the monkeys can be a bit cheeky, I was constantly in awe of the vistas and sunsets during our month in Indonesia.
The Hospitality
Every Indonesian hotel offered us a "welcome juice" on our arrival. Some restaurants threw in an amuse bouche, even when the whole meal only cost $7USD! Tour guides and drivers freely and honestly told us about their lives, and offered advice of where we might like to visit during our stay. Indonesians do not seem to harbor any animosity towards Western tourists, and welcome them with joy and pride. While I felt tense about visiting Japan, Laos, and Vietnam as a tourist because of the US's violent military history with those nations, in Indonesia, I didn't feel any post-colonial inequity. There is very little Dutch influence lingering in the country, and it felt like tourist and local could approach each other on more balanced terms. Plus, nearly every restaurant we saw offered an incredibly generous happy hour deal of 2 for 1 cocktails every single day!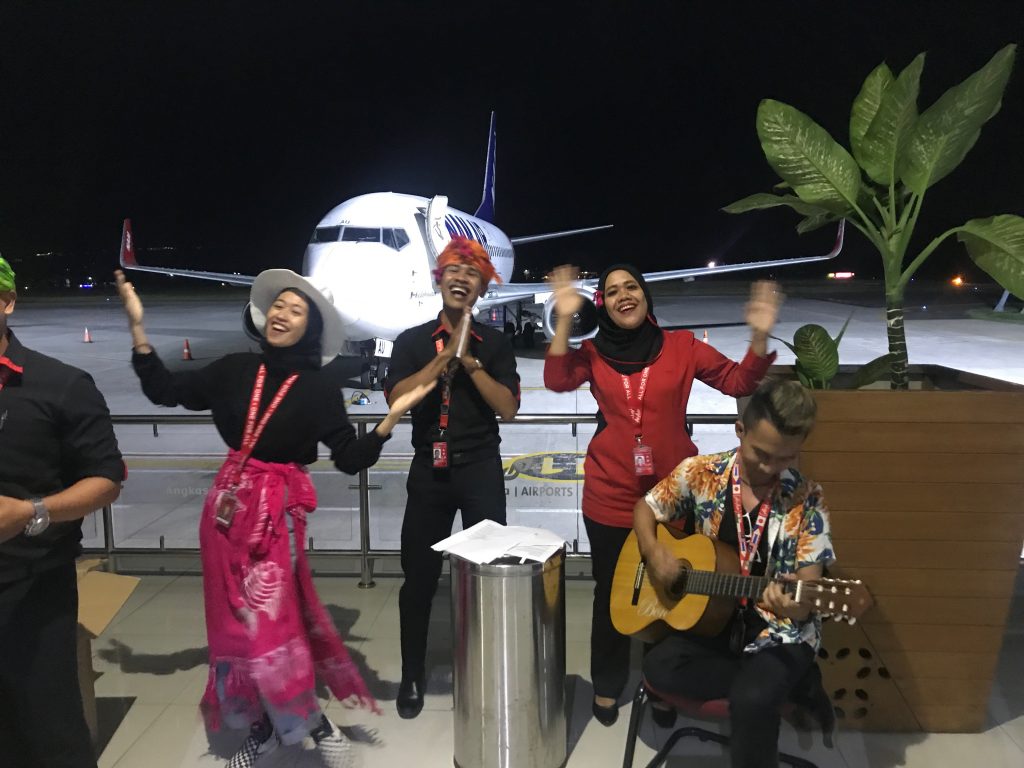 The Language
Bahasa uses English lettering and is pronounced phonetically. By the end of our first few days, I had learned how to say every common menu item. This was a stark contrast with Vietnam (where we traveled before Indonesia). While people were accommodating of tourists there, I was categorically told not to try to say anything in the local language. In Indonesia, people said "sama sama" (you're welcome) with a smile whenever I tried "terima kasih" (thank you), and laughed appreciatively when I tried to tell them in Bahasa how delicious the food was.
The Food
Indonesian food really feels like it's at a cross-roads. It has the fresh-tasting ginger, turmeric, and lemongrass of Thailand, the noodle soups of Malaysia, and the spiced chili and curries of India. Every dish is served with peeled cucumbers and a fried egg, a fresh touch I really appreciated. A boon for the hearty eater, many dishes come with 3 types of protein: tempeh, tofu, and whatever main meat or fish you've ordered. The cuisine here is full of freshly grilled fish and chicken, complex spice profiles, and steamed veggies dipped in sumptuous peanut sauce. Plus, what is better than a cold, refreshing coconut on a steamy island afternoon? One more bonus, every server we had in the entire country offered to repeat our order back to us before leaving the table. (This is a personal preference of mine, and I loved the commitment to get your order right that is shown in the service industry here.)
Seafood curry…yum!

Freshly grilled fish with a chili and spice rub!

Beautifully decorated smoothie bowl!
The Co-existing and Interconnected Religions
While Indonesia is the largest Muslim country in the world, it breathes with the other religions that have permeated the culture here for hundreds of years. Many women wear hijabs and the chanted call to prayer resonates in every city throughout the day, yet the main mosque in Yogyakarta calls people to prayer with a Buddhist gong and tops its gates with Hindu architecture. Borobudur, one of the country's most significant tourist attractions is a stunning homage to the life of the Buddha. Bali offers its own style of Hinduism, and the island is covered with floral offerings and ornate stone temples. It feels like the Indonesians really understand that each spiritual tradition shares a portion universal Truth in its own unique and valuable way.
The Appreciation for Good Music
At several of our hotels, the staff jammed out on live music (often Bob Marley) late into the night. A cabbie we encountered in Yogyakarta bonded with us over his love of Garth Brooks and George Strait, and a woodcarver in Gili Air desperately tried to convince us that he was actually John Denver. (He even showed us videos of him performing "Country Roads" at an open mic night.) All the way across the world, and these people appreciate country music!
The Island Attitude
As soon as we were greeted at our first hotel by a chill local fisherman with no shoes, no shirt, and a wild Afro, I knew we were in the islands. In Indonesia, everyone has a smile, but nobody is in a rush. People refer to one another an "my brother" and "my sister," even when there is likely no family relation, and a feeling of universal trust and goodwill permeates all interactions. What's not to love!?