Standing at 3,726 meters (12,224 feet) and rising in a steady, virtually unbroken line from the nearby coastline, Mt. Rinjani is Indonesia's second highest volcano. And we—Mica, myself, and my parents—were climbing to its crater rim at 2,639 meters (8,658 feet). The two day hike involves going up over 7,000 vertical feet one day and straight back down it the next.
Our plan to climb this volcano started months ago when I had suggested that my parents visit us in Indonesia. Unphased by their initial lukewarm enthusiasm for the location I had sent my dad a picture of a two page spread in Backpacker magazine with a beautiful picture of the crater lake and a brief description listing the route as punishing and suitable for masochists.
I expected Mica and I to tackle it. I was less sure my parents wanted to risk aggravating injuries to obtain the views. But we were glad we did on many fronts. And as my dad said several times, the reality was better than the pictures: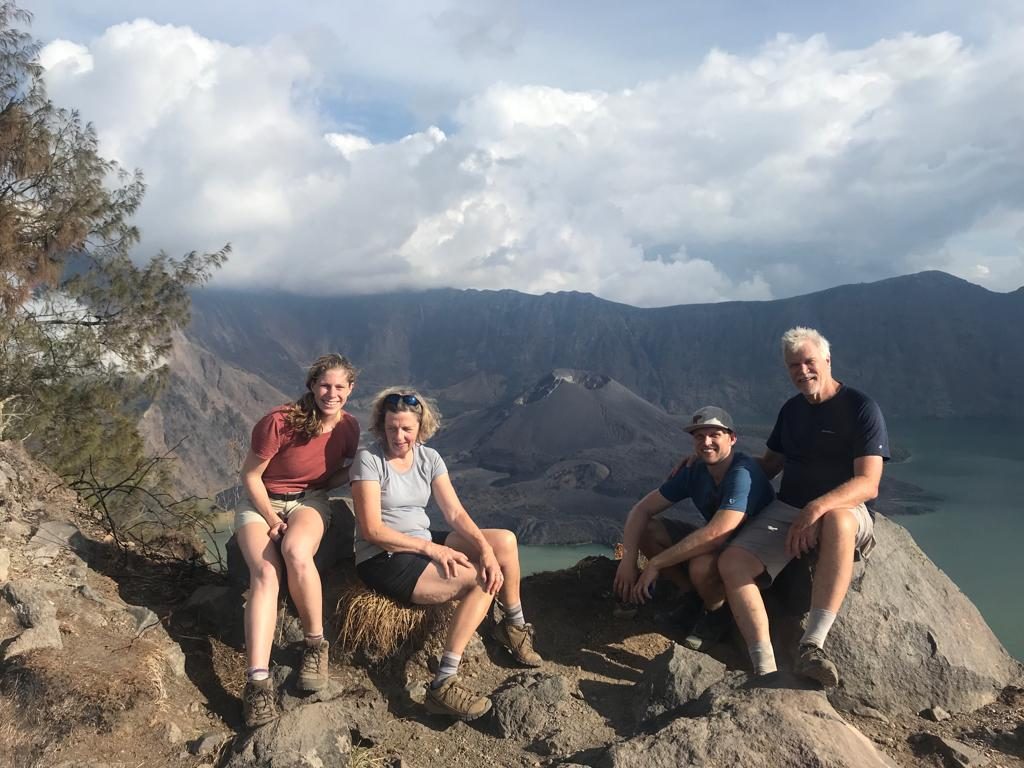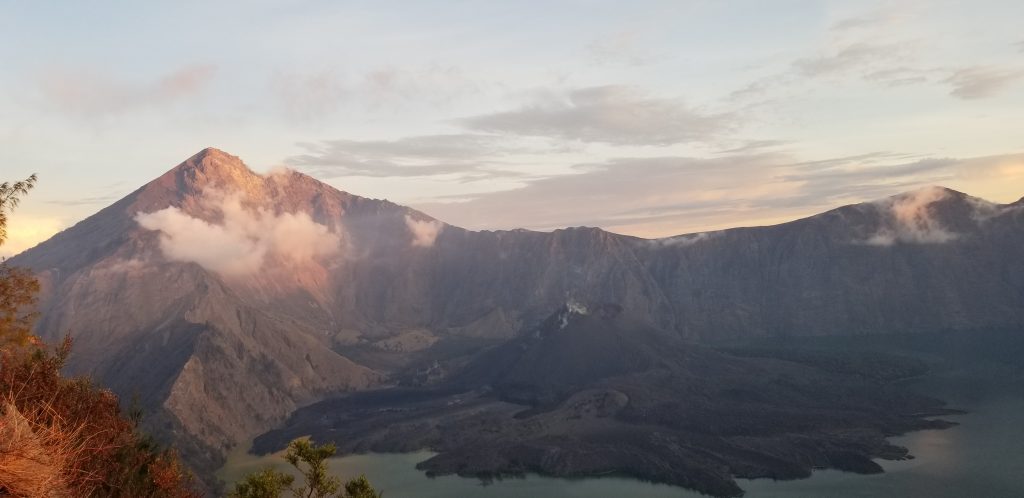 Rinjani Sunset Worth the Climb
This is not the post on the logistics of climbing Mt. Rinjani. Here I want to reflect for a moment on the awe this experience generated.
There have been moments of real awe on this eight month trip. Some, like Rinjani, came filtered down through a spectacular sunset (like the simultaneous view of the sun-bathed Japanese Alps and Fuji glimpsed from the Yutsagatake range).
This sunset was equally spectacular.
In the distance Mt. Agung on Bali was visible and the Gili Islands (our next destination) appeared off the Lombok coast as the tiny sand-spits they are. Spectacularly shaped clouds drifted by on all sides breaking up the distant views and absorbing and reflecting a spectrum of hues. They alternated between obscuring Mt. Rinjani and drifting across the crater lake providing an hour long accompaniment to the sinking sun. All this was a truly majestic backdrop to the volcano within a volcano casually and quietly venting geysers of steam hundreds of meters below the ridge on which our tents were perched.
The setting was certainly awe inspiring, but the awe I felt on Rinjani wasn't just about where we were. It was about who we were with and what they were accomplishing.
Drawing Inspiration from those you're with
My parents have defined what it means to be adventurous for me for my entire life. They've lived abroad in isolated areas and explored distant parts of the world alone and together (well before it was common or in vogue). Wherever they are they always seek out unique and off-the-beaten path experiences and combine that with a real passion for the wild. Them wanting to tackle Rinjani isn't a surprise.
My parents have defined what it means to be adventurous for me for my entire life.
But this time, because of age, health, and the nature of this hike Rinjani felt like a tall challenge. My dad had worked through some cardio issues for the past three months which prevented serious training plus battles a lack of cartilage in both knees that long downhills can set off. My mom had spent 6 months dealing with hip inflammation that had flared up on a couple long days on the scooter over the past several days. We knew that the nature of this hike – straight up, then straight down – would present a major challenge for these two explorers.
So seeing them looking out over the crater I felt in awe of them. I had just seen them walk over 7,000 feet of unrelenting vertical (read: no flat, no down, just 8 hours of up) on slick trail rising out of a humid, dense jungle onto a barren slope of loose sand and worn-out lava that lasted until the top.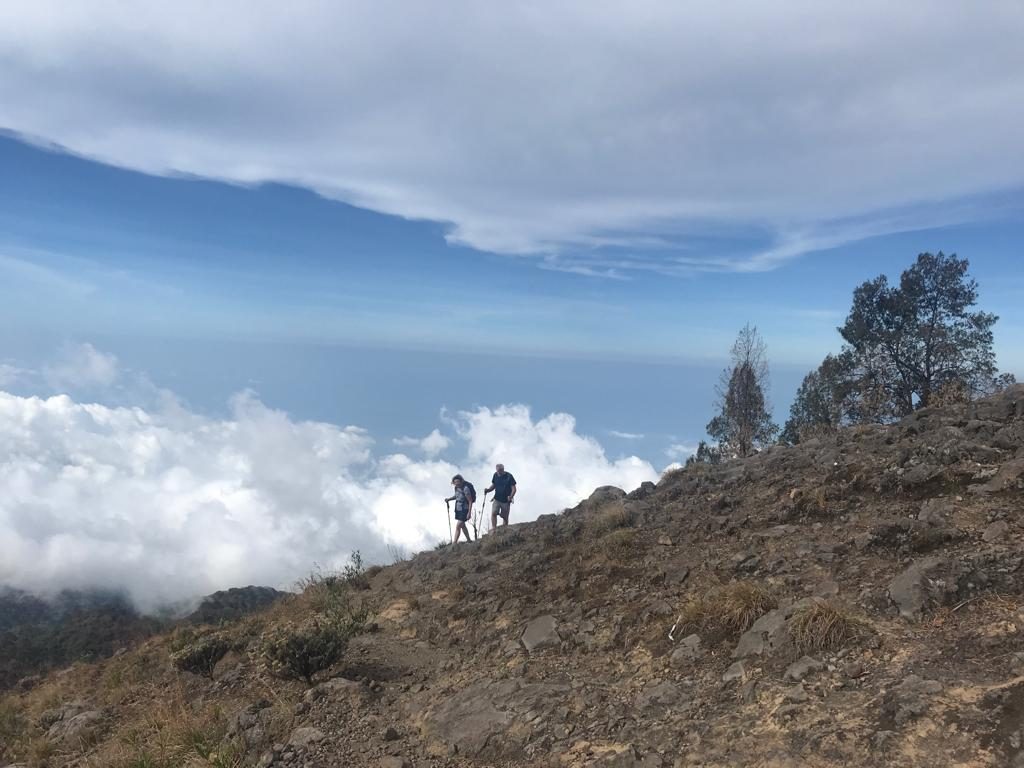 I've written before about how a day on the trail can capture multiple cycles of experience. This goes double for an endless ascent.
Throughout our long day of going up so much happened. My dad muscled through early fatigue until he hit his stride then stuck with that momentum for hours more. My mom stayed steady all day until tapping into deep energy reserves to pick her way through the toughest and final exposed ascent after an exhausting day. The combination of physicality and mentality that carried them was impressive.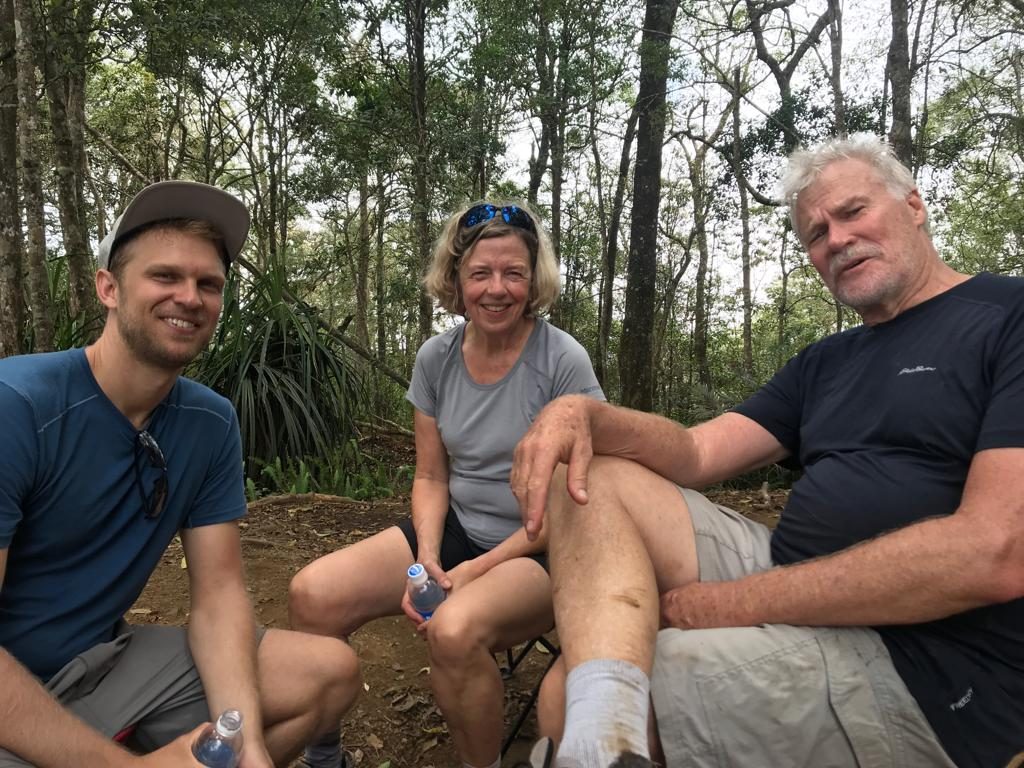 I should mention that nothing about this hike was easy for anyone on the mountain. The topography doesn't allow for that. Yet when it was all said and done my parents had done this climb with aplomb. In fact, despite being the oldest climbers on the mountain by at least 20-25 years we were not the last ones to the top nor were we the most worn out.
My sense of pride in them only deepened the next day. After all, down is often harder than up, especially on your joints. This time we were the slowest, most careful hikers and my mom in particular spent hours moving forward on grit alone. Throughout the day hikers stopped and expressed their appreciation and amazement for what they were doing/had done.
It was well deserved. Mica and I whispered that we could only hope to be climbing volcanoes with our kids at their age. They are an inspiration.