Following an intense 10 day stretch of hiking New Zealand (Ben Lomond, Routeburn, Avalanche Peak, and Nelson Lakes) we took a quick Christmas break in Nelson before heading to Abel Tasman National Park. Abel Tasman National Park is New Zealand's smallest. It is a coastal park situated at the top of the South Island and features golden sand, granite cliffs, and a famous Great Walk that tracks the coastline.
Our plan was to combine a one day kayak adventure with an overnight beach camp and a walk out on the Abel Tasman track the following day.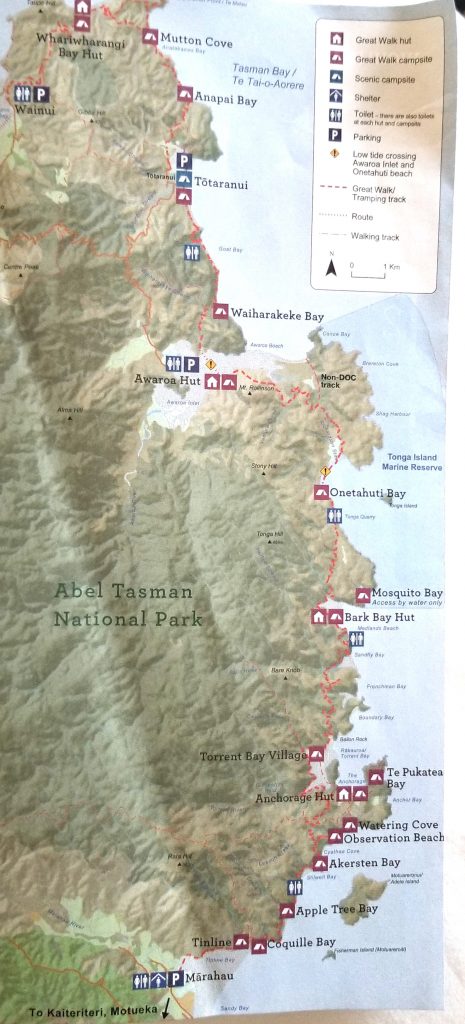 What part of Abel Tasman National Park should you visit?
Given our limited time (two days, including a 4 hour drive to the ferry at Picton on Day 2) we opted to explore the more accessible Southern section of the park.
This involved taking a water taxi (motorboat) to Onetahuti Bay, exploring slightly north on Kayak before turning South and spending the night at Anchorage, and then walking out to Marahau on the morning of the second day.
This turned out to be an interesting plan. It let us kayak the islands and bays in the middle of the park where the fur seals live, camp in a beautiful sandy cove, and take in some glimmering ocean views on a 10 kilometer coastal hike.
Still, the Southern section of the park is more accessible and thus more crowded than the North. If you have more time, we imagine the Mutton Cove and Northern environs might be slightly more spectacular and quiet.
How to Kayak in Abel Tasman National Park
We began with a short drive out of Nelson to spend the night of the 25th at Marahau Beach Camp (in order to get an early start on the 26th). We do not recommend this holiday park if you have a tent as the sites are close together and not at all scenic (but it does have pay-showers and good kitchen facilities).
The next day we strolled across the street to the headquarters of Marahua Sea Kayaks (MSK) to get oriented for our trip. Other than the standard high prices for kayaking in the park we have nothing bad to say about MSK. Their gear was good, our guide was great, and everything from lunch to bag transfers were well executed.
After a quick briefing we headed to a water taxi and headed North past the headlands and bays we would explore more slowly in the intervening few days. The water taxi dropped various passengers off at a couple of stops before letting us off at Onetahuti Bay where our kayaks were waiting. It was nice to only have a small daypack with us and to know that our camping gear/packs would be dropped off via water taxi at Anchorage for the evening. A short but useful safety and paddling briefing followed for our small group and then we hit the water.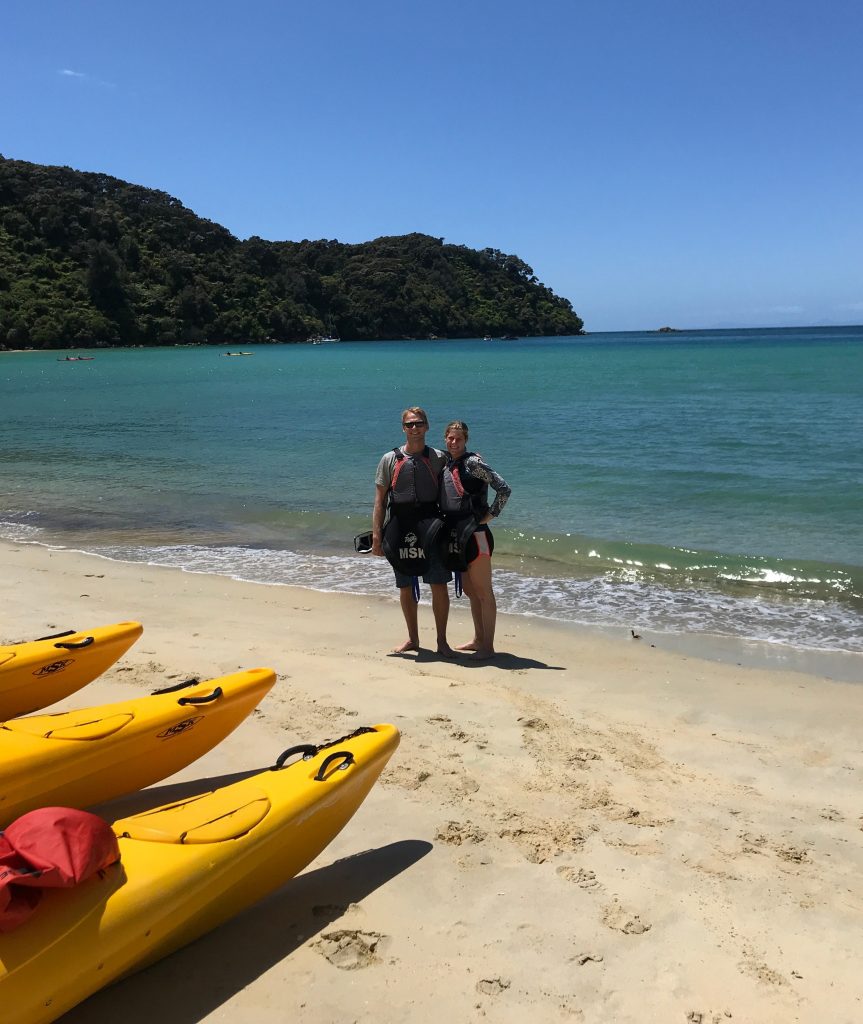 This was our first time in a proper sea kayak, and it was fun to use a rudder to steer (vs. paddling) and a pleasant surprise how dry the kayak skirts kept us throughout the day.
Seeing New Zealand Fur Seals in Abel Tasman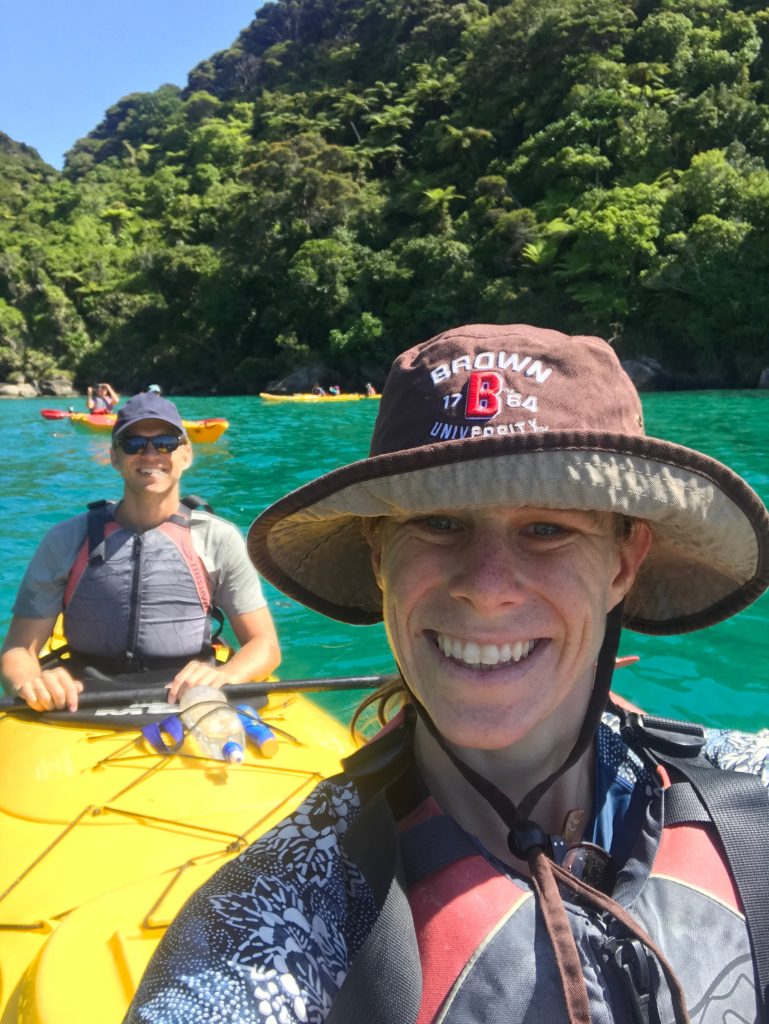 We headed North against a light morning sea breeze, tracking along the coast as much as possible.
Before too long we saw our first New Zealand fur seal! These beautiful animals, once endangered, now dot the coast and islands. With our guide we learned about their incredible speed (20 km on land and up to 100km in the water which is crazy for an animal weighing up to 150 kilos) and various quirks for staying cool, establishing territories etc.
It turns out we were here for breeding season, which meant we heard terradactyl-esque cries from the pups and mothers hiding in the coastal scrub. Over the next two hours we kept spotting seals sunning on the rocks or swimming in the shallows before eventually doing a short open water traverse over to one of the coastal islands.
Here we were lucky enough to see a seal family–father, mother and perhaps a nearby uncle–usher in a tiny seal pup for what may have been its first swim ever!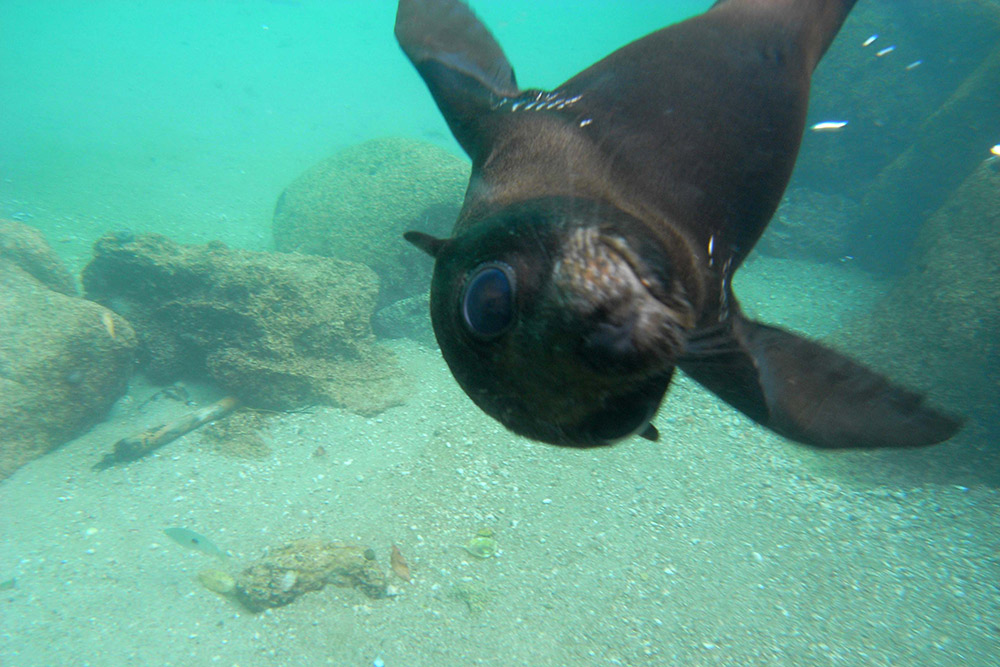 After the fur seal exploration we headed back to Bark Bay for a nice picnic lunch. Here some folks left to hike to Anchorage for an evening pick-up and a few other people joined the group via water taxi for an afternoon kayak. One nice thing about Abel Tasman is the flexibility of transport allows you to put together different types of itineraries.
The highlight of the afternoon was undoubtedly "sailing" our kayaks. We positioned ourselves upwind of our destination, grouped our 4 kayaks together, and hooked a huge piece of fabric between two paddles to catch the wind.
From there we needed to hold on tight as we skated across the water at a decent clip and soon arrived at our destination for the evening.
Camping at Anchorage in Abel Tasman
Anchorage is a beautiful bay with a long golden beach.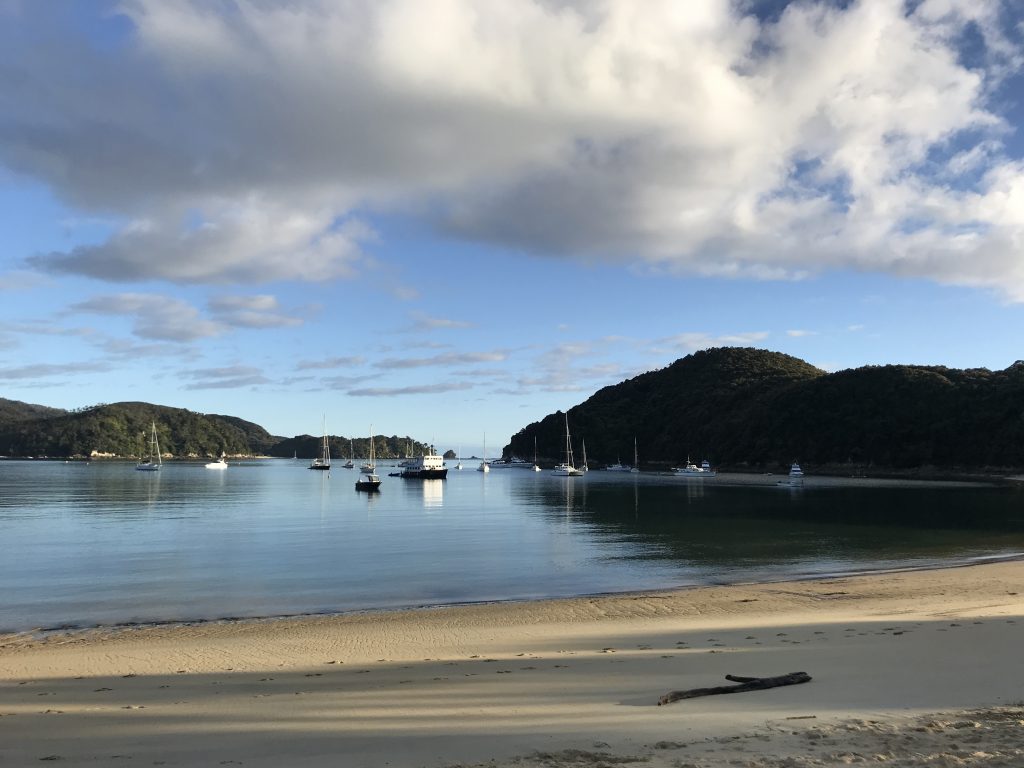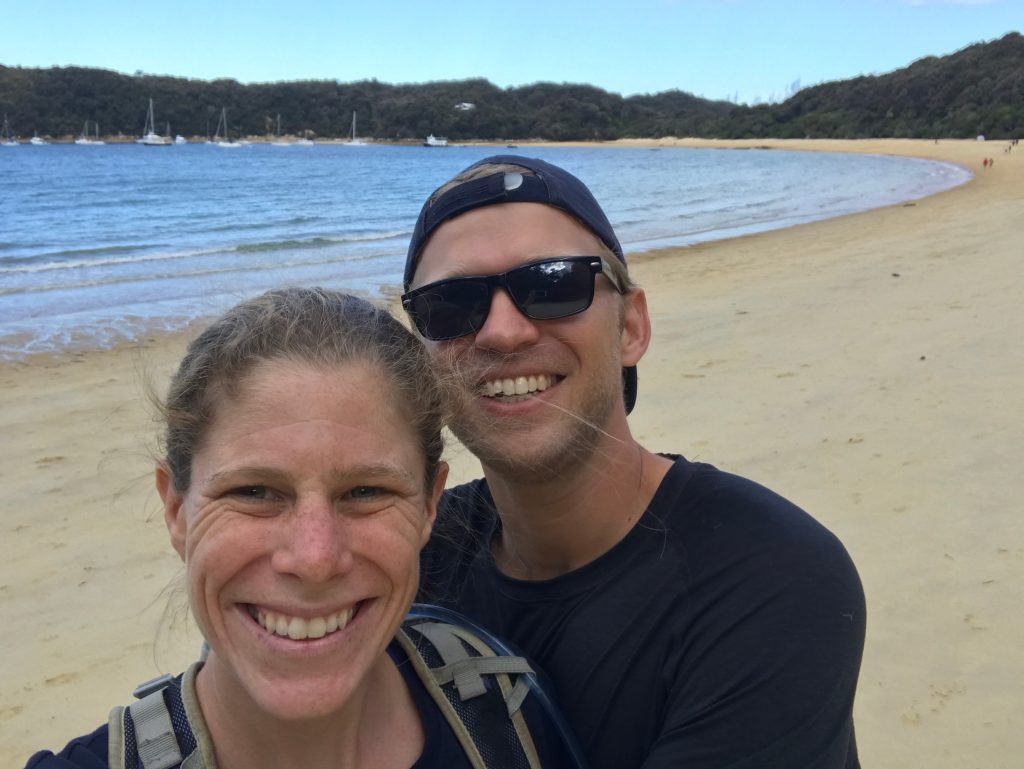 This beauty combined with its central location in the park makes it a popular spot. Day trippers can hike or boat here to enjoy the environment and there are a number of boats that also moor here. Still, even with a large DOC hut and campground here, once evening comes the bay quiets down and its an enjoyable place to camp.
Just be mindful of the weka birds. The ones here are voracious stealers of any and all food left unattended. One of them knocked over Mica's daypack and ran off with a bag of PB&J sandwiches wedged in an outside pocket.
Speaking of birds, the next morning I did get to see an endangered kākā parrot, which is one of 12 recently released back into the wild after previously being "technically extinct" in the park. He or She was certainly a talkative fellow and reminded me of the cheeky keas, or alpine parrots, we first encountered on Ben Lomond Mountain.
Alternative Campgrounds at Abel Tasman National Park
If I were to do the trip over again, I would opt to camp at one of the smaller and less popular campsites along the coast. Watering Cove in particular looked like a beautiful small nestled beach area with a creek running down the cliffs onto the beach. Either way, you have options:

Hiking from Anchorage to Marahau
Given our commitment to catching the Picton-Wellington ferry and a desire to maybe visit a vineyard on the way started our day early with a 6 AM wake-up. After breaking camp we hit the trail before 7AM.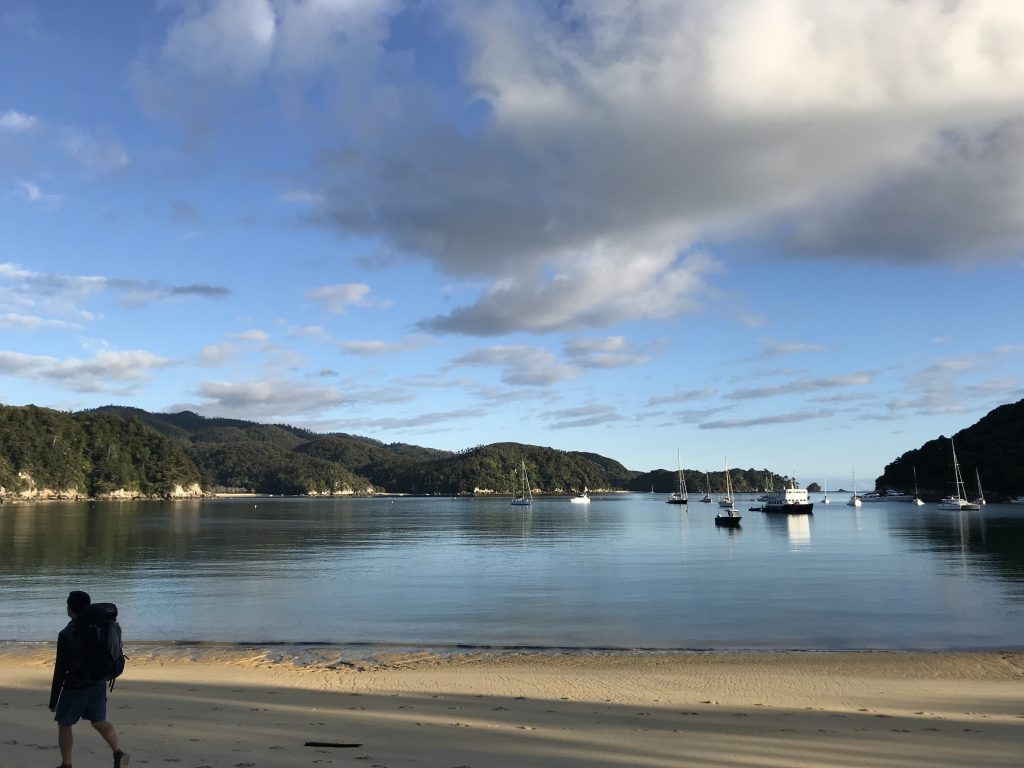 It was a calm and clear day and the early start ensured us some solitude for the first hour or two of hiking. We highly recommend this because by the time we got closer to Marahau we encountered hordes of hikers heading towards us who likely had all begun around 8AM.
The hike itself was on a wide, well-graded track that opened up every 15-20 minutes to beautiful coastal views.
Summarizing Two Days in Abel Tasman
Abel Tasman was an interesting national park and a worthwhile stop on our New Zealand road trip. Kayaking with fur seals was a definite highlight.
But based on our experience hiking the coastal track, I would not personally commit to doing the full Abel Tasman great walk, and the park itself wouldn't make my top list of what to do with limited time in New Zealand (now that may be because we bias towards mountains over coastline).
If I were going back I would keep the kayak component of the trip. If you do this definitely commit to the full day outing at least, the half day kayak seemed like it would be a bit lacking. Otherwise, it seemed that Abel Tasman, just like Acadia National Park in Maine, would lend itself exquisitely to trail running (you can go one-way and then take a water taxi back from any part of the park).