Following our exquisite but quick day hike of Avalanche Peak in Arthur's Pass National Park we turned further north and headed towards Nelson Lakes National Park.
Our goal was a final high-country Alpine hike and a nice campsite to spend the day before Christmas Eve. We found both on our hike/tramp of a modified Angelus Hut circuit, involving a long day on Robert's Ridge and a beautiful descent down Speargrass Creek to camp and then a relatively short hike out the next morning on the Speargrass Track. This 1 night, 24+ kilometer loop hike was among our favorite New Zealand hikes for its combination of steady views, varied alpine terrain, and the wildness of the top section of Speargrass Creek.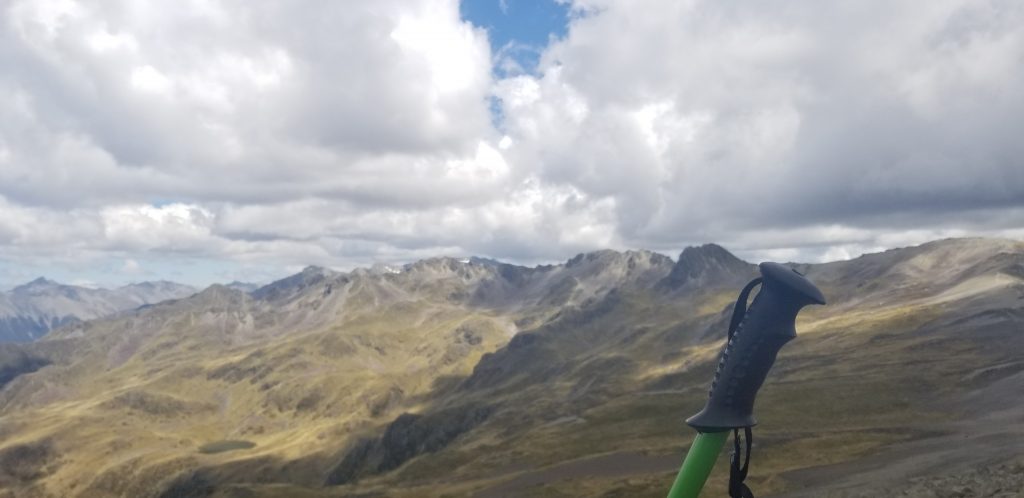 Beginning the Angelus Hut Circuit on Robert's Ridge
As mentioned, we combined the traditional alpine route to Angelus Hut (Robert's Ridge) with a descent down and out Speargrass Creek on the Speargrass Track. Because Angelus hut was full for the night we learned that Arthur's Pass allows free camping throughout the park. In the end we camped down the valley near Speargrass Hut which made for a long first day (started at noon and ended close to 8pm) and a short 2-3 hour hike the second day.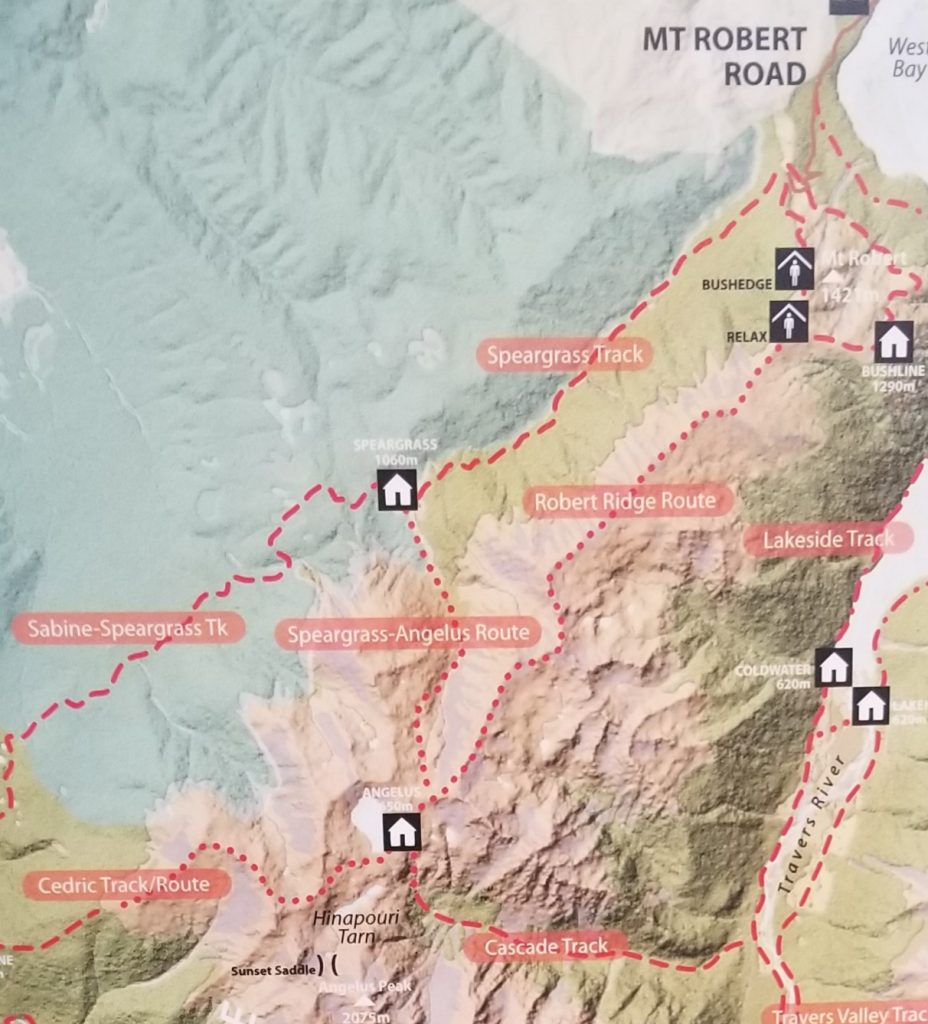 The track begins on Pinchgut Track with a steady but well graded ascent out of Mt. Robert's carpark. Before too long you zig-zag out of the Beech forest and are greeted with near immediate views of Lake Rotoiti and the small town of St Arnaud.
Two warnings here: (1) there's very little cover so the route can be hot on sunny days and (2) buy all your supplies before you get to St. Arnaud. Other than some snacks and freeze-drieds at the DOC it's slim pickings.
As the path flattens you soon arrive at an emergency shelter with a water tank. Fill up here as it is the last water until either Angelus Hut or on the descent on Speargrass. Right after the shelter you reach a tee junction, where Paddy's Track forks left (east) towards Bushline hut while Robert Ridge Route continues straight (south) along the ridge. From here it is 9km to Angelus hut with a posted time of 4 hours and 30 minutes (which is actually a fair time posting vs. the often generous DOC signs).
A short climb brings you fully up to the ridge where the views will be unrelenting for the next 3+ hours: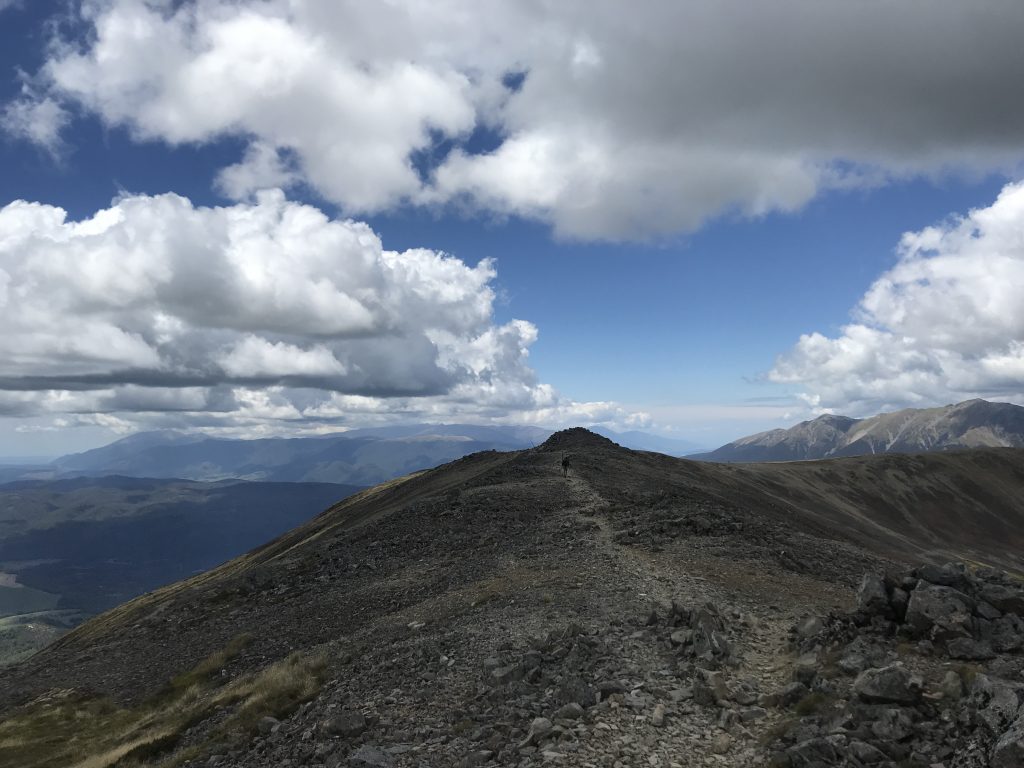 In fact, almost immediately the views begin to open up into the Northern section of the Alps as well as West out the valley.
The first section of Robert's Ridge is easy walking as long as the elements behave. The only thing you need to worry about is not stopping too often for photos.
After a steady 60-120 minutes on the Ridge you get to a saddle of sorts and the trail begins a much more difficult technical scree-filled section. In any sort of wet weather this would be a very difficult section of trail. As it was we had to pick our way carefully down and around fairly steep ridges. Do not expect to beat posted trail times here.
On the plus side, this section also begins to reveal some smaller lakes to the East and deeper views into the Alps ranges. The lack of snow here really made it apparent how far North we had driven as well: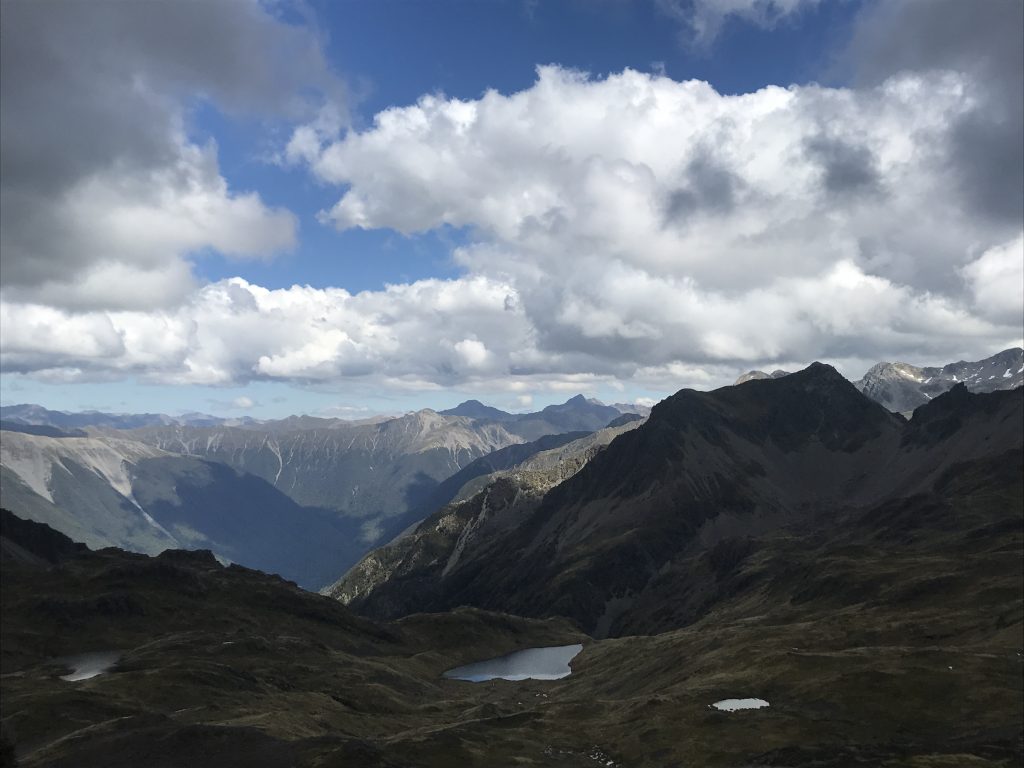 The last part of the technical section of trail lets you see the steep descent down Speargrass Creek as well as the saddle behind which lies Angelus Lake/hut. Arriving at the trailhead we dropped our packs and scrambled <5 minutes up the saddle to look at the hut and campsite. If there is availability it looks like a splendid place to spend the night.
Returning back to our packs we began the descent down the Speargrass-Angelus track. The beginning of the route was steep but very manageable as you follow the creek down a very pleasant stretch of alpine meadow (this would be very muddy in wet conditions). The views down the valley here are expansive.
After a 20 minute descent you pass close to a small Alpine tarn. This looks to be a fine place to camp in good weather. From there the trail veers North and begins to get rockier before plunging down the valley.
This part of the trail is unrelenting. It's steep. It's rocky. It's not well maintained. There are lots of sections filled with nothing but loose scree and gravel. Finally, it requires over 8 creek crossings as you hop back and forth on both sides of the stream bed. The descent took us nearly 3 hours of concentration (and there were essentially no places to camp along the way). It's worth pointing out that this was some of Mica's favorite New Zealand hiking because of how remote and otherwordly it felt.
We camped the night near Speargrass Hut on a small forested ridge between the hut and the creek (we believe it is the official camping near the hut and paid accordingly). Sadly it was only once we arrived at camp that I discovered my meticulously packed bag of dinner and breakfast was still in the car. Ouch! Luckily we had a lot of snacks packed and with Mica's ingenious preparation had a delicious and pretty filling dinner. It didn't stop me from being chastened.
The next morning with 1 instant coffee packet to split and a few granola bars, leftover pieces of mango/jerky, and 1 apple to get us home we got an early start. The hike out is fairly level as it follows above the creek on a nice forest ridge and you cross several small but beautiful streams coming in from the right-hand side. The most eventful part of the morning had to be seeing a HUGE possum in one of the DOC traps which aggressively line this section of trail as part of New Zealand's predator-free conservation efforts.
All in all this loop hike combined an epic day on Robert's Ridge with a serious and seriously interesting descent from the ridge into the Speargrass Valley before a pretty forested exit back to the same parking lot. It's hard to argue with good vistas, plenty of solitude, and varied terrain. I only wish I had remembered the dinner.