The Routeburn Track is the 2nd most trafficked New Zealand Great Walk (after Able Tasman, which has the benefit of year-round access). After our two-day, one night hike of the route, it's easy to see why. Routeburn has gentle climbs, a beautiful 5 hour section of Alpine ridge, several worthy waterfalls, and a couple of worthy side trips to small peaks with big views. That makes it easy to recommend the track.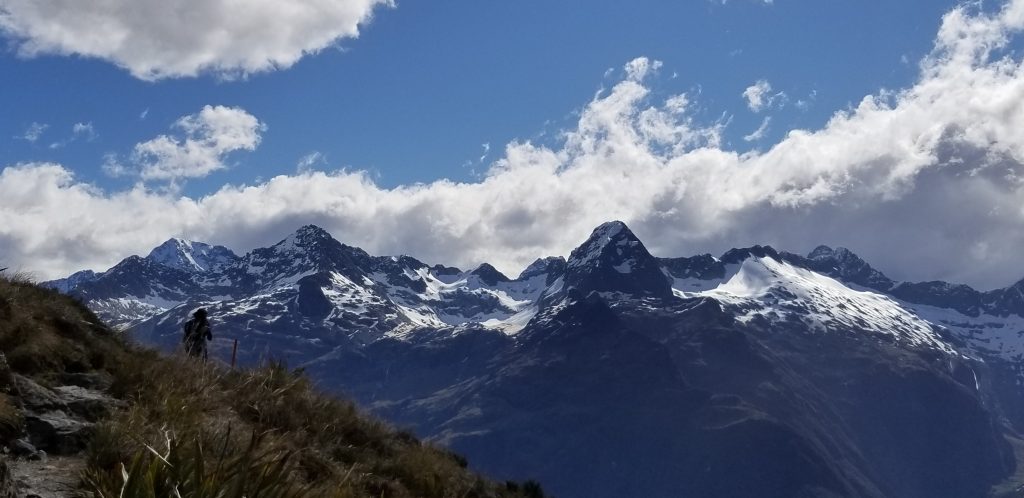 However, this recommendation comes with two important caveats. First, the best part of Routeburn is undoubtedly the section of trail from the end of the climb out of the Lake MacKenzie basin until Harris Saddle (if going from the Divide to the Shelter). This is where you get sweeping mountain views, but only if the weather is good. Otherwise, despite plenty of pleasant moments on the trail, your time on Routeburn will likely be a bit of a disappointment vs. expectations. The second caveat relates to the amount of time you need for this hike. If you are reasonably fit you don't need the two nights and three days on the trail that is recommended. This is universally true of the Great Walks we did, where the posted times seemed to factor in no more than 4-6 hours of hiking a day.
As we enjoyed hours of absolute afternoon solitude hiking on Routeburn's most spectacular stretch of trail we couldn't help but feel grateful for doing the track in one night.
Routeburn Track: Transportation and Logistics
Routeburn is, for better or worse, a point-to-point hike. Which is to say, you don't finish where you start. You have two options for where to begin. Either you can start at the Routeburn Shelter, which is about a 60-90 minute drive from Queenstown, or you can start at the Divide, which is a 3+ hour drive. That's a pretty big time difference in terms of driving for a 33 kilometer hike. The reason for this is that the trail cuts across a section of Alps with no roads so in order to get to The Divide from Queenstown you have to take a drive pretty far south before curving back up towards the track. The good news is the drive from Queenstown to The Divide is pretty in its own right.
In terms of organizing transport there are several options: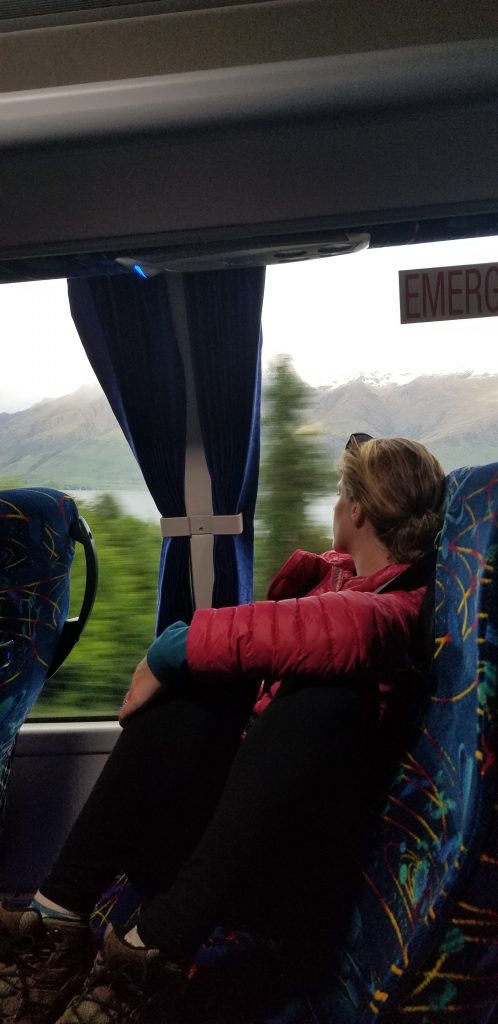 Hitchhike – Many many people do this in New Zealand and its supposed to be quite safe and relatively quick. After seeing the drives I think you could get from Routeburn Shelter to Queenstown pretty easily this way, but the Divide seems like it would be a bigger challenge.
Pay a Service to Move your Car – Whether you own or rent, there are several reputable services that will move your car from one side of the trail to another, leaving you to grab your key and hit the road as soon as you're done with the trail. This is the ultimate option in terms of flexibility and convenience, but the service alone costs $270 (as of summer 2020)
Take the bus – This is the option we took. There are several services including Infotrack which we used. They have an office in Queenstown, a generous cancellation policy, and were on time and professional from start to finish. Basically the only downside is having to schedule a pick-up time and then waiting at the end of the hike for that time to arrive. Oh, and this being New Zealand it is also expensive.
Choosing which way to hike the Routeburn Track
We recommend hiking from The Divide towards Routeburn Shelter if possible. The primary reason for this is that you will have slightly better views without stopping and turning around between Harris Saddle and Lake MacKenzie. Assuming you are ending in Queenstown it's also nice to finish closer to a hot shower (the opposite being true if you were combining this trek with Milford or other options based closer to Te Anau).
Elevation and grade-wise I don't think it matters too much as it is such a well-maintained trek.

Where to Stay Along the Routeburn Track
Routeburn during peak season is one expensive Great Walk. Huts for foreigners run $130 NZD per person, and campsites clock in at $40 NZD per person (just another reason to do it in one night). We had originally booked a campsite at Lake MacKenzie for one night and bunks at Routeburn Falls hut for the second night. Due to heavy rain, however, we ended up canceling the MacKenzie stay and hiking from the Divide to Routeburn Falls Hut in one day.
This required us to take a 5:45 AM bus from Queenstown, arriving at the Divide at 11:30. With steady but not super rushed hiking we arrived at Routeburn Falls Hut around 7:30PM.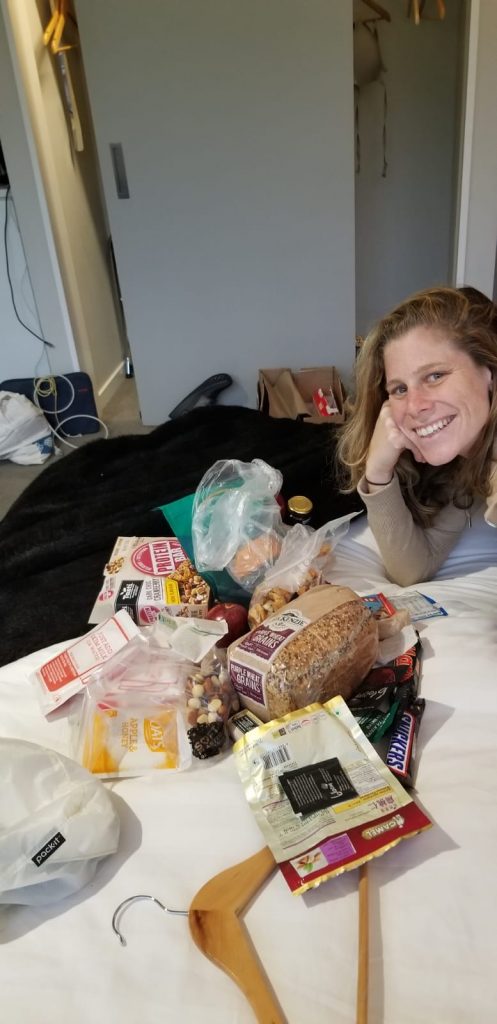 Along the way we:
Thought Lake Howden hut was nice (but close to the end of the trail)
Were generally disappointed with Lake MacKenzie in terms of beauty for an alpine lake
Found Routeburn Falls Hut to be comfortable but also somewhat unspectacular
Would not have wanted to stay at Routeburn Flats because it was so close to the trailhead but it's probably a nice low-land campsite
If you are staying at the Huts during the peak season there is a water supply plus free gas available to cook with at each hut (but no gas at the campsites of course). Cooking supplies and equipment are your responsibility.
Beginning Routeburn from The Divide
The track begins from the Divide, which at 532 meters is the lowest altitude crossing of the Southern Alps. As soon you hit the trail you begin a lovely, graded ascent through beech forest crisscrossed with small streams. After 45 minutes or so of steady climbing you begin to glimpse some views of the Darren Mountains.
Shortly thereafter the path intersects the trail for Key Summit, a 60-90 minute ascent through alpine wetlands to supposedly good views (given our 1 night itinerary we did not detour here).
A 10-15 minute descent from here takes you through silver beech forest to Lake Howden hut, which had a lovely lake view and good facilities.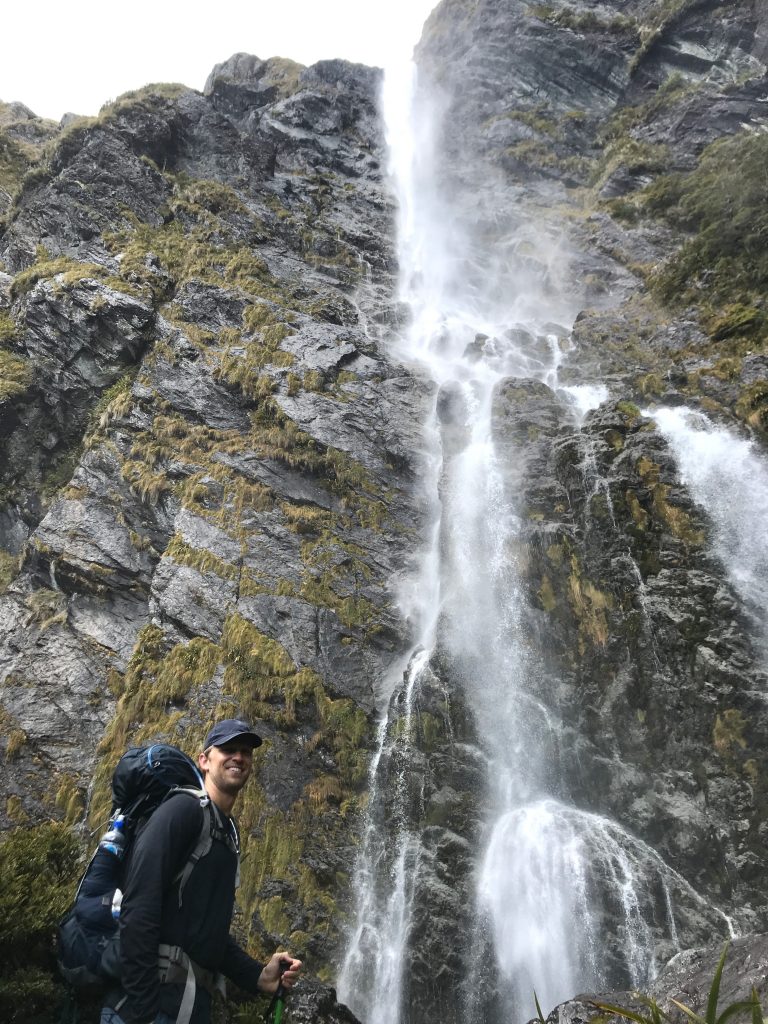 Lake Howden Hut to Lake MacKenzie
From Lake Howden Hut the track continues its ascent through beech forest. As you continue to criss-cross lovely streams cascading down you quickly get to the truly stunning 174 meter tall Earland falls.
Shortly after crossing the Falls the trail flattens out through an open grassy area before coming to Lake MacKenzie.
I have to admit that Lake MacKenzie was overhyped and to us, rather underwhelming. It wasn't bad or anything, but there weren't sweeping views, magnificent ridges, or unbelievably clear water to recommend it. So after a quick bite to eat we quickly continued on.
Lake MacKenzie to Harris Saddle: Prime Routeburn Track Time
The climb out of of Lake MacKenzie isn't very long, but it is decently steep (especially after a solid ascent from The Divide earlier in the day). Still, the trail is relatively sheltered/shaded and the views of the Lake provide a nice backdrop for the switchbacks.
Before too long you round a ridge and enter the surreal high country views that make Routeburn so popular (on a good day like we had you can even see all the way down to the sea).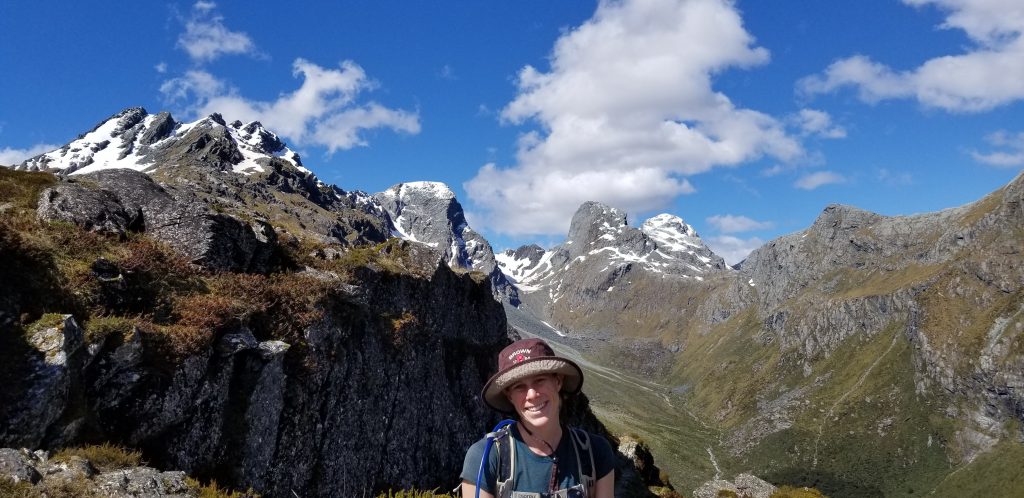 The next 3-5 hours are spent traversing the Hollyford face with expansive views of the Darren mountains across the valley. It's an awesome, world-class section of trail (complete with a few cold streams to soak your feet). Note that it if you have bad weather, you're trudging through misty, cold, rainy terrain with no payoff views.
At Harris Saddle there is an option for a 90 – 120 minute detour to the summit of Conical Hill, which is supposed to have some of the best views of the route. Because we had been so spoiled for views and evening was approaching we opted to skip this side trip.
Harris Saddle to Routeburn Falls Hut
Descending from Harris Saddle you quickly say goodbye to the sweeping mountain views of the Darren range. But it's not all bad! You replace them with a different set of peaks plus some alpine lake views over Harris Lake as you quickly wind across a series of bluffs and descend down a series of wooden stairs into an alpine meadow flat above the hut.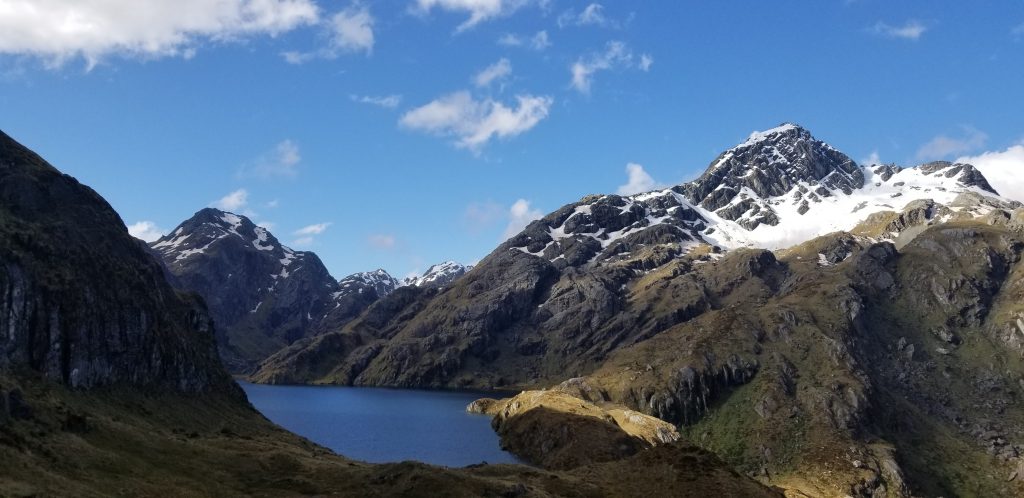 Routeburn Falls Hut to the Routeburn Shelter
We woke up on our second day on the hike to a steady drizzle and decently socked in cloud cover which prevented some views of the Humboldt range. Nevertheless the last section of trail between the Routeburn Falls Hut and the Routeburn shelter is lovely. You begin with a gentle descent followed by a valley walk tracing the crystal-clear aquamarine waters of the Route Burn river to the trail head.
All in all we were blessed with the good weather that allowed the beautiful Routeburn Track to shine. We highly recommend the route as long as a good weather window is anticipated (which is hard to do when pre-booking is required) and we suggest shortening the trail time by a night.