Kia ora!
After our classic Kiwi roadtrip, the second half of our month in New Zealand was spent traversing different parts of both islands with Genine and Josh.
Whether via engaging local guides or peering out the windows of helicopters at alpine and volcanic vistas, we saw New Zealand from more varied perspectives than we had in our first two weeks. It was a unique range of experiences framing many precious moments together for which we are so grateful.
Bay of Islands
Auckland, the country's only true big city and where we had ended our drive, felt like New Zealand's northern terminus. However, the island actually extends far further as it gradually narrows to a Northern point. It is in this sweep of sub-tropical land that we met up with Gege and Dude. As we reunited and caught up on many months of adventure, we also took to the sea, spending a beautiful day cruising through the beguiling blue waters of the Bay of Islands. We traced the steps up a lookout used by Captain Cook before finding a secluded cove to kayak and paddle board, and ended with an delicious lunch and a cold swim. (Above, we are peeking under the hull of the catamaran, which reflected the water's color beautifully.)
Lake Taupo
After the Bay of Islands, we returned to the region of our eventful overnight on the Tongariro Northern Circuit, to enjoy its main attraction: Lake Taupo.
The lake, which is 238 square miles and well over 500 feet deep, is actually the filled in caldera of the world's second largest volcanic eruption of the last million years! (Ironically the first is Lake Toba where we were with Victor's parents in Indonesia.) Mica, Genine, and Josh went fishing, and everyone caught a trout! Victor went mountain biking after recovering from helicopter-induced motion sickness. Mica and Genine's were the right size to bring home, and it was enough of a haul that we were eating fish for days. In fact, the hotel chef prepared it 3 ways: as sashimi, simply grilled with lemon, and smoked (to top a bagel at breakfast the next day). Each one was delicious!


Taupo is also where we took the first of two incredible alpine helicopter tours. This first tour was all about the region's incredible volcanic activity. First, we cruised above the Tongariro National Park (seeing the entirety of our previous hike) before flying alongside the steaming crater lake at the top of Mt. Ruapehu. Even though it is fed by snow melt from its surrounding glaciers, the volcanic activity below means the water temperature reaches up to 100 degrees fahrenheit. Truly a unique sight!
From this volcanic peak we descended past multi-colored lakes (some orange, some teal, some lime green) to explore some of the region's nearby hot springs. Finally we landed atop another volcano, Mt. Tarawera. Its crater actually looks like a long crevasse because the last eruption lasted so long and radiated to so many points, that it rotated the entire mountain 15 degrees on its axis while simultaneously collapsing at various points. (No, we're not quite sure how that's possible either.) Our co-pilot for this tour was actually on the scene of the recent Whakaari/White Island eruption that claimed over 30 lives. All of this continually reminded us of the power of volcanoes and the potential devastation that can be caused by the very things that make this country so stunning.
Our adventures fishing, mountain biking, and heli-touring around Lake Taupo were punctuated by a series of gustatory highlights. Huka Lodge, where we were staying, specializes in carefully constructed five course tasting meals with unique flavor combinations. One evening, for example, one of the canapes featured tiny grapefruit gelees enclosing a tiny burst of gin and tonic (the pink things in the photo)!
Wine and Wildlife in Hawke's Bay
After Taupo, we drove east to the wine-producing region of Hawke's Bay. The drive was gorgeous, and highlighted by our driver reminiscing about his 6 month around the world trip 25 years ago. It was very cool to connect with a fellow spirit gripped by wanderlust, and to remind him of his past adventures. In Hawkes Bay we stayed at Cape Kidnappers, a 6000 acre nature preserve on the north island's east coast.
While Victor went for a round of golf with Genine and Josh on a remarkable cliff-side course, Mica tagged along with two conservationists on a health check for an Eastern Brown Kiwi named DV8. It has to be said that the highly endangered Kiwis are not the savviest of birds. Perhaps because there are no land mammals native to New Zealand they've grown accustomed to a sluggish life, spending their days burrowed peacefully under dense shrub. However, when Europeans introduced animals like cats, dogs, and stoats, the kiwi population (and indeed that of most of NZ's vibrant bird species) were thrown to the brink of extinction. Our lodge and its nature preserve were working to protect and multiply the number of kiwi by hatching them in a protected environment and then releasing them in a preserve surrounded by a hectares-long predator-proof fence. We woke DV8 (kiwis are nocturnal), determined that he was in good health, and returned him to his nap.
After Mica's kiwi encounter, we all reunited for an open jeep ride around the hilly coast of the stunning property. We saw beautiful rock formations and a colony of hundreds of gannets. Here the males and females, who mate for life, alternate sitting on their hatched young to keep them warm and fend off hungry gulls. Each reunion of couples we witnessed involved some serious necking action. These sea-cliff dwelling birds are also magnificent fliers. In fact, one of their first flights in life is a migration between Australia and New Zealand–not an insubstantial flight!
The next day, we set off on e-bikes to explore Hawke's Bay's main highlight: wine! Although Marleborough produces most of the wine by volume in NZ (almost entirely Sauvignon Blanc for export), Hawke's Bay is the second largest producer, and boasts a large number of small vineyards growing a wider range of grape varietals. The vineyards we visited were each created by long-haired, self-taught, ex-hippie wine-makers (think: Wine Gandalfs, with facial hair and all). We enjoyed meeting a couple of these characters, hearing the stories behind their wines, and tasting the excellent Chardonnays and Syrahs that they produce.
On our last night in the beautiful bay, we spent the evening with a local astronomer learning about all the differences between the night skies in the northern and southern hemispheres, as well as the mythology and navigational techniques practiced by the Pacific Islanders. Most lastingly, we can now identify the Southern Cross and use it to find true South, a skill we've used several times since learning it.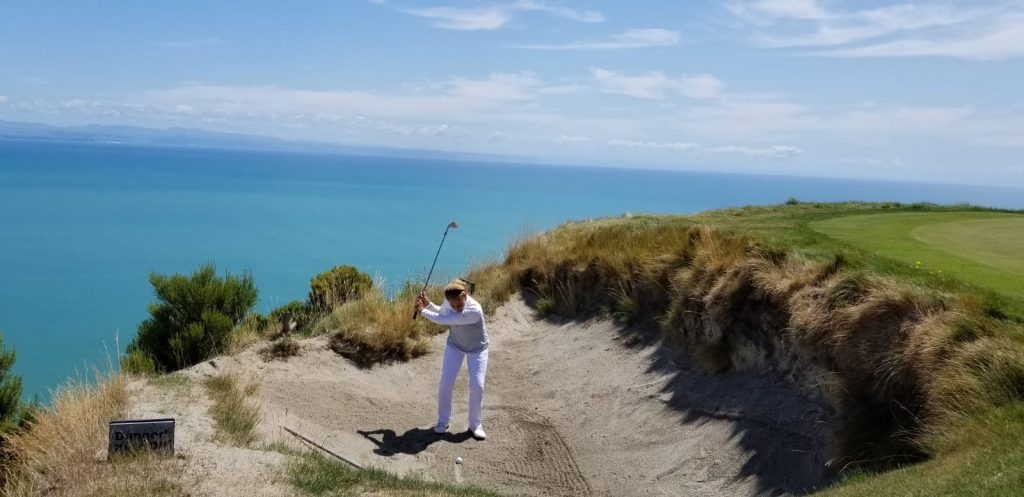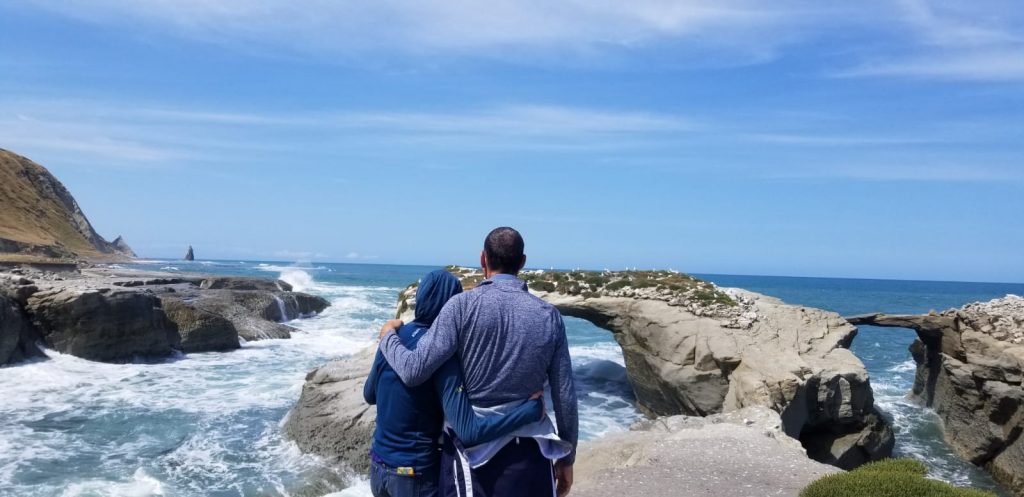 Back to Remarkable Queenstown
From Hawke's Bay we flew down the spine of the beautiful Southern Alps until we arrived at our favorite spot in New Zealand (and the place we'd move to in a heart beat if it weren't so darn far away)–Queenstown and its surrounding national parks.
We stayed in two view-blessed locations in this region, both on the banks of the stunning Lake Wakatipu. It was incredible to look out our window and be face to face with the gorgeous mountains surrounding Queenstown. In fact, Victor thinks he'll never have a better view from a bathtub again.
Here, we took our second helicopter tour under perfect blue skies. This flight meandered through several different mountain ranges to the Tasman Sea and into the iconic Milford Sound. It's no exaggeration to say that every single second of the flight was jaw-dropping (ping us and we'll send you the video).
We began by cruising over the Alps and taking in the peaks of four different ranges at the same time. After an alpine glacier landing, we continued past the Routeburn Track, where we were able to see the path we had walked 3 weeks earlier. After blowing past the two day 22 mile trek in just a couple of minutes, we made our second landing on a beach at the south end of Fiordland National Park. Sitting there watching seals and dolphins cavort and seeing the wind-whipped waves hit the rocky shore it really felt like the edge of the world. And in some senses it was. The closest land mass to us was Antarctica, and looking west there was nothing until the Patagonian coast.
The next leg of the flight took us over the stunning arched peaks of Milford Sound, where we landed next to an otherwise inaccessible (trail-less) lake whose outlet just so happened to be the largest waterfall in New Zealand. This idyllic setting was perfect for lunch, and our only concern was fending off a friendly-but-persistent kea from snatching the smoked salmon. It's safe to say that this was an absolutely unforgettable day.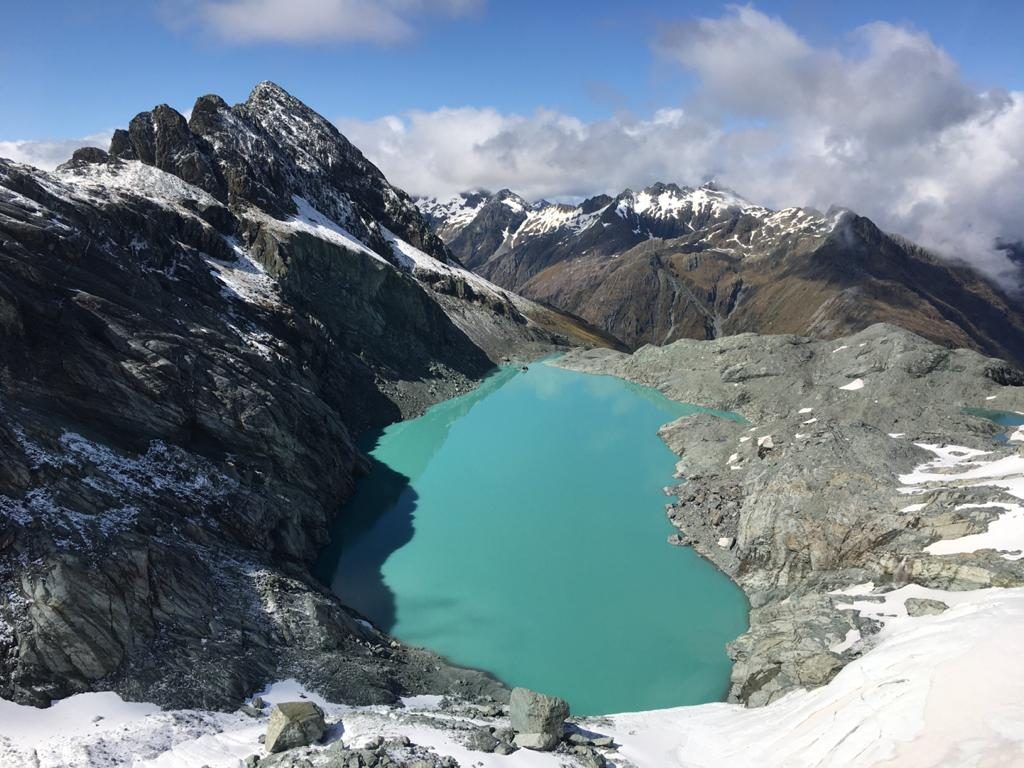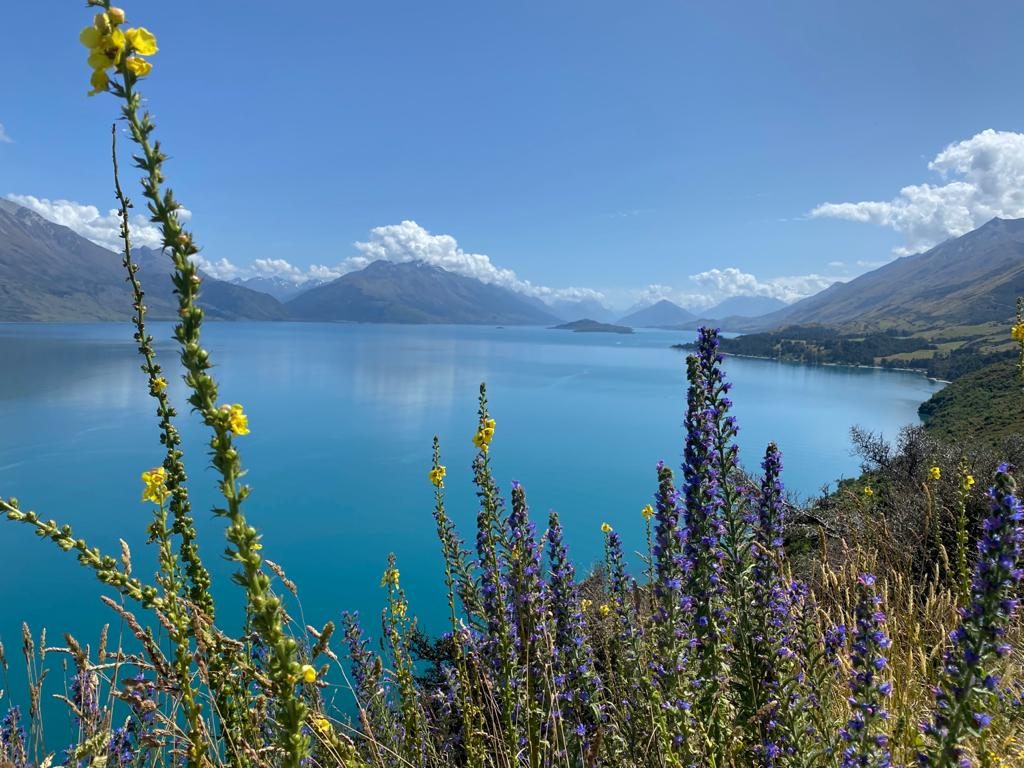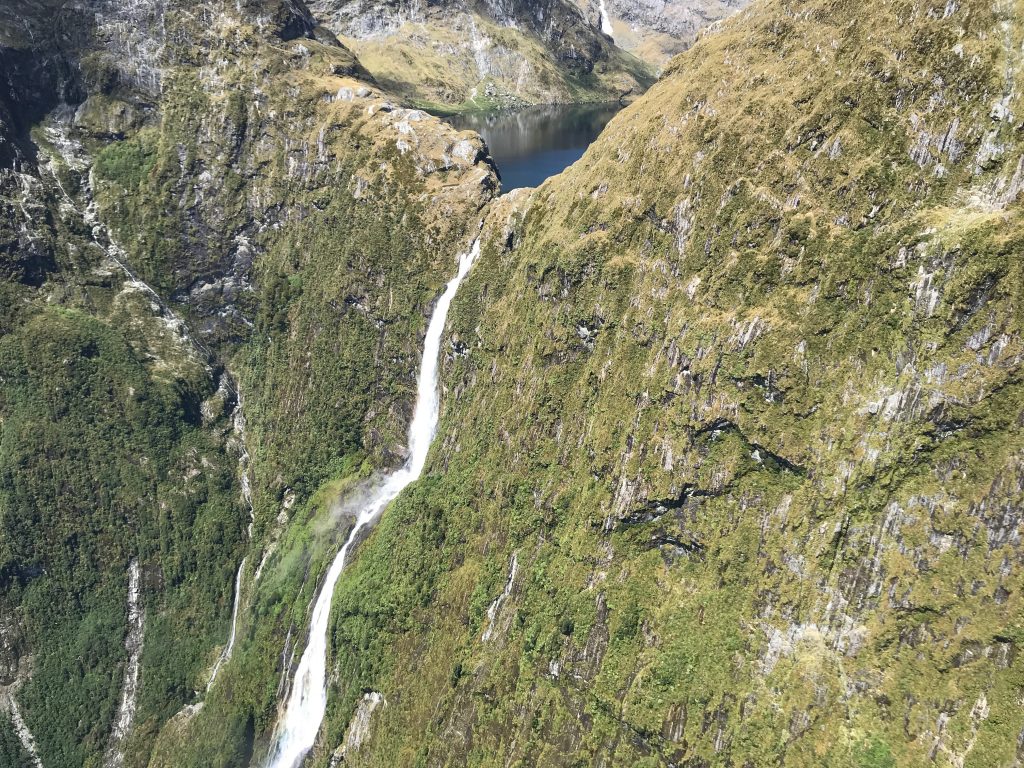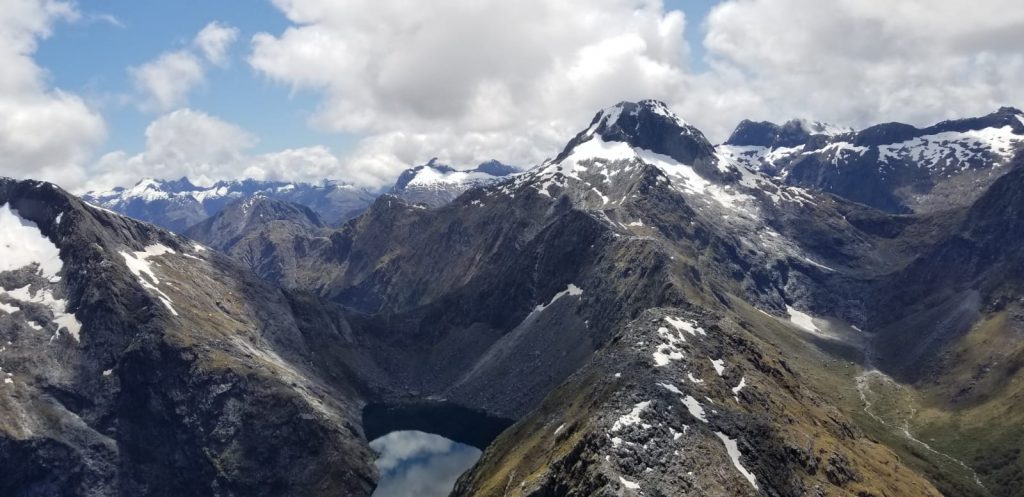 We spent our final days with Genine and Josh indulging in our favorite activities from the prior two weeks. We hiked beautiful trails along crystalline waters, ate delicious meals (including NZ and Genine's favorite ice cream flavor: Hokey Pokey), and drank great wine (including visiting various vineyards in the Otago region near Queenstown which specialize in Pinot Noir), and relished each other's company.
As a parting gift, Genine and Josh gave Mica a pounamu necklace. Pounamu is New Zealand's greenstone or jade and it holds great importance to the Maori. It can never be owned by a person (the land of NZ always owns it), but it can be gifted. In order to complete that exchange, the giver must wear the stone for a while to imbue it with his/her essence. Then, the two people must join noses and foreheads and breath in one another's essence before the gift is transferred. (See the image below for Genine and Mica completing this sacred ritual.)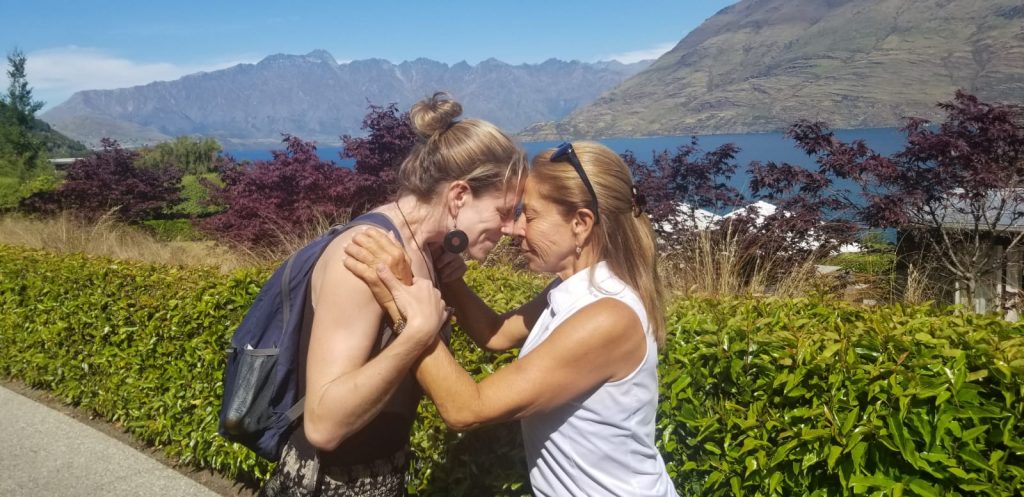 We will miss Genine and Josh until we are back in the States in March, but are still breathing in the incredible experiences and time we had with them.