Chased out of the Japanese Alps before the famed Daikeretto ridge between Mt. Yari and Mt. Hotaka due to rain, fog, and high wind we hadn't quite gotten our fix of the Japanese high country. So when we saw a two day window of beautiful weather open up we started looking for an accessible overnight hike in the Matsumoto region that would afford us an alpine experience and good views.
Thus was born our unplanned but spectacular visit to the southern Yatsugatake range.

Situated about an hour's drive (or 1.5 hour train/bus combo) southeast of Matsumoto on the border of Nagano and Yamanashi prefectures, the Yatsugatake range is a relatively narrow volcanic range between the Japanese Alps and the distant Mt. Fuji.
The range's relative compact profile means its ridges are accessible after only about three hours of uphill hiking. But this accessibility doesn't diminish the fact that this is still a true mountain range: Mt. Akadake stands at 2,899 meters surrounded by some other impressive 2,700+ meter peaks.
And on a good day like we had, the views are nothing short of stunning with Fuji on one side and the Alps on the other.
Day One on the Akadake-Iodake Ridge Hike (Loop)
In the end we chose an 18.7 kilometer loop hike with ~1,500 meters of vertical beginning from Minoto (type in Minodo if using google maps in English).
If you take the train/bus to the trailhead at Minotoguchi, the hike begins by following a road/trail left from Minoto Kogen Lodge bus stop. This first 45-60 minute stretch is pretty boring, following a gravel road to a couple of additional trailhead parking lots and huts. We skipped this by renting a car. The road was good enough that we only bottomed out the 2WD 3-4 times on the way to Minoto.
After this road-side walk or easy drive you arrive at Minoto which has three mountain huts. Past the final hut (Minoto Sanso mountain hut) the trail divides into the Kita sawa route which heads left/West to the Akadake-kosen campsite and the Minami sawa route which heads into the woods to the right/East. We chose to ascend the right-hand path to Gyoja hut. This is a pleasant 1.5-2 hour woods hike featuring a steady ascent through a mossy forest and up a mostly dry (in October) stream bed. Shortly before Gyoja hut you emerge into a large dry bowl ringed by the 4 main peaks forming the ridge you spend much of the hike circumnavigating.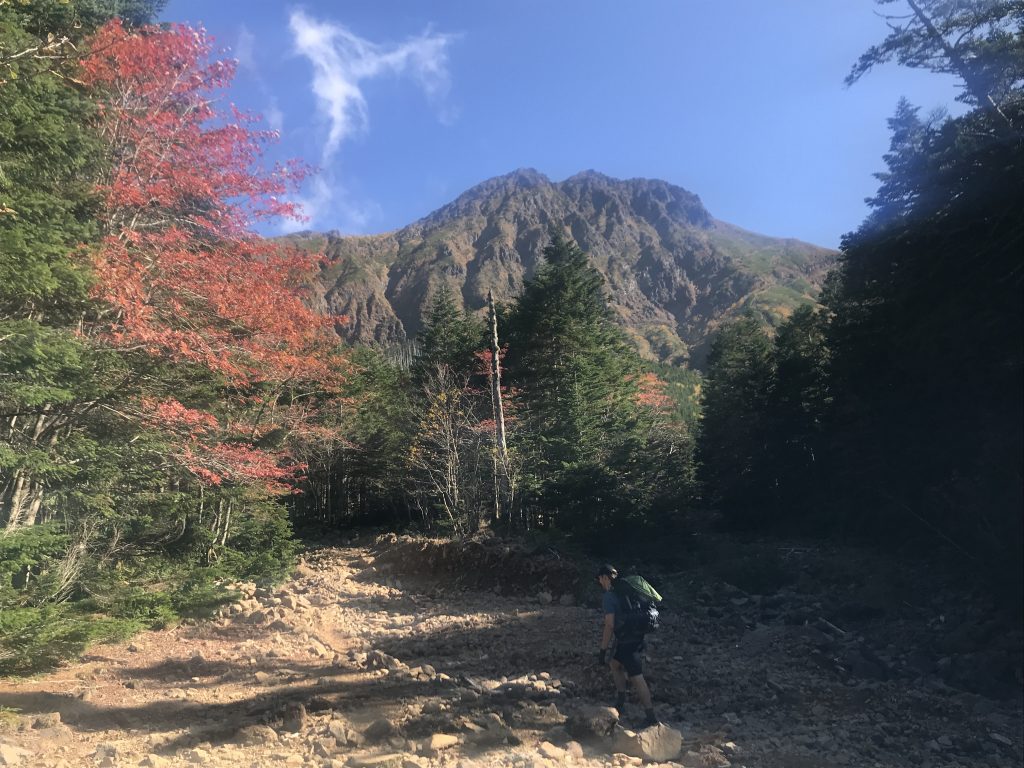 Gyoja hut is well supplied, has free water to fill your bottles, and was a popular stopover spot. If you are camping, which is the only way to minimize costs as the huts are pricey, there are some rocky sites off to the right of the hut. To me, these looked unappealing. The Akadake-kosen campsite about a half hour down the trail to the West looked more pleasant when we passed it the next day, plus you know, it has an onsen. Unless you're preparing a sunrise summit bid from these sites there's an obvious choice here.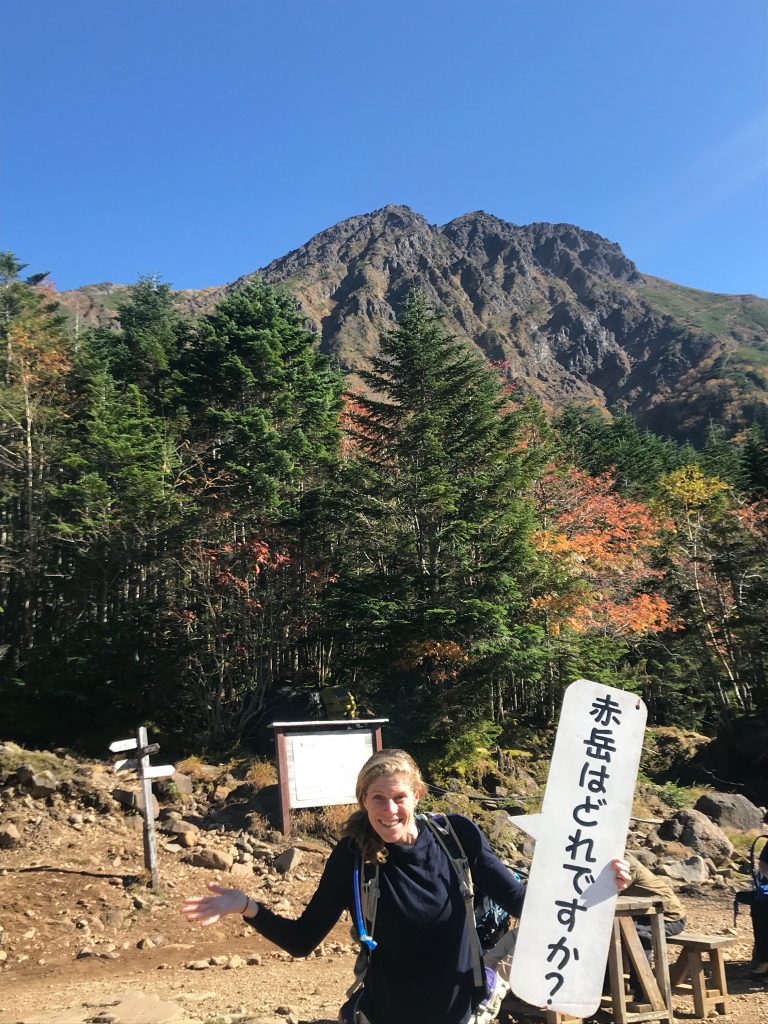 From Gyoja there are three alternative routes up to the ridge. We chose to go due east in order to summit Mt. Akadake before arriving at our hut for the night (going due east involves hooking a hard right just past Gyoja on the Southern end of the campsites). Literally a few minutes later the trail forks again with the option for a steep ascent to a ridge between Mt. Nakadake and formidable Mt. Amida (2,805m). While we headed towards Mt. Akadake the trail up to the ridge looked like a great option if you wanted to extend the hike, and dropping your pack at the ridge and bag two peaks.
After this juncture is when you begin to earn your mountain views. For the next hour the trail switchbacks and climbs up a long series of stairs to a beautiful ridge below Mt. Akadake. From here a fun 20 minute scramble (there are chains in 2-3 places but they felt unnecessary) takes you up and over the peak of Mt. Akadake which is where the first views of Mt. Fuji open up.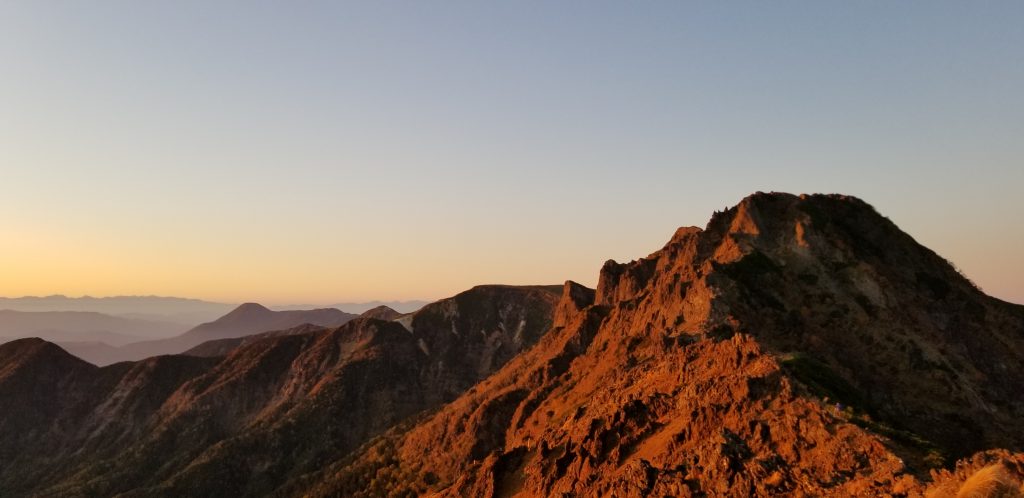 Staying in Huts in the Yatsugadake Mountains
Just below the peak is a mountain hut with unparalleled views of the Japanese Alps to the Northwest and Fuji to the South. Accommodations here were the most basic of the Japanese huts we'd seen—thin futons laid out next to each other side-by-side on the floor with zero privacy, but the location is hard to beat. At the time of our visit it was 90,000 yen a person including dinner and required a reservation.
Our destination hut( Akadake Tenbousou), however, lay visible 300-400 meters below us on a shoulder between Akadake and Iodake and the descent here was probably the most treacherous part of the trail due to an abundance of loose dirt and scree. While lower, the views of the Alps and Fuji remained exceptional.
In fact, this hut was the nicest hut we encountered for three reasons:
36 private rooms were available (super basic, with a thin sliding door but still affording you privacy to change etc.)
There was an onsen and shower facilities that were open for a few hours for men/women
The buffet-style food was excellent
As a bonus, there was a massage chair up there as well

This luxury didn't come cheap. The room with breakfast and dinner totaled 120,000 yen per person. Reservations are required and the English is extremely limited (have someone call the hut on your behalf). Price aside, you should also be aware that there is no drinkable water here. You have to buy bottled water, and the prices are outrageous (1,000 yen for 2L). If you ascend from any other direction you will pass far more affordable options, most notably at Iodake-sanso which has running water.
Day 2: Soaking in the Ridge Views between Akadake and Iodake
The next morning breakfast was at 6am. After enjoying sunrise, eating, and packing up slowly to avoid the rush of post-breakfast hikers we hit the trail around 7.
The next 2-3 hours offer a pleasant ridge with continued exhilarating views of Mt. Fuji on one side and the Alps on the other.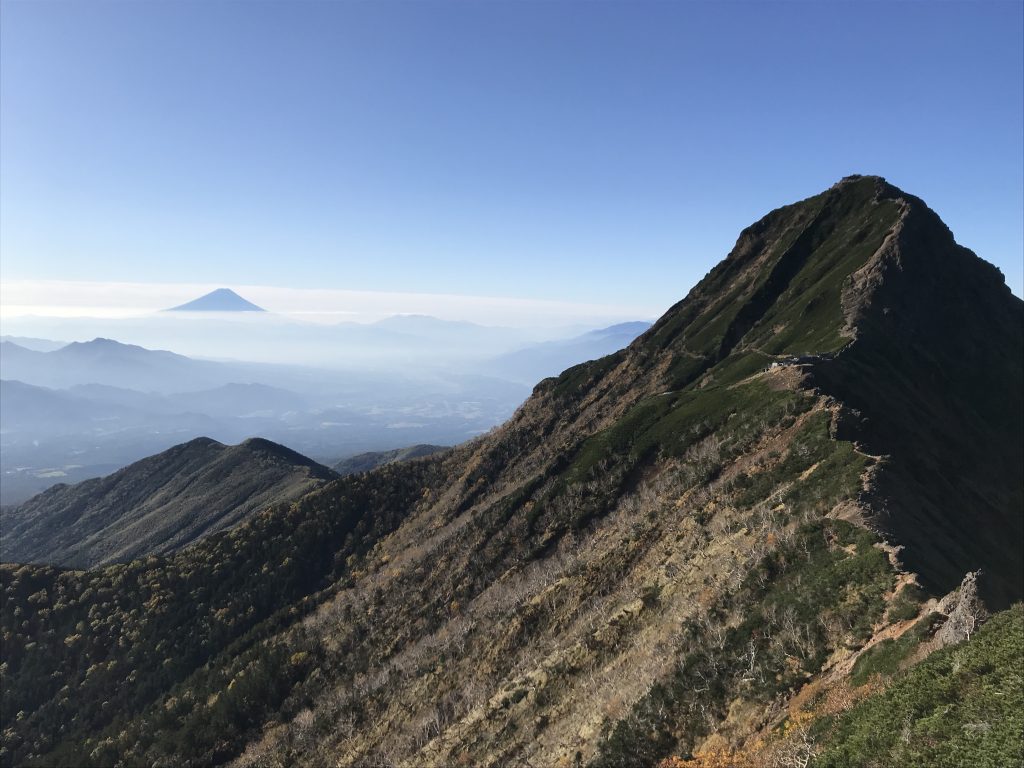 Terrain wise the scramble up Mt. Iodake had a few steps here and there where caution was warranted (again there were lots of chains) but otherwise this is a gentle up and down ridge. The Iodake hut was also well-stocked, with a fill-up at 100 yen per liter and featured the nicest alpine bathrooms we'd ever seen.
A final gentle climb to another viewpoint and then a descent to a trail juncture marked the end of our ridge walk (although there are plenty of options to extend your hike and stay up high if you want). From this juncture we descended steadily for the next 1-1.5 hours down a well-graded set of switchbacks. We were lucky enough to catch a few minutes of an Asian bear munching and walking unconcernedly by to break up the trail time. Both of us were surprised at how small it was.
After soaking our feet at a gushing stream crossing just above the Onsen hut (Onsen opens at 2pm) we refilled our water bottles (free) and continued onwards. The next stretch of trail hugs the aforementioned creek and is a beautiful ramble and gentle descent across dozens of wooden bridges and riverside rocks. After about an hour you cross a water control structure on the creek and the trail turns into a gravel road. Another 30-40 minute descent brings you to the original juncture and completes the loop at the upper parking lots. If you took public transportation another hour descent on the road will take you back to the bus stop.
All in all, not so bad for a "Quasi National Park:"
Logistics and Other Details for Hiking the Yatsugatake Mountains
The main access to the area is on the JR Chuo Line with a connecting bus service to Minotoguchi – a ~40 minute, ~900 yen bus ride.
The map you need for the area is map # 33 for Yatsugadake.
Contact details for the hut we stayed in:
Akadake Tenbousou Moutain Hut
+81 (0) 266-58-7220
www.yatsugatake.gr.jp
The following articles/blog posts were helpful to us in planning our trip: