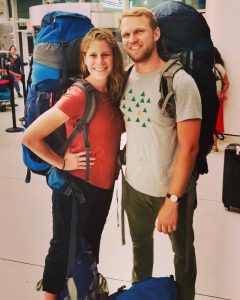 Even though I fit all my belongings for 7 months into a single backpack, I really can't say I'm going ultra light. (We are 2 weeks into our trip, and I have barely repeated any outfits.) It was important to me to feel prepared for a variety of situations from a week on the trail in Bulgaria to a nice dinner out in Hong Kong, but I also tried to avoid schlepping a heavy pack, and stick to what I knew I'd be happy wearing over and over. My values when packing were as follows:
Love how I look and feel in everything I bring–If I hemmed and hawed at all about wearing the item again and again, it didn't make the cut.
Pack things I can sweat in–It will be summer almost everywhere we go, and I hate feeling sticky! I already gravitate towards athleisure in my normal wardrobe, so leaning into more polyester/nylon blends from stores like Athleta was easy. Also, I am a workout addict, and I prioritized having enough athletic clothes so that I only have to do laundry once a week.
Include mostly neutral colors, but with pops of color, pattern, and personality–The one-pack limit requires most items to mix and match, but I knew if I spent the whole year in black, white, and gray I wouldn't feel like myself.
Know that the contents of my pack will remain flexible throughout the journey–I brought several items I have owned for 10 years, so I feel comfortable donating/trashing them and acquiring new items if needed.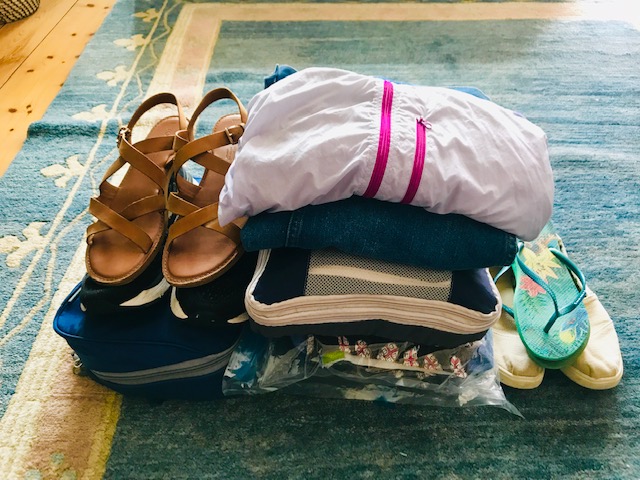 Below is the list of what I packed!
Tops (This is mostly where I went overboard…)–3 long sleeve, 5 t-shirts, 6 tanks, 2 turtle neck tanks
navy Athleta organic daily long sleeve
white Banana Republic cotton long sleeve (*ditched this after Japan–unnecessary in SE Asia*)
turquoise Athleta jersey long sleeve (*ditched this after Japan–unnecessary in SE Asia*)
"dark rust and white" (aka burnt orangey brown w/ stripes) Paige t-shirt
dark gray Banana Republic scoop back t-shirt
"rustic clay" (aka burnt orangey brown) Lulu Lemon Love Crew t-shirt
white Generation Love t-shirt with lacey shoulders
black Joie t-shirt with structured cap sleeves
navy Only Hearts stretchy tank
light gray Banana Republic racer-back tank
black James Perse tank top
white James Perse tank top
black Theory turtle neck tank
white Athleta ribbed mock turtle neck tank
red stretchy tank from a vintage store
blue and white funky patterned cotton tank from a vintage store
Bottoms–4 pants, 2 shorts
hunter green AG tailored capris
light wash, cropped AG blue jeans
black Thai-patterend cotton harem pants
beige AG cropped pants (*ditched these after Japan–unnecessary in SE Asia*)
blue Joes jean shorts
white Madewell high-waisted denim shorts (*replaced these with new ones in Laos*)
Dressier Clothes
black and floral Alice and Olivia kimono
grey-green Prana cotton/poly blend dress
red and white paisley pattern cotton skirt–(*didn't end up using this, so I left it in Laos*)
Underwear
8 pairs of underwear
6 pairs of socks
5 sports bras
5 regular bras
2 strapless/bandeau bras
Outerwear
blue denim Madewell jacket
magenta Eddie Bauer rain jacket
tan cashmere/polyester blend zip-up Polo sweater
**I didn't bring a light, compressible down jacket, but I think I will need to pick one up for the Bulgarian and Japanese mountains in the late summer/early fall, and even maybe summer peaks in New Zealand.** (*Bought this in Bulgaria*)
Exercise and Camping Clothes–5 shorts, 2 pants, 5 tops,
4 Nike running shorts (orange, bluex2, and black)–I workout almost every day, so I packed a lot of these!
tan nylon/spandex blend EMS hiking shorts with pockets
black Prana full-length spandex pants–Definitely also wear these on flights and around town.
black North Face Aphrodite draw string capri–These double for regular clothes, as well.
3 Lulu Lemon workout tops (black tank, purple tank, teal t-shirt)
2 Baltimore Ravens Nike dri-fit workout tops
navy polyester long sleeve layer I got from a running race
magenta fleecy EMS long sleeve
black Athleta nylon/spandex vest–This doubles for a stylish around town layer!
lavender Smartwool PHD ultralite hoodie/shell–I got this layer from my father-in-law for Christmas, and it is PERFECT for the summit of a mountain on a hot day or a light layer when the forecast says it might rain in the tropics!
2 pairs of hiking socks
Camping Gear
black Smartwool Merino 150 gloves
burgundy Smartwool Marino 250 headband–Not sure if I'm going to need a warmer had in the mountains
funky-patterned Bramble instant-dry towel—Couldn't recommend this awesome brand more!
orange Big Agnes Kings Canyon UL quilt
yellow Therm-a-rest sleeping pad
purple bandana–ALWAYS useful
spork
Shoes
hiking boots
black New Balance running shoes
beige classic Toms
tan Toms leather sandals
flip flops
Bags
black leather across the body–big enough to fit my phone, small zipper wallet, & more!
chocolate brown leather clutch with wrist ring–same as above (useful size is crucial!)
purple Osprey Talon 22 day pack–can fit a whole weekend's clothes
blue Zomake day pack—This little pack is a GOD-SEND; it packs down to a tiny size and is incredibly light, but is comfortable on your back and holds a ton of stuff!
Miscellaneous
baseball hat with multicolor sunset design
brown Brown University bucket hat–thanks, Grandma!
bathing suit
brown and white paisley patterned scarf
AG grey racer-back maxi dress–I call this my "house dress." It instantly makes me feel at home in any Airbnb or hotel. I wasn't sure if I should bring it, and I'm so glad I did!
2 sleep t-shirts
Brown University sleep boxers
Jewelry: gold-colored studs, hoops, blue dangly earrings, 2 beaded necklaces (green and yellow)
Sleep accessories: inflatable neck pillow, ear plugs, eye mask