Our two and a half weeks in Japan were a whirlwind of experiences and adjustments, both to the rich culture surrounding us and to our rhythms and relationship after two months on the road. It made for an interesting, challenging, and important stop on our travels that we are still processing in many ways.
Coming into Japan we had very high expectations and very little knowledge of the modern culture. We don't have any native Japanese friends, and while we were excited to try the food, we were novices outside of sushi. It became clear early on that our status as outsiders combined with Japan's deep legacy of isolation as a nation meant we needed to learn to swim in their waters. 
One thing we noticed right away was how silent it was. The subways, the streets, the restaurants—everyone keeps to a hush! Not so much the dainty, subtle flower, Mica immediately felt like she was a bull in a China/Japan shop. She dropped a piece of sushi and splattered it into her soy sauce, startled shoppers when she spun around to ask Victor a question in a convenience store, and hit her head on several low-hanging door frames. Victor also sometimes felt physically out of place. He searched in half a dozen stores to find shoes his size, and finally found the only pair in all of Matsumoto–a stylish white sneaker that he bought out of duress.
Beginning in Kyoto
We began our journey in history-steeped Kyoto, where biking was the best way to see the city's innumerable Buddhist temples and Shinto shrines. We learned quickly that Google was fairly useless for finding restaurants (few were listed and fewer got high reviews), so we needed to follow the queues and our guts in selecting places to eat. The first night, that process led us to a yakitori establishment where we learned the Japanese use all parts of the animal—not something you'd know from your local sushi take-out spot in the States! Over the course of our 2+ weeks we saw menu items like chicken and horse sashimi, and ate a solid amount of gizzard and intestine. Sometimes this was excellent, other times it challenged our Western palates.
Another highlight of Kyoto was a tea tasting where we were walked through how to cool tea to the appropriate temperature (transferring it from cup to cup drops it 10 degrees!) and how to brew matcha for maximum umami. As religious tea drinkers, this was a moving and informative experience that we will carry with us beyond the trip. It also reinforced that if you want to find a cool part of town, look for a great tea shop (or quirky whiskey bar, but that's a story for another time).
Fushimi Inari (Each gate represents a donation)

Matcha!

Those lanterns actually show the menu items on offer!

Traditional tiny counter-service yakitori restaurant
Walking Back Through History from Hiroshima to the Edo Period
After getting our Japan sea legs in Kyoto, we used our Japan Rail Pass to take a high speed train to Hiroshima. It was powerful to stand amongst skyscrapers on formerly incinerated ground, see the Atomic Dome (the bones of a building that survived at the precise epicenter of the blast), and take in the museum's enormous panoramic photo of the city's destruction.
From there we went back further in time by taking another series of trains and buses to Magome, a beautifully preserved "post town" from the Edo period. Magome is also the starting point for a section of the Nakasendo Way which was the main 564 kilometer land route connecting Kyoto and Tokyo for hundreds of years. To simplify the logistics of trains, buses, and then our walk, we forwarded our bags to our next city (an amazing service Japan offers–anywhere in the country, same day, for $20), before walking through timelessly lush forests of bamboo groves. We overnighted just a few hours down the trail in another beautifully-preserved town, Tsumago, where our AirBnB host fed us inago – the local specialty of grasshopper simmered with soy, sugar, and sake.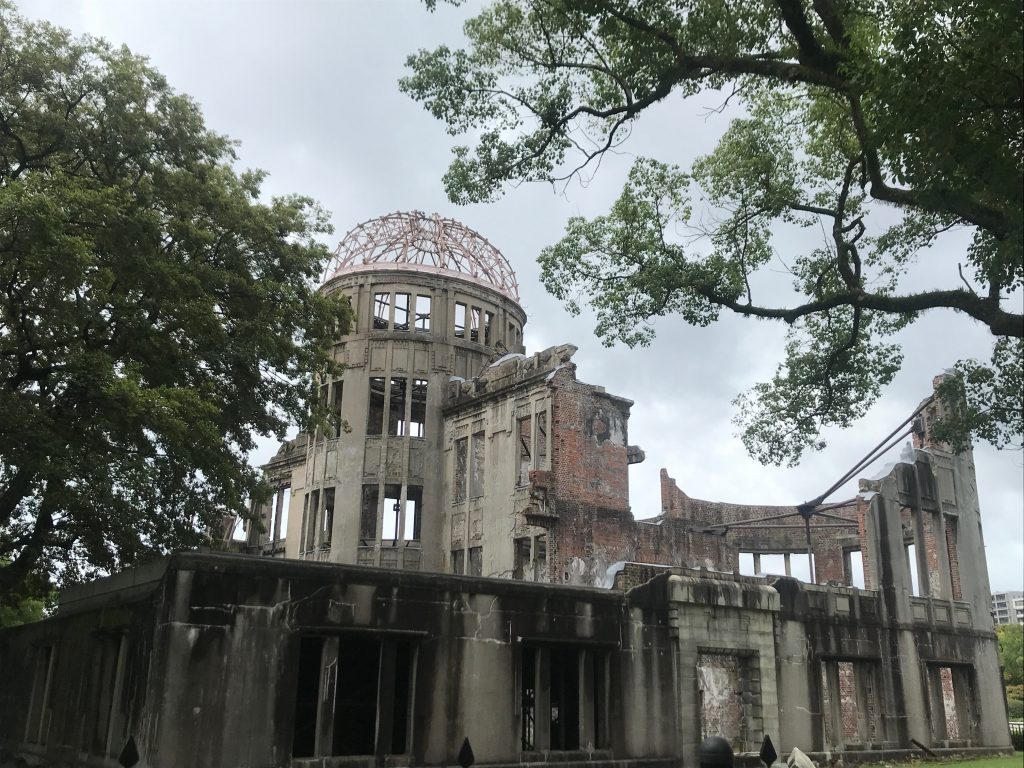 Heading to the High Country
Instead of walking all the way to Tokyo on the Nakasendo Way like the Samurai of old, we took a week-long detour to head North to the stunning mountains on Honshu (the central island of Japan). We reconnected with our bags in Matsumoto, which we feel is like the Denver of Japan, and planned our alpine adventure while taking advantage of the great brewery, low tourist count, and generally approachable vibe of what quickly became our favorite city.
And then we went to the Japanese Alps! We planned to soak in fall foliage while summiting two of Japan's highest peaks, connected by a legendary ridge trail over the centimeter-wide Daikiretto. Ever unpredictable, the mountains delivered challenging vertical, incredible vistas, a once-in-a-lifetime sunset, beautiful fall colors, and intense weather that unfortunately chased us off the ridge. We were forced to descend 15 miles in soggy, chilly weather. But about 11 miles into our steep descent, we paused at a hut to dry off and asked someone if they could call a hotel for us in a town near the trailhead 3+ hours away.
Thus, we emerged from the trail into a moment of travel magic. Within seconds an unmarked car immediately whisked us away to a ryokan, a traditional Japanese inn. Just like in the mountain huts, we were the only foreigners there. Dinner included a million tiny plates (miso mackerel, sashimi, Japanese hot pot called shabu shabu, some sort of seafood custard…), and featured conversation with the owner. The old man was able to bond with us over our mutual appreciation for the mountains in his limited English by saying "me mountain rescue 20 years, you John Muir Trail" and gesturing to his sore knees and back. We couldn't stop shaking our heads at the miraculous turn of fortune that brought us immediately from 15 wet, steep miles to an idyllic, cozy mountain retreat! For a full account (and lots of pictures) of this hike see Victor's post.
It was also at this inn that we learned about the ritual of Japanese onsen. These hot spring baths are common throughout the country, and as we were steaming out our sore muscles in both private indoor natural hot tubs and an outdoor one on the misty mountainside we could see why they are such a cherished part of the culture!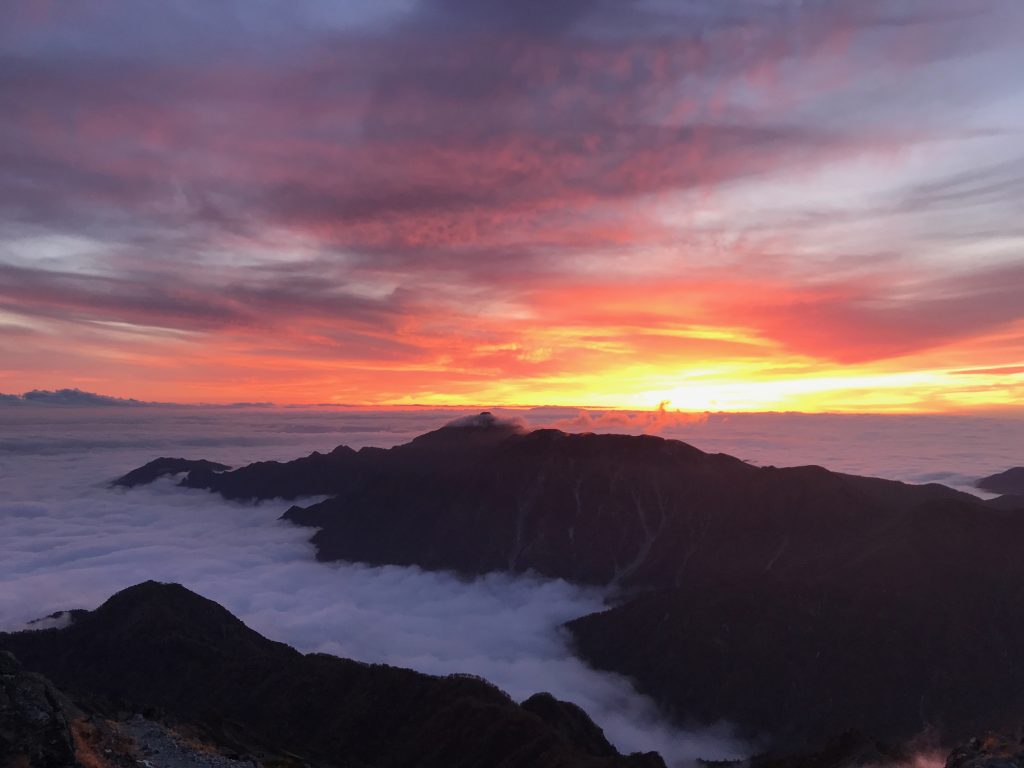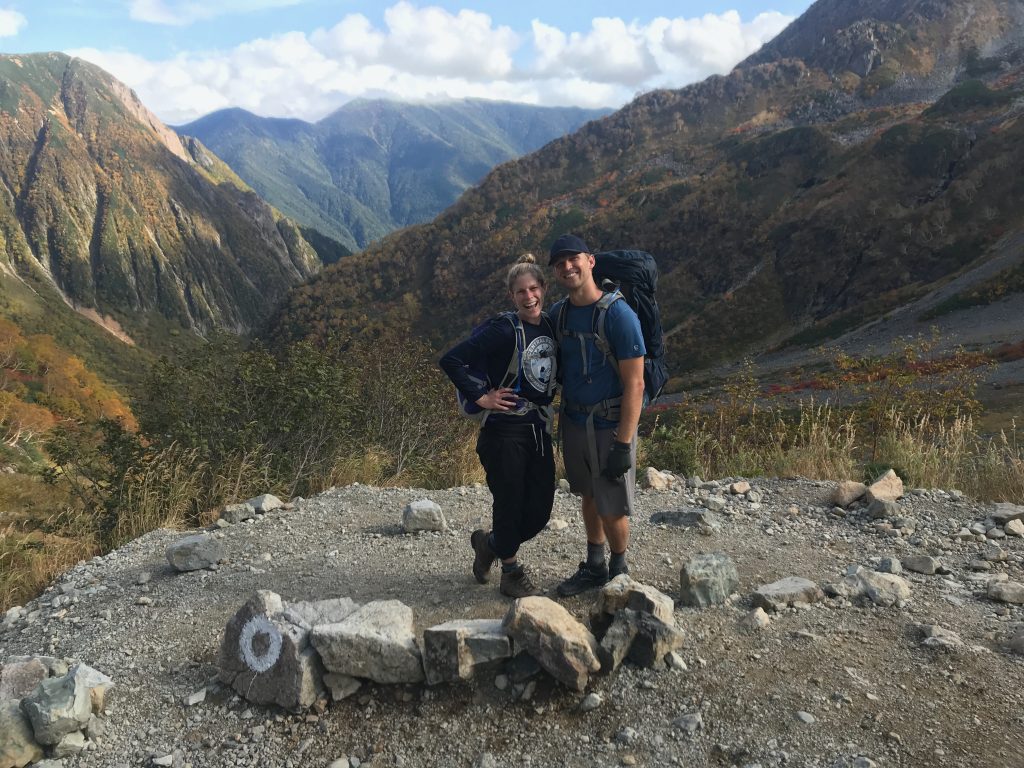 Rolling with the Weather
The next day, we bused back to Matsumoto to regroup. Eyeing a good weather forecast and wanting more of the Japanese mountains, we improvised a different trip to a different nearby mountain range.
This unplanned overnight in the Yatsugatake mountains gave us unbelievable views of Mt. Fuji (87 miles away) and a sunset-clad view back over the entire Japanese alps ridge line we had been on days before. This is also where we stayed in the king of Japanese mountain huts. This one had the standard vending machines full of cold beer, home-cooked meals, and decent futons we had come to expect but added an onsen, a photo booth, and even a shiatsu massage chair with a view of Mt. Fuji. How do they do it? Helicopters.
For a full rundown, and of course more pictures, of our Yatsugatake adventure check out our post on this epic "Quasi-National Park."
Typhoon Tokyo
We arrived in Tokyo the morning that Typhoon Hagibis was supposed to hit. We stocked up on water and onigiri (stuffed rice balls wrapped in seaweed found at every convenience store), and spent 30 hours in our hotel along with a dozen strapping gentlemen marooned on their visit to the Rugby World Cup. After the storm blew over (with very limited damage in a Tokyo proper), we switched from our hotel to an AirBnB across town. This was nice because our first neighborhood, which had a very cool Brooklyn vibe, felt very different than our second, more suburban, locale.
In Tokyo, we indulged in 2 fancy omakase tasting menus covering a spectrum of seafood and tastes. Mica grew very attached to fatty tuna. We both appreciated the care given to each piece and the close connection you feel to both food and chef when each dish is prepared in front of you and literally placed in your hand. We also had incredible yuzu ramen, and that's saying something because we are not generally ramen eaters. (NOTE: Ramen is almost always ordered from a vending machine and then served to you at a counter.)
Finally, we took an incredible class on shochu and sake with a master sommelier; he literally wrote the book on shochu! The coolest things we learned are as follows: 1) sake flavor is all about how much rice has been polished away–more expensive sakes are labeled with 70% or above, but we preferred some of the less polished varieties around 50%. 2) Shochu (a clear rice liquor) always actually tastes like its secondary ingredient–sweet potato shochu really tastes like yams, and brown sugar shochu lasted like molasses. Delicious!
Tokyo was a fascinating capstone. We dove deeper into cuisines we had sampled, wandered from modern to historical in the space of seconds and had moments of magic peppered with some disappointments (See: Robot show).
In the end, we came away feeling like Japan had stretched us and challenged our mental travel fatigue. We feel we have unfinished business there, so perhaps our journey will take us back someday! A year sounds long, but this country really feels like it merits a lifetime of exploration.
P.S. Random Facts about Japan You Wouldn't Expect:
-There are no trash cans anywhere
-There is a very low level of English proficiency throughout the country (this surprised us!)
-It is believed that saying thank you only once is a sign of insincerity, so the entire staff of a restaurant will serenade you will arigato gozaimasu when you enter and exit!
-Japanese toilets come with musical accompaniment, seat warmers, bidets, and very complex instructions