Bulgaria possesses beautiful and rugged alpine mountains. In our time there we visited two different ranges in mid-September: the Rila mountains and the Pirin mountains.
Both are easily accessible from Sofia or Plovdiv. Both are highly worth the time and effort. This post, Part I, talks about getting into the back-country of the Rila Mountains. Part II discusses our time in the more southern Pirin range.
Getting Beyond the 7 Rila Lakes
Discussion of visiting the Rila Mountains will quickly lead you to two of Bulgaria's most famous destinations: the 7 Rila Lakes and Rila Monastery. These are rightfully highly regarded locations and a trip to the Rila mountains should certainly include them.
But in our opinion your visit shouldn't be limited to these sites. Going just a bit further and/or staying just a bit longer gets you beyond the standard crowds and reveals some stunning alpine backcountry.
Our hiking itinerary started with the same route as the typical 7 Rila Lakes day hike but continued out of the lake basin to spend the night at the remotely nestled Ivan Vazov hut. The return hike of ~10 miles (which can be shortened) provided a stunning overview of the Urdini lakes and epic distant peaks.
The route looked like this (more zoomed in pictures below):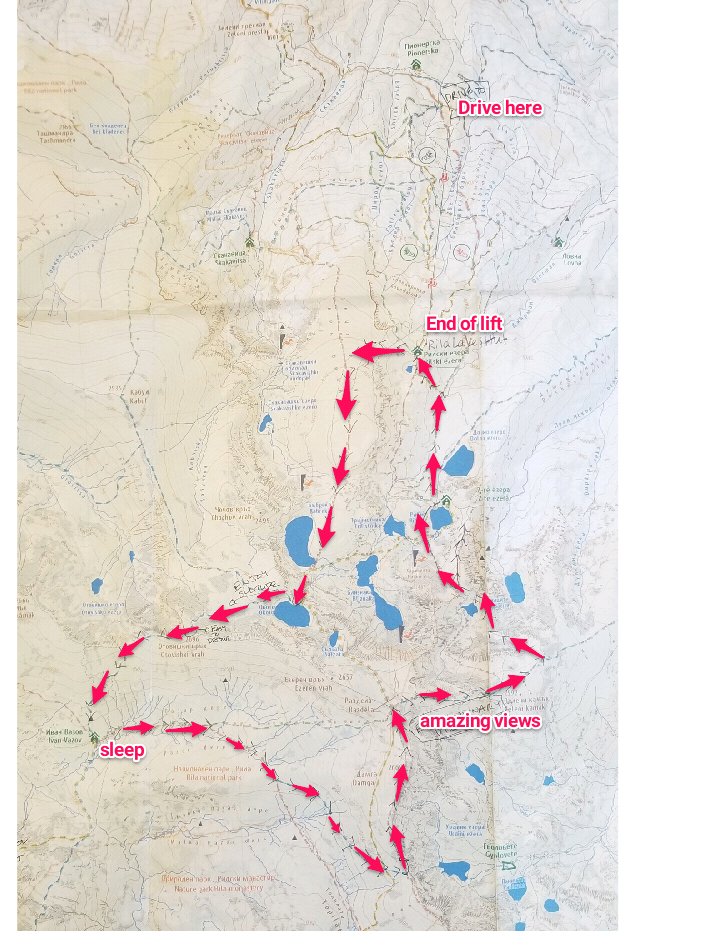 How to Get to the Rila Mountains
We rented a car (highly recommended), and drove the hour and a half or so from Sofia to the chairlift for the 7 Rila Lakes which is located above the town of Sapareva Banya and near the Panichishte hut.
The drive was lovely and scenic: we opted to take Route 181, a more scenic and ever-so-slightly slower alternate to the main A3 highway. This decision was in part because Google maps directed us from Decathalon, a highly recommended all-in-one outdoor store servicing the legions of outdoor enthusiasts in Bulgaria. But even if you are starting from more central Sofia the extra time on the road felt worth it.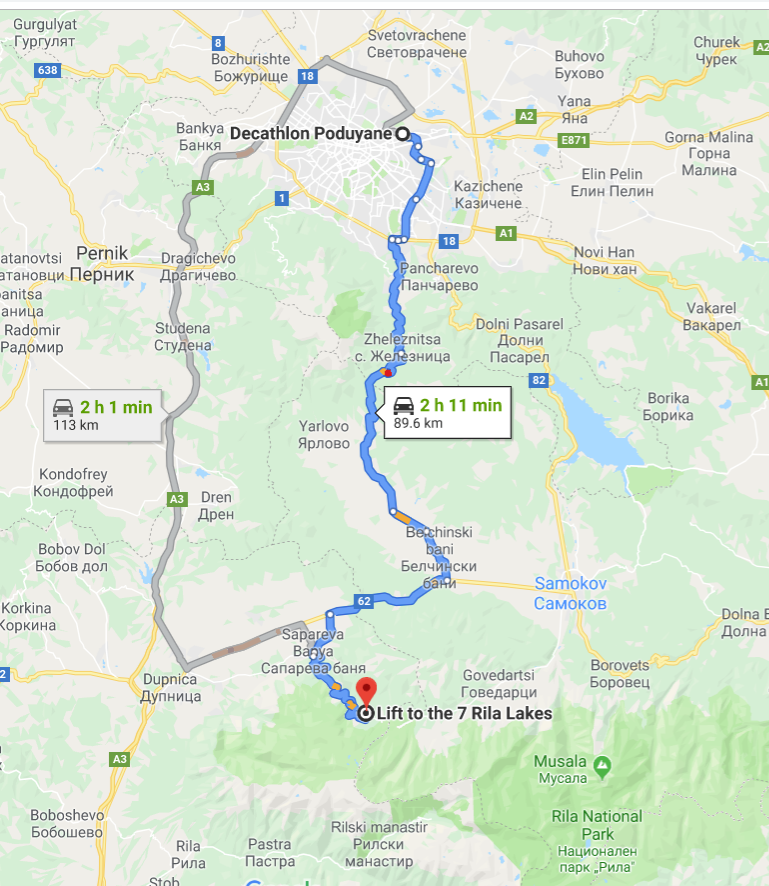 If you choose not to rent a car there are other options including (a) public buses running to Sapareva Banya where taking a taxi to the chairlift is possible or (b) private transfers from Sofia that are relatively inexpensive as far as these things go. You could also start your hike from Rila Monastery which has daily bus service from Sofia. From the monastery, it is a 4.5 – 5 hour hike to Ivan Vazov hut.
Once we arrived parking at the chairlift cost 10 leva for two days and felt very secure. From there the chairlift costs 12 leva one way or 20 leva round trip and deposits you in the Alpine zone dominated by a "hut" (really a hotel) at the top. It is a guilty pleasure and well worth skipping thousands of feet of vertical climbing to begin the hike so high up. 
Day 1: Rila Lakes Chairlift to Ivan Vazov (~6 miles)
From the end of the lift you have multiple options of routes. We chose to continue past the hut to the west and to follow the "2nd ski lift" figure on the map up to a ridge. Once on top, we took a left onto a "red trail" (see the notes on Bulgarian paths below) towards Kidney Lake. This was a fantastic first route as (a) you have views of the lake basin to your left, (b) the high alpine plateau is unique in its own right, and (c) you knock out quite a bit of climbing early on the route up to Eye Lake.
Although we were on this portion of the trail mid-week in September it was still busy. It was not until after our lunch stop and choice to go West instead of following the path up and to the left/East with all the day-hikers that we found solitude. In fact, from this point onwards, up a gentle ascent on a "blue" trail, we did not see any other hikers until our arrival several hours later at Ivan Vazov. The trail meanders through a rocky plateau, hugging an imposing rock ridge to the left. Route finding at this point becomes a little more important, but in the snow-free months is by no means very difficult. After a short but steep ascent we emerged on a high ridge with the Rila Lakes basin in one direction and a lovely mountain valley descending to Ivan Vazov on the other (at the top you should feel like you've taken a hard right to stay on the trail). The only sounds here were a bracing wind whistling over the ridge and the gentle clang of bells attached to the cows grazing on the plateau. 
Another steep descent through this valley brought us to Ivan Vazov, which was visible for large stretches making the last navigation easy.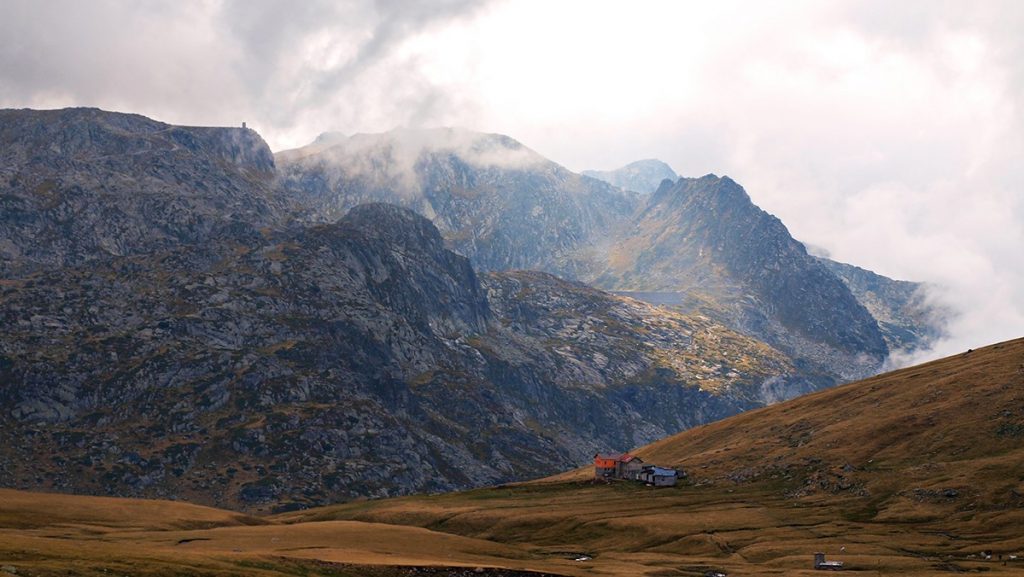 The overall time from the top of the chairlift to Ivan Vazov was just over 3 hours, including a 20 minute lunch break, but hiking at a good pace and encompassing 3 decent climbs and one steep descent.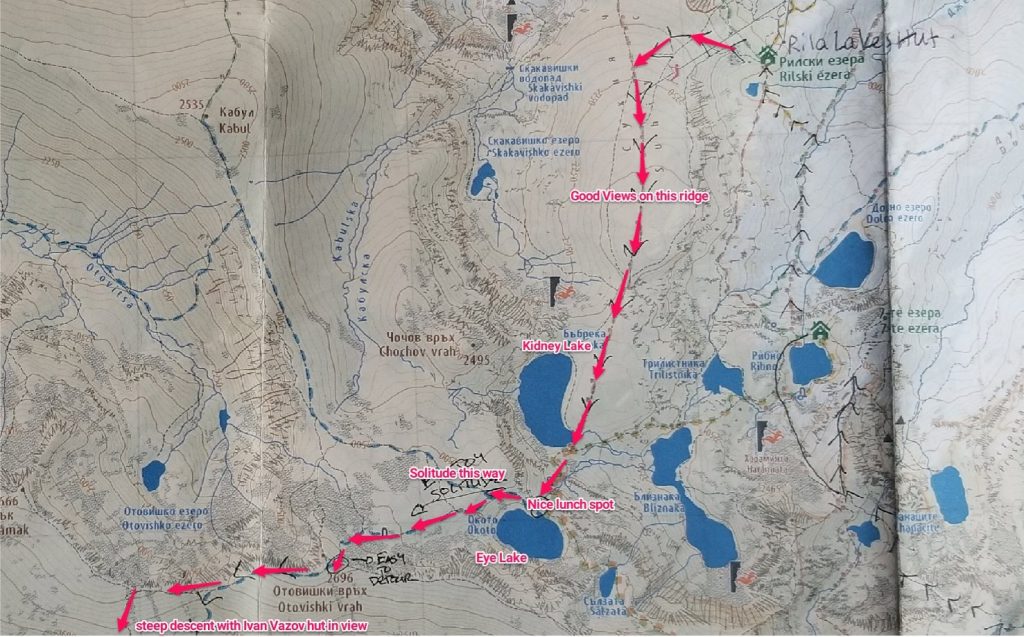 Staying at Ivan Vazov Hut and Reserving the Mountain Huts in Bulgaria
OK, first the Bulgarian hut system is an awesome attribute for visiting the mountains with minimal gear. Second, it was our experience that it was virtually impossible to book them ahead of time. We did manage to reach Ivan Vazov in two ways: through Viber at +35988772772 and after multiple calls from the super helpful employee at the K2 Outdoor store in Sofia. Both times it was readily apparent that there would be space at the hut mid-week in September and that they were most certainly not taking anything resembling advance reservations.
Our attempts at contacting any other hut via phone (both us, our local friends, and the aforementioned K2 Outdoor employee) were unsuccessful. Most of the time the number listed on the website wasn't even correct.
As for Ivan Vazov itself, our stay here was a rewarding one (20 leva per person per night). The beds were fine, the sheets clean, and the noise of other hikers tolerable in somewhat large rooms. It was a treat to have locally brewed beer on hand to order and the food was also tasty (although the menu was aspirational: our options were essentially confined to omelettes and a soup and not the 7+ options listed).
We received a nice bit of salami, 2 pieces of bread, a chocolate bar, and the ubiqutous cheese/tomato/cucumber combination for our lunch pack the next day (for 6 leva). We recommend supplementing what you can purchase at the huts with a well packed snack/lunch kit. We also saw hikers with stove/freeze drieds which are probably as cost effective. 
Overall the hut was in a beautiful setting, the food met our needs, our conversation with the owner was supremely interesting and we met some interesting hikers, including one Korean who had pushed his bike up the trails as part of his 16+ month global adventure. Don't expect to come out saving money however. The prices were all reasonable given the remoteness of the location but we spent over 90 leva living the luxurious mountain life. 

Day 2: Ivan Vazov to Urdini Lakes to 7 Rila Lakes (10-12 miles)
From Ivan Vazov you have many interesting route options. There are several remote lakes a few hours away that the owner of the hut said are visited by maybe 40 people a year. The hike from here to Malyovitsa also promises an incredible alpine day.
But we choose to head up the valley to do a loop of the Urdini lakes. We left in cold, breezy, and somewhat damp weather (pants, down jackets with multiple layers underneath). The morning hike required some route finding as there were splinter routes that weren't amazingly well-marked. Eventually we arrived at the first ridge overlooking the Urdini lakes. There is a "non-painted" trail that descends steeply down to the lake, which was our original target. However with heavy fog and visibility limited to no more than 40 feet we opted to stay on the more clearly marked ridge route (if you do go down into the Urdini Lakes basin and back up and out to Rila lakes, expect a longer day in terms of both mileage and elevation).
The choice to stay up on the ridge paid off. As the wind whipped the clouds away we were treated to a fantastic panorama of lakes and peaks. At one point we could see 5-6 Urdini Lakes and 5 of the 7 Rila Lakes in addition to seeing 20+ miles away and more distant peaks. It was one of the most glorious alpine views I've ever seen in the thousands of miles I've hiked. 

Shortly thereafter we intersected the more direct trail up from Ivan Vazov and met up with our now cold but happy Korean biker who quickly said goodbye to scamper for cover. From here we took a clearly marked spur route along a ridge between the Rila and Urdini Lakes to continue the amazing panoramas. 
Half a kilometer or so later another spur trail descends towards one of the Rila Lakes and takes you off the ridge back down into the lakes' basin area. After circling one of the eastern lakes, we faced one last sharp descent down switchbacks to the main, crowded Rila Lakes basin. We stopped briefly at 7 Rila Lakes Hut which looked nice (but busy), before opting to take the chairlift down and continue our alpine road trip instead of either sleeping in the Lakes Basin or continuing to Varda, a not often visited hut that several British hikers we met up with had stayed at. 
Our exact route looked like this: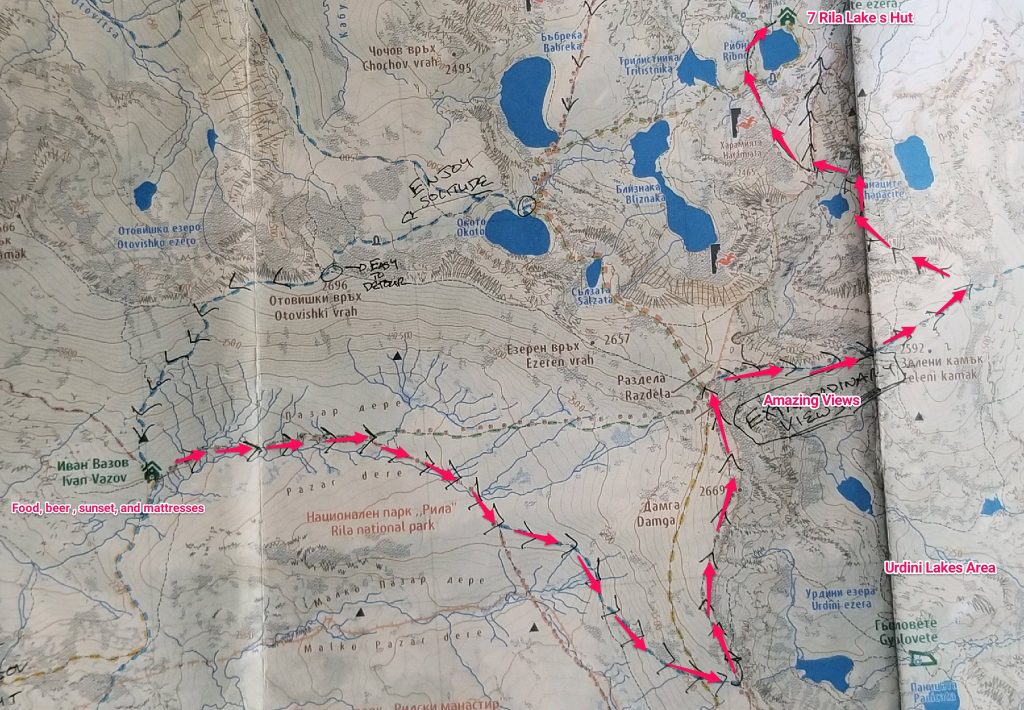 Overall our 2nd day in the Rila mountains probably totaled 10-12 miles including a steady morning of climbing and a healthy dose of fall mountain weather that took 5-6 hours to blow through revealing a glorious afternoon. We got to the lift and back down to the car by 4:15 that day, with plenty of time to drive down through the mountains and out to stay in the town of Blagoevgrad.
Useful Resources for Hiking in the Rila Mountains
Bulgaria has a long and distinguished alpine tradition. It also is a maddening process of trying to find reliable information in English about routes, distances, huts and so on.
Below are various links and pieces of information that I found helpful in planning our itinerary.
By far the most comprehensive and useful website I came across was www.bulguides.com which had lists and descriptions of the huts, basic topo maps, and sample itineraries that could give you a sense of hiking time and feasibility.
Maps: The necessary topo maps were easily available at the first outdoor shop we visited, K2 Outdoors in Sofia. The Rila map for our section looked like this: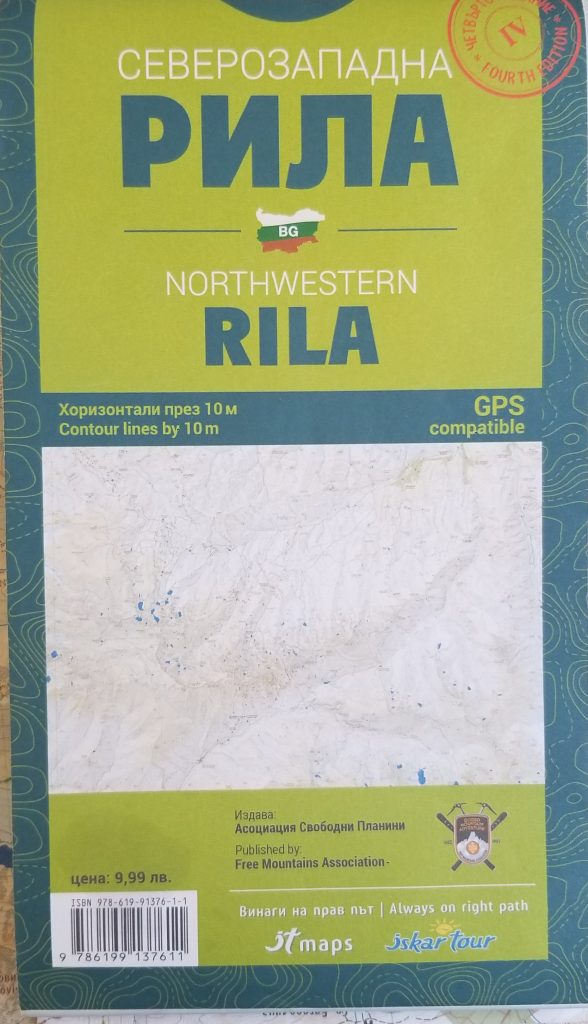 In examining the routes and terrain ahead of time online the following sites proved useful in terms of topo maps:
Other useful resources
List of the huts in Rila – With descriptions
Decathalon – the outdoor store we loved. Also had good experiences getting maps at K2 Outdoor
On navigating the trail system:
Generally the main Bulgarian trails are well marked by color, with the color appearing inside of two white paint stripes. There are also "winter" and summer trails, with winter trails (a) avoiding major avalanche zones and steering wider around ridges and (b) using tall poles anchored in cement to guide you along the way.
There are also many "lesser" trails that do not have a color. On our topo maps these show up as a dotted grey line. We followed several of them and generally found them to be well established and easy to follow (with some notable exceptions where more advanced route finding was required). For a summary post on the trail markings see here.
On drinking water: Frankly, many of the water sources appeared to be fine, especially when filtered, but we carried enough on our routes to get to the next hut.
Camping vs. Huts: Camping is prohibited in the national parks. In Pirin we saw numerous sites off main trails that looked well utilized. In Rila we did not see evidence of others camping.
Hopefully this helps inspire your Rila mountain trip! In the next post we detail our approach to hiking in the Pirin range.