After flying from Tokyo to Bangkok and enjoying a refreshing 24 hours in Thailand we prepared to embark on the Thakhek Loop (also known as the Kong Lor Loop or just The Loop).
The Loop is a 450 kilometer 2-4 day motorbike journey through Central Laos. The route meanders past myriad rice paddies and rural villages passing through unique towering limestone karsts riddled with interesting geological and religious caves while being dotted with the occasional unspoiled aquamarine swimming hole.
This circuit is nestled deep in sleepy Central Laos. The nearest airport is a border crossing and 90 minute journey away or a 6+ hour bus ride from Vientienne, itself often skipped by visitors in a rush. The end result is that the Thakhek Loop remains relatively untrafficked despite being a fun few days and an authentic way to see traditional Laos (plus housing a stunning geological wonder).
For us, the impetus to come was an invitation from Mica's childhood friend Franny to join her and her boyfriend David on the ride before they moved from Chang Mai to Canada. This is a year of saying yes, so of course we jumped on the chance for some self-directed exploration.
This is a year of saying yes, so of course we jumped on the chance for some self-directed exploration.
Arriving and Logistics for the Thakhek Loop
We arrived in the Thai airport of Nakhon Phanom with Franny and David on a 1 hour puddle jump from Bangkok the night before we planned to leave. From there a private transfer (thanks for organizing Franny!) took us overland across the Thai-Laos border. With spare passport photos and exact change in dollars for the visas the crossing was smooth.
Lodging: We were dropped off in our hotel, Villa Thakhek, on the outskirts of Thakhek and had dinner on the adjacent property (Thakhek Travel Lodge, which is actually where you register/check-in) before calling it an early night. Villa Thakhek was certainly comfortable and quiet enough, but it is far from the center until you get your bike.
Renting your Motorbike: Out of convenience we rented our motorbikes from two places: Pokemon Go, the only rental place within a 30+ minute walk and from Mr. Ku, an employee of Thakhek Travel Lodge, who also rents bikes and gets good reviews. If you stay in downtown Thakhek (recommended) there are a couple of other options. Reviews on all of these places are decidedly mixed, the best you can do is really check the condition of the bike and make sure you get guarantees that they will (a) pay for any repairs along the way and (b) come get you or bring a new bike to you on the loop if needed.
In our case, we needed a new bike for Day 2 as one of them kept overheating. This was annoying but they did deliver a timely replacement (albeit without working headlamps). See more in the logistics section below.
Anyway, the start of Day 1 was not without its hiccups. Mica took a slow-speed but scary fall while test riding her scooter on the rental agency's loose gravel (not exactly beginner friendly terrain). Scrapped up with a few deep bruises we paused to collect ourselves before deciding that we would double up on a motorbike. To be honest, it was great to be able to talk during the long days of driving and the experience prompted her post on whether or not we should always face our fears!
The Loop Day 1: Thakhek to Tha Lang
The traditional route begins counter-clockwise out of Thakhek, with Day 1 ending ~95 kilometers away in Tha Lang.
As we cruised out of town we quickly entered an unexpectedly mountainous and lush area. The low mountains, or karsts as they are known, are made of soluble rock (hence the caves). As we continued out of the urban area more and more villages began to crop up. Poverty was very evident, but the rice fields were lush at the end of the rainy season, filled with straw-hat clad men and women hard at work under the hot sun. Kids were playing on the side of the road, stopping only to wave and shout "Saibadee" as we passed by.
The Caves Near Thakhek
We made a first stop at Elephant Cave which to be honest, you could skip. It was notable only because we encountered a monk appearing to lead a group of pre-teens on a school(?) trip to the gold-plated Buddhas resting in the cave. One girl insisted on taking a selfie with Mica and Franny, which perhaps suggests the relative infrequency of Western visitors vs. more touristed areas of the country.
This impression of Laos as a country much newer to the tourist game vs. Thailand was reinforced by the general lack of English spoken by those in the hospitality industry (tour operators, bike rental, hotels) as well as admonishments like "if the cops pull you over, don't stop, speed up. They won't chase you, but if you do stop, have them call me."
"If the cops pull you over, don't stop, speed up. They won't chase you, but if you do stop, have them call me."
We pulled out of the first cave (quick PSA: bring lots of cash as each site charges a small nominal fee for entrance, e.g. 5,000 kip for the Elephant cave) and drove the 1.5 kilometer dirt road back to the Loop before deciding to skip the popular Buddha cave and go instead to Xieng Liap cave, a river cave you can wade/swim inside after a short jungle walk.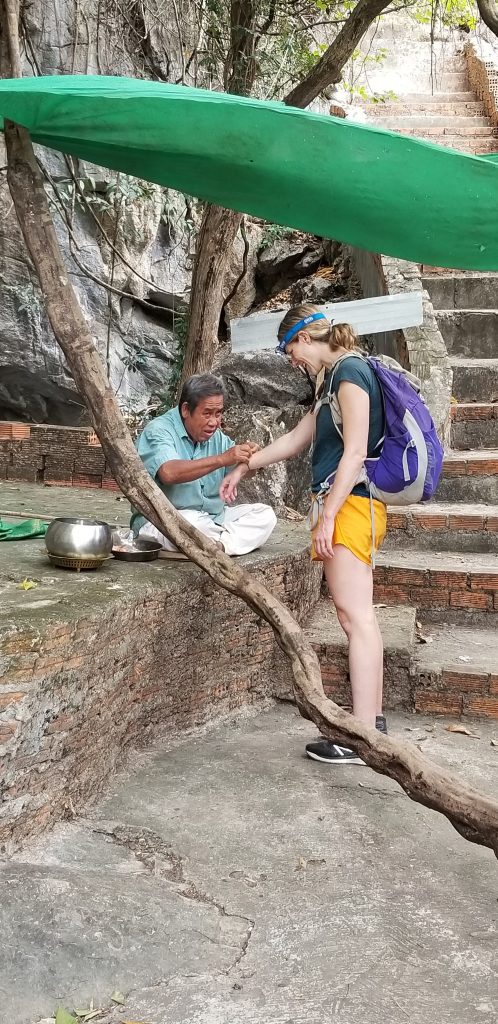 Our next stop was Tham Pha Nya Inh, a small but beautiful cave draped in prayer flags and featuring an unbelievable pool that shimmers in the faint light of the cave. This stop was also a highlight because we met and were blessed by the blind man collecting entrance fees and given a small prayer bracelet to wear.
For Lunch we stopped at the most sizeable cave of the day, which is called Tham Nang Aen Cave. The food here was really good—we ordered an entire barbecue chicken that they prepared while we walked the hour or so into the cave to explore. Boat rides are possible (50,000 kip vs. 20,000 entrance fee otherwise). However you see it, this is an interesting cave with lots of interesting stalagmites/stalactites.
The Nakhai Plateau: Beautiful Driving
After skipping the turn-off for Song Sou waterfall the road begins to climb up a series of switchbacks to the Nakai plateau. This was a wonderful stretch of road with the Vietnam bound trucks having melted away on the road behind us and the air cooling as we climbed. The vistas got progressively more beautiful culminating with interesting carved Buddhas guarding a hairpin turn on the road. We ended the day in the town of Tha Lang, where we stayed at the super basic, functional, but mostly unfriendly guesthouse of Phosy Phalang.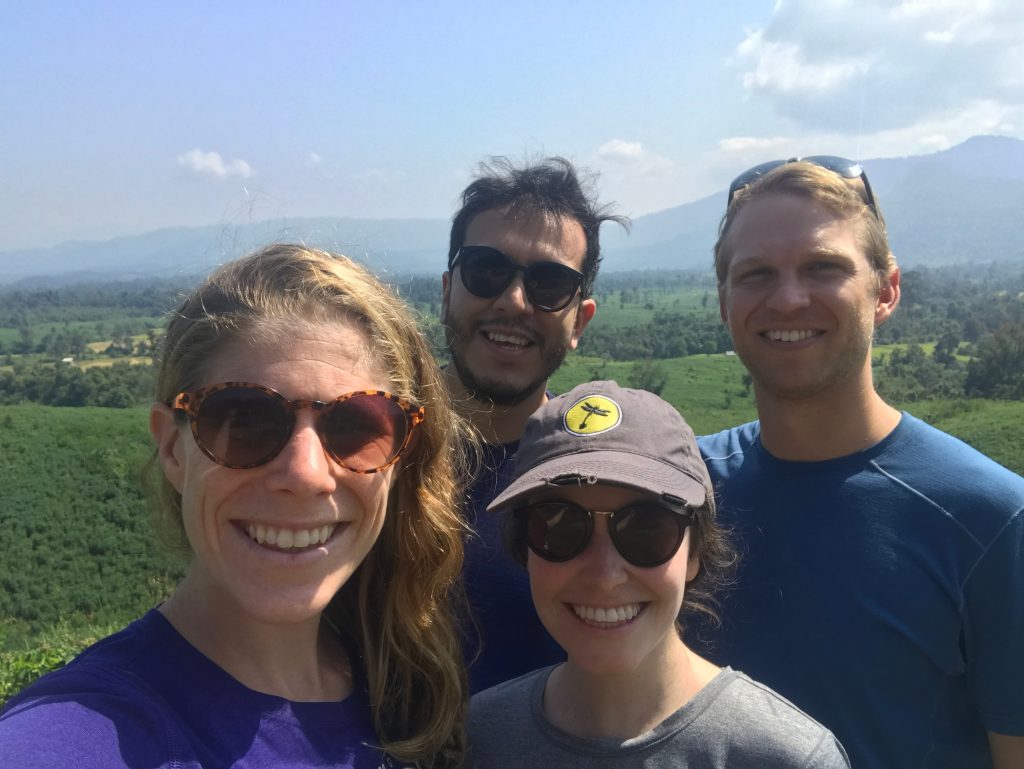 The Loop Day 2: Nakai Plateau to the Kong Lor Cave Entrance
Day 2 was motorbike heavy. We left early, biking through a beautiful and eerie forest-turned-floodplain, with dead trees ringing both sides of the road before entering a zone of lush rice paddies and jungle patches.
After getting gas in Lak Sao (your last real opportunity for an ATM) we biked to the Dragon Cave. This is a worthwhile stop, the cave gradually widening as you push deeper inside through truly beautiful tall stalactites and stalagmites. We heard the cave is closed during the wet season due to flooding.
After a hot boring stretch of road and an uneventful lunch stop we turned off the road for the Cool Springs "Cool Pool." After hours under the Laos sun, this swim stop felt heavenly (highly recommend!).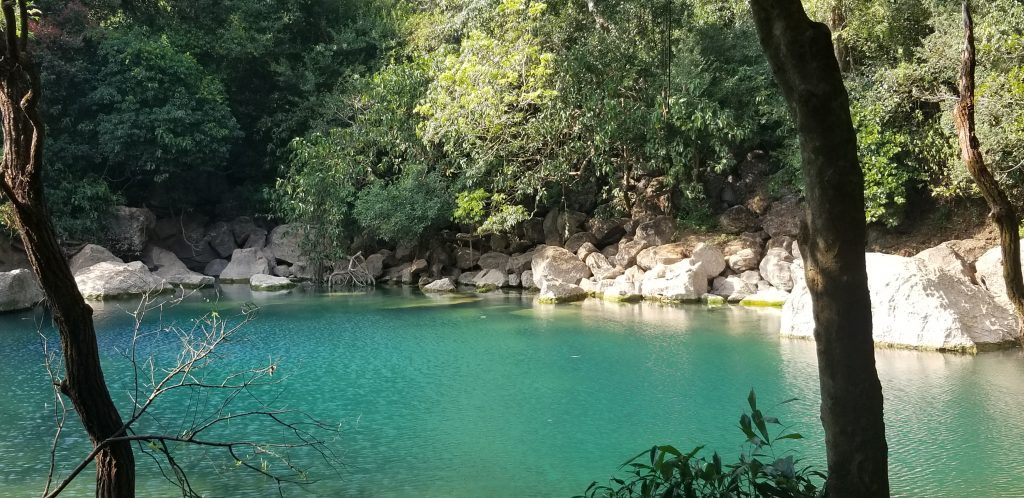 The rest of the afternoon saw us bomb towards Nahin, with a quick stop at a nice overlook breaking up the drive. If you want more time along the trail, especially at the Cool Pool, Nahin would make for a good second night stop with an easy morning drive up to the cave. We elected to continue another 40 kilometers on a sometimes-paved-sometimes-not gravelish road towards Kong Lor cave and the town of Ban Kong Lo.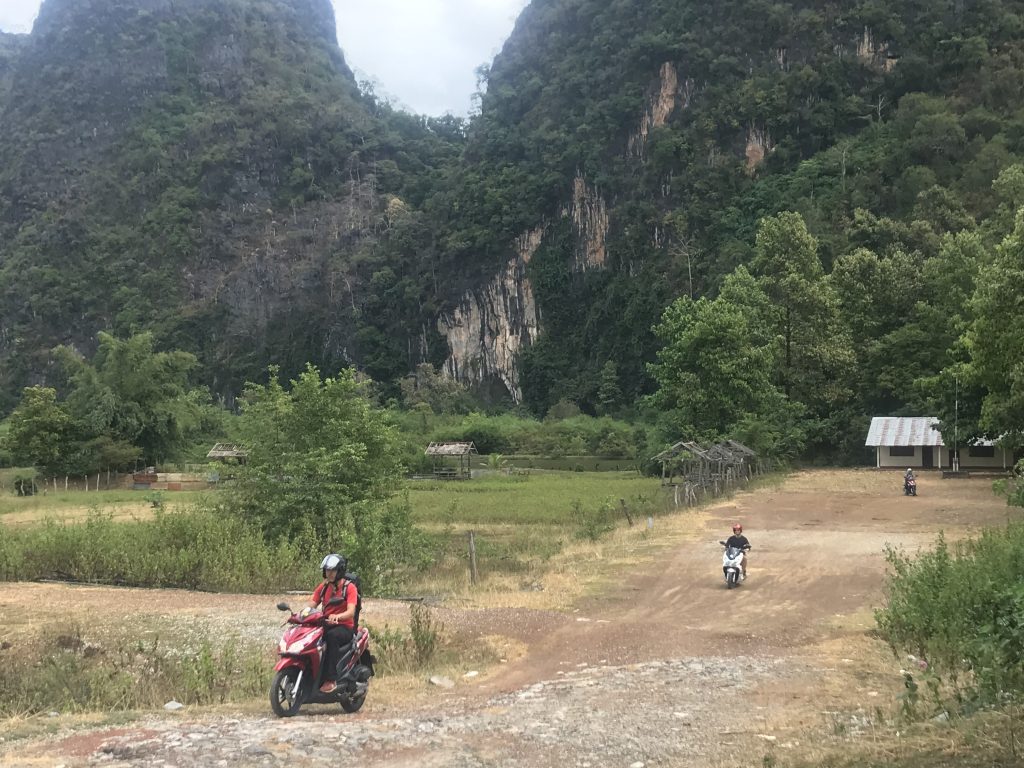 The light and scenery were beautiful as we raced dark and navigated the rickety bridges to a lovely riverside hotel called Spring River Resort where we opted to stay two nights to see Kong Lor cave and frankly to just chill out a bit (basic rooms with nice shared bathrooms are $15/night, riverside rooms with private bathroom are $45).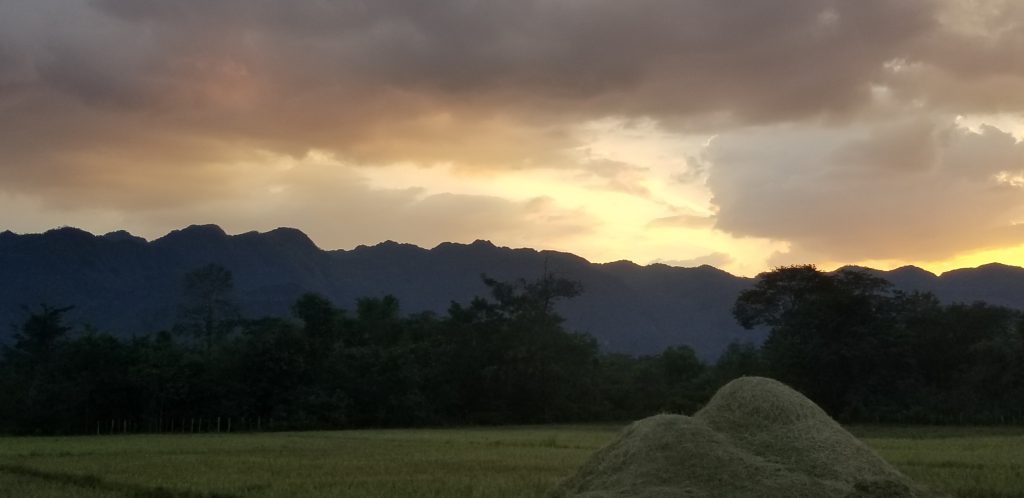 Myth and Geology at the Kong Lor Cave
Kong Lor Cave is the undisputed highlight of The Loop, and a visit to Phu Hin Bun National Park is worthwhile even if you don't do the entire Loop. It is a geological wonder of a limestone cave, with a river running through it and certain sections clocking in at over 90 meters wide and 100 meters tall.
We arrived early to beat the crowds and took the guided flat tail boat through 7.2 kilometers of river rapids, the only light coming from your headlamps and one beautiful section of walking trail that is lit up to give you a sense of scale.
It was a thrilling ride where we had to get out several times as we ran various rapids (bring shoes you can get wet: flip-flops OK if you are sure footed). All too soon we emerged from the dark to the other side at a small village where you can browse some local woven crafts or rent a mountain bike to explore further.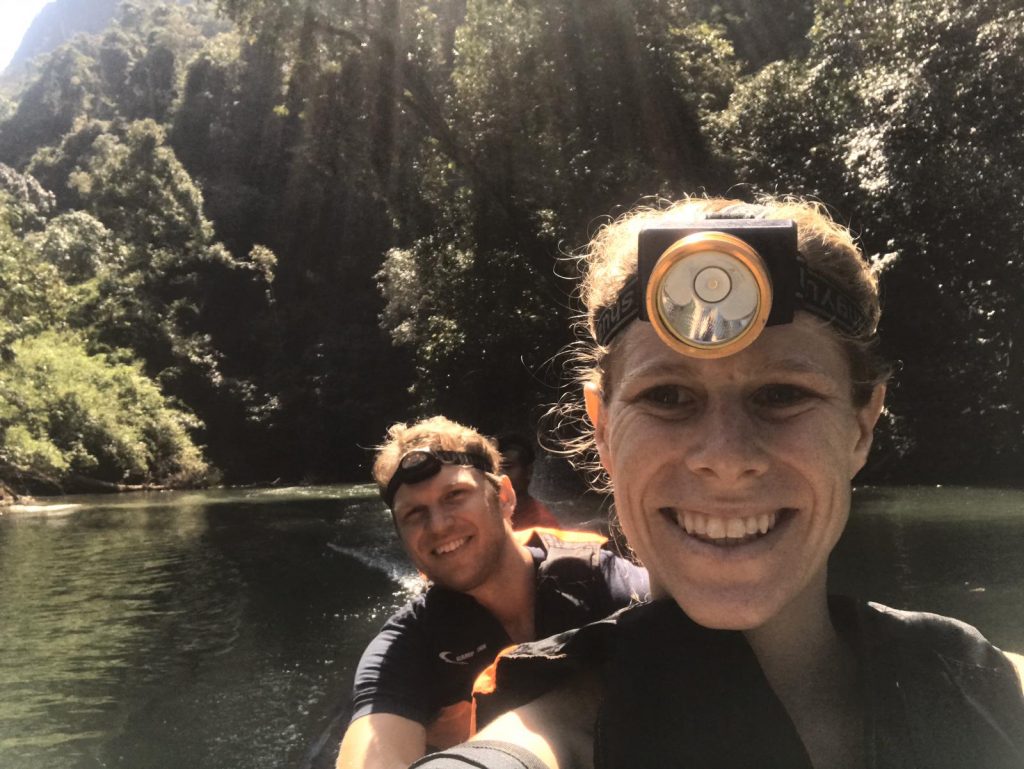 The return trip through the cave was equally fun (allow 3-4 hours for the entire visit), and we spent the rest of the day chilling at the resort and watching village children float by on rickety flatboats filled with 5 gallon jugs of river water for use at home.
The Last Day: Kong Lor Cave back to Thakhek
The last day from Kong Lor back to Thakhek is frankly pretty boring. The first hour you re-trace the 40kms from the cave and then enjoy about an hour of fun driving, including a nice view over the "Limestone forest" before hitting the main highway that runs between Vientiene and Thakhek.
This 100 kilometer stretch is much maligned among those that do the Loop. In fact, many opt to turn around and drive the long way back. While it's not interesting, the amount of traffic and trucks was comparable to Day 1 and I wouldn't worry too much about safety. There is also a 40km detour to another swimming hole as an option (should open back up in 2020).
Back in the hot, dusty and relatively uninteresting outpost of Thakhek we drank some Beer Lao and watched a leisurely sunset over the Mekong river to cap off the adventure.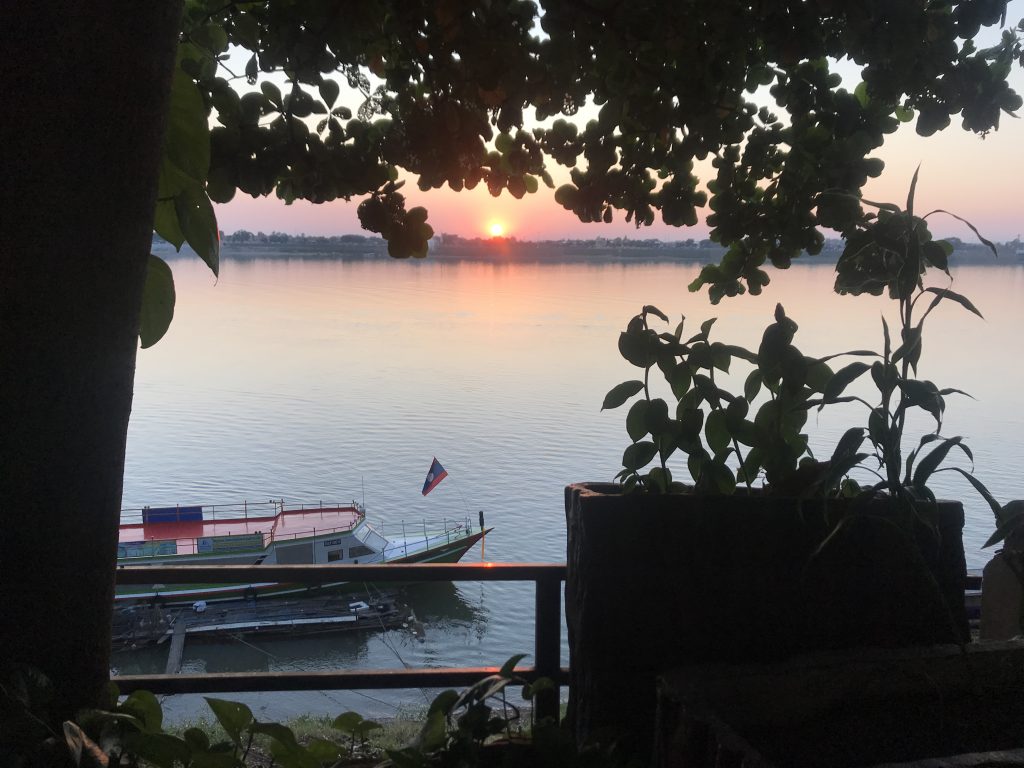 Logistical Information for Planning your Thakhek Loop Motorbike Ride
Budget 100,000 kip/day for your bike. You can probably get cheaper but for a Honda this was going rate across several places
We had a good experience renting from Pokemon Go. If you're staying in the center the two main places are Mad Monkey (used to get good reviews, more mixed now) and Wang Wang Motor Rental. Make sure the contract states they will replace your bike on the Loop if needed and that they will cover all repair costs
Here's a decent checklist for inspecting the bike plus all the practical considerations like insurance that you need: https://www.dreambigtravelfarblog.com/blog/renting-a-scooter-in-southeast-asia and here's another bike specific checklist
NEVER leave your passport with the motorbike agency. If you suffer a serious crash you CANNOT get airlifted to Thailand without it. We got away with another ID, or leave cash.
Some good blogs with different Thakhek Loop Experiences: