The unofficial motto of the Democratic People's Republic of Laos (Laos PDR) is "please don't rush." If you looked at our itinerary for this land-locked country you might think we ignored this advice.
We motorbiked, ziplined across jungle gorges, overnighted in a canopy-level tree-house, celebrated Oktoberfest, and of course spent several mornings rooting the Nationals to a World Series win! However, after learning the Laos "national slogan" from our expat connections – Nicolas and Lena – we approached all our activities with a sense of laissez-faire (appropriate for the lingering French presence here).
As we were lazily floating down the mighty Mekong River near the end of our time in Laos, we realized how important it was for us to simply slow down. We started to reflect on what we want out of the second half of our time away (other than a Ravens Superbowl victory to add to our niece Ayala's mid-Atlantic trophy case). This contemplation wasn't purely introspective, however. We rounded out our time in Laos with some volunteering and conscious awareness of the challenges being faced in this beautiful developing country (see reflections on a homestay as one example).
THE THAKHEK LOOP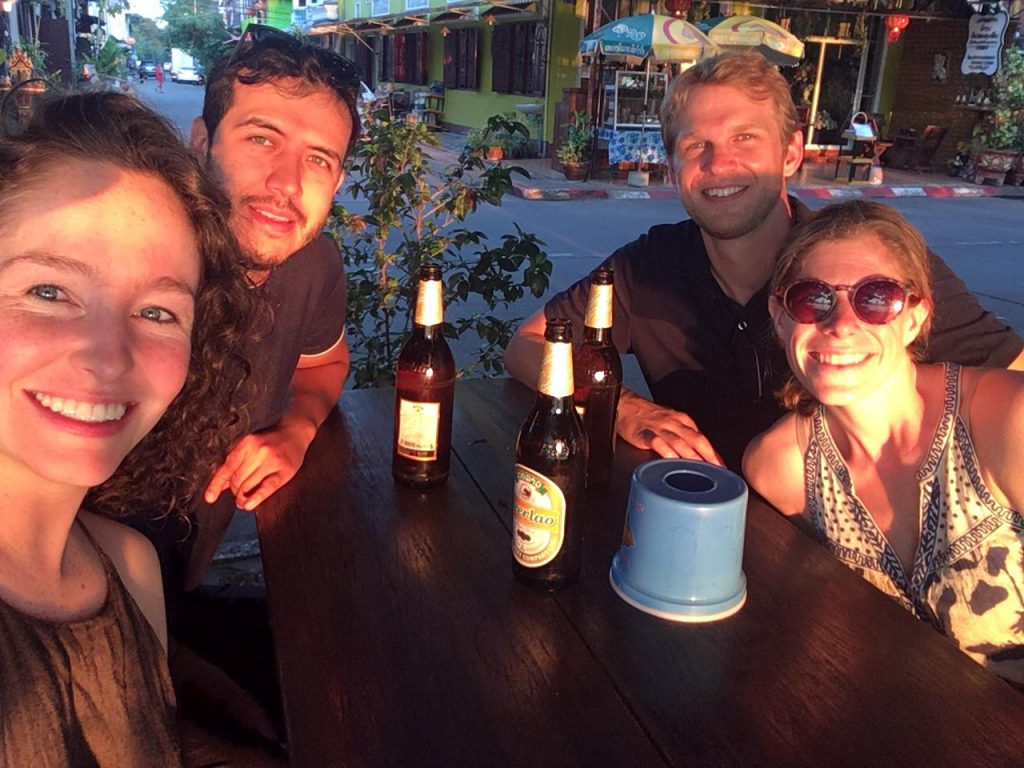 Our time in Laos started by saying yes to the adventure designs of Mica's middle school friend Franny and her boyfriend David. They were living in neighboring Thailand, and invited us to join them on a 450 kilometer motorbike jaunt through cave-dotted limestone mountains (full post and pictures here). The highlight of "The Loop" was boating 7 kilometers straight through a mountain in the enormous Kong Lor cave! The lowlight was Mica's initial failed attempt at motorbike driving, but it prompted her reflection on fear and risk-taking.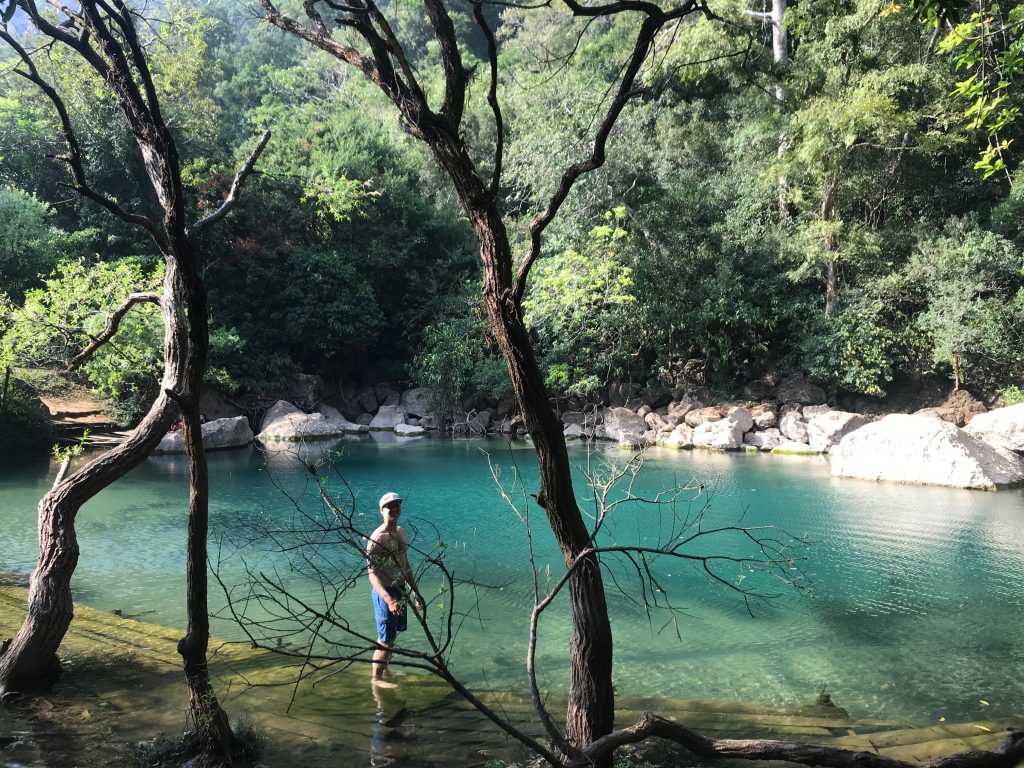 The scenery and attitudes of central Laos were not just beautiful but also revealing. For example, parts of the road crossed massive new floodplains, with the eerie dead tree-tops of former forests peeking out above the water line in all directions. This landscape is caused by Laos' somewhat controversial construction of several dams in their quest to become "the battery" of southeast Asia. As we crossed the sparsely populated rural plain, sometimes dining underneath the red hammer and sickle flags of the communist government, it seemed the country was experiencing a more languid journey towards modernity than we have seen elsewhere.
VIENTIANE
As we left David and Franny on the banks of the Mekong, we were grateful to have visited the Thakhek Loop. It felt like we were seeing authentic Lao life, not something designed for the tourist's gaze, a feeling reinforced by the fact that no one else we met in the country had done it.
From Thakhek we took a 6 hour bus to Vientiane (the country's capital) where we celebrated Victor's birthday with two hours of super cheap spa treatments. We also made contact with one of Victor's family friends, Lena Combest-Friedman and her husband Nicolas, who suggested we meet up at Laos' Oktoberfest! What a perfect and supremely random way to celebrate 32! Oktoberfest featured European expats and Laotian bartenders in lederhosen and a diverse array of western food from pizza to mozzarella sticks. It was hosted by Beerlao (the local subsidiary of Carlsberg), so Denmark's flag was everywhere, and Germany went unmentioned. This hilarious experience – and the trail of excellent food recommendations from Lena and Nicolas we followed for weeks – reinforced our belief that it is vitally important to find a local contact anywhere you visit.

Vientiane was also thought provoking. We visited the COPE Center, where a nonprofit displays information about the millions of UXO (unexploded ordnance) that remain in Laos from near constant American bombing during the Vietnam War. Fun fact, Laos is the most heavily bombed country per capita in the world. Although it was not actively engaged in the Vietnam war, if American pilots could not find their targets in Vietnam, they would drop their pay load in Laos because it was too risky to land again with a plane full of explosives. These bombs have been discovered and detonated accidentally by Laotian farmers trying to farm their fields and by children playing. COPE provides prosthetics and health care to people who have been maimed by these vestiges of "the secret war." In Vietnam we will continue to dive into the damage America has wrought in this region.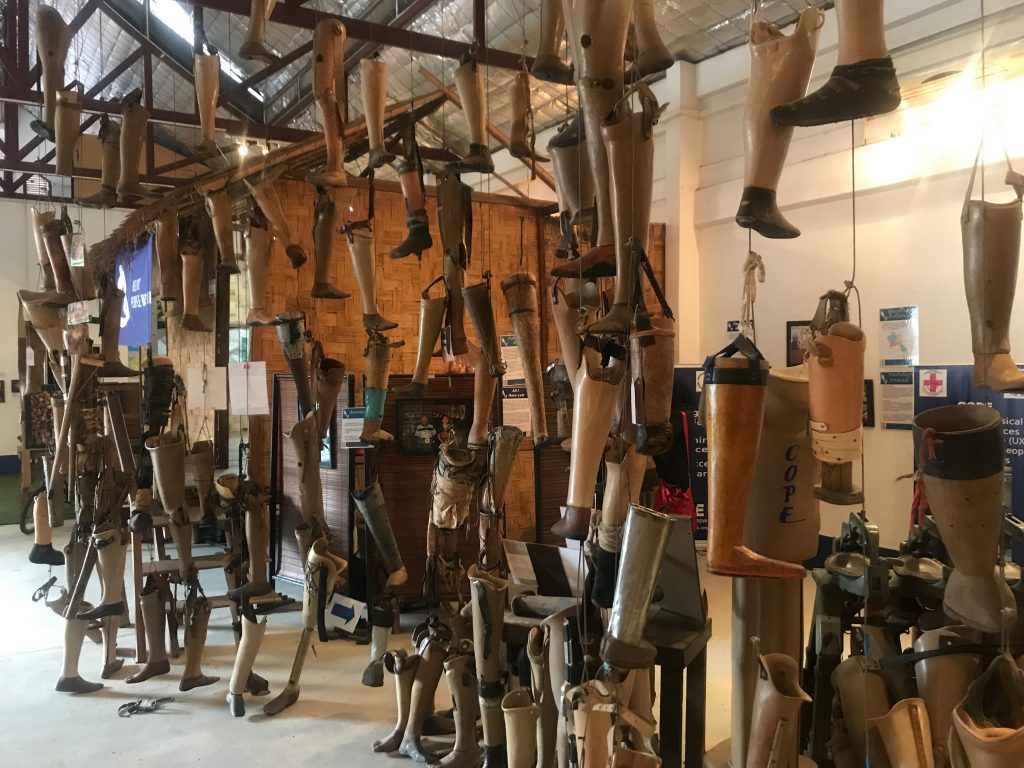 On a lighter note, we closed out our time in Vientiane by stumbling upon a woman at the airport making amazing baguette sandwiches loaded with 3 types of pate. You wouldn't expect that the best thing we ate in the whole country would be a $1.50 sandwich from a sleepy airport terminal!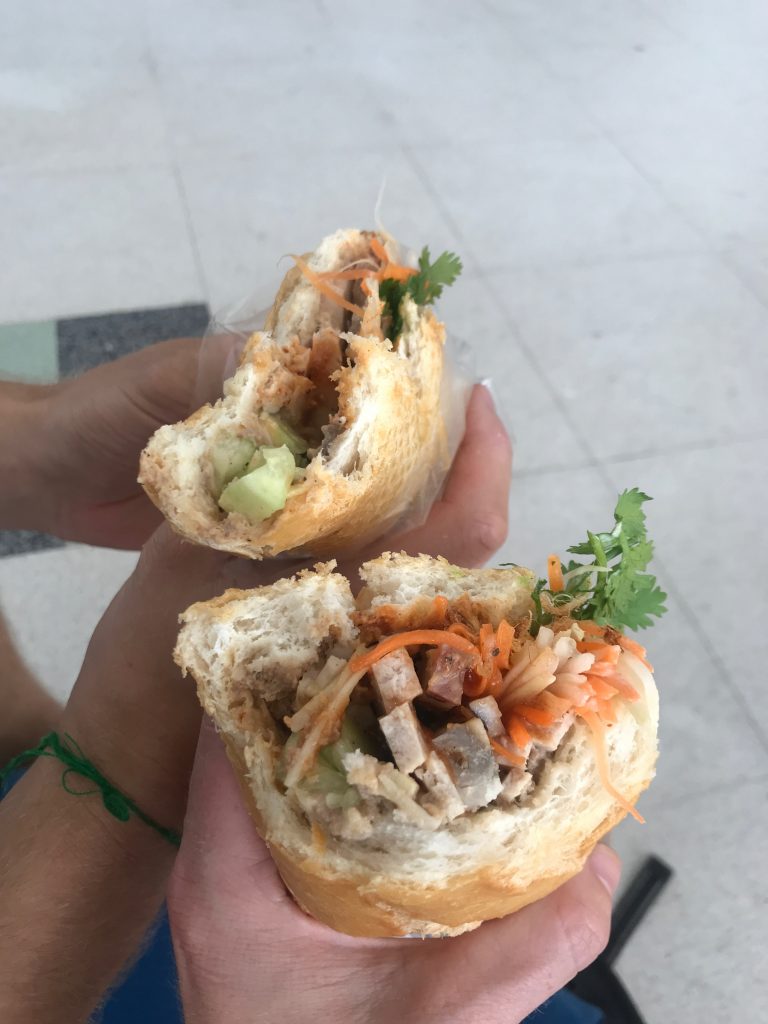 A Homestay & The Gibbon Experience
It was on another recommendation, this time from a CBI friend (Dan), that we flew to the one-street town of Luang Namtha in order to embark on the Gibbon Experience in the Bokeo jungle. Because of the Gibbon Experience's remote location, we were assigned a homestay in a nearby village the night before the trip began. We hopped off a minivan on the side of a lonely winding road, a phone number our only connection to our destination, and waited for Mr. Bouleun. He arrived on a motorbike, grabbed our carry-ons and took a look at our packs before indicating to us that we'd be walking for a bit. Luckily, a few minutes down a single-track path he spotted a friend who was driving a pickup full of 50 kilo bags of rice. We tossed our bags up and perched ourselves atop the sacks for the bumpy ride to the village of Ban Donchai.

Mr. Bouleun spoke some English, so we learned the village has 250 people from an ethnic minority tribe living there. From our elevated porch at his home, we could trace the single looped dirt road threading through the hillside of the village. Everywhere we saw trays of peppers drying, including on the village's outhouse (clean, odorless, and donated by a Vancouver non-profit). We saw (and heard) cows, roosters, dogs, and pigs. That night we slept under mosquito nets in the common room. Across the room, Mr. Bouleun's grandkids occupied another corner in a similar setup (see Victor's post for more information on the homestay experience).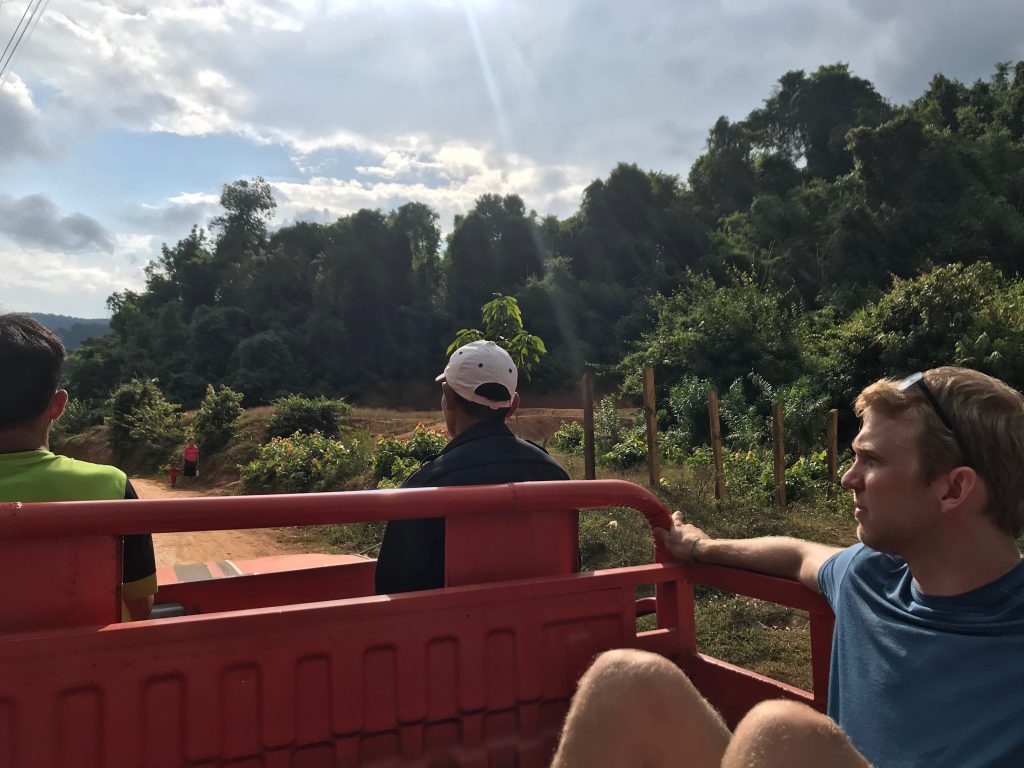 The next morning, we rode the pickup back to the "bus stop" and were scooped up by The Gibbon Experience. If you've met a Westerner who has visited Laos, odds are good that they've done the Gibbon Experience. It is a one of the biggest conservation and ecotourism organizations in Laos, employs over 150 people, and has developed quite the reputation amongst adventure travelers in the region. We were in a group with six other interesting people: two German scientists, an Italian pizza maker and his wife on their extended honeymoon, and two American/Canadian humanitarian workers on holiday from jobs in Myanmar and Bangladesh.

The Gibbon Experience is about being the gibbon, not seeing the gibbon, so it involved ziplining between 200 foot high treehouses deep in the jungle. On the first day we trekked for about three hours through the sauna-like heat to a swimming hole. The treehouse accommodations were spectacular, but basic: mosquito nets separated us from the other guests and we were pleasantly surprised that each house included a shower. The guides even zipped to us with hot food prepared in kitchens on the jungle floor and kettles full of hot water for tea and coffee!
As we've mentioned, everything in Laos is supremely laid back and this extends to their adventure sports. After a few guided zips and a brief explanation in semi-English, the guides literally left us in the treehouse for hours and suggested we zip around freely on our own. "Don't fuck up"—was one of the only English sentences that came through loud and clear. Despite (or maybe because of?) the hands-off attitude of the guides, we felt so free and relaxed on this experience. As we zipped along 1,300foot lines, hundreds of feet above jungle gorges, we took in vistas of faraway ridgelines across the National Park. While we didn't see any gibbons, a 6 foot long snake tried twice to come spend the night with us. The first time it slithered up into our shower and the second time it slithered under the floorboards while Mica was doing yoga during the afternoon siesta. (Victor shoved it out of the treehouse with a broom)! After a month plus of "camping" only in enclosed mountain huts, we were both so grateful to feel the wind and hear the sounds of nature as we fell asleep amongst the canopy of trees. In all, the Gibbon Experience was one of those remote, once-in-a-lifetime adventures that we are so grateful we were able to just say yes to on this gap year.
LUANG PRABANG
From the adrenaline of those ziplines we journeyed and journaled our way to Luang Prabang via a super relaxed two-day cruise down the Mekong River.

Luang Prabang, the country's former capital and ongoing spiritual and cultural center, is the only place in Laos that receives heavy tourism. After two weeks in tiny, sleepy towns it was a shock to see so many Western (and Chinese) tourists in one place.

Luang Prabang has a massive handicraft market every evening and nearly every storefront in the UNESCO World Heritage town serves the tourism industry: restaurants, hotels, and tour operators hawking excursions to local elephant parks, waterfalls, and caves. Despite the onslaught, the town remains atmospheric and certainly worth a visit.

The city is most known for its dozens of Buddhist monasteries. To learn more we spent one morning with a former monk of 7 years (he went to the monastery when he was 12 and left at 19 to attend university). Many Laotian boys who grow up in rural villages go to the monastery to get an education they can't otherwise afford. The boys sleep only 3-4 hours, and collect alms every morning from the villagers. Whatever food they collect is what they eat for their two daily meals. We appreciated our guide's insight into the daily routines of monks and novices and his guidance in an hour of meditation within the walls of the monastery. If you're in Laos, do check out Orange Robe Tours (it only opened last year!). On the culture front, we also spent an evening listening to Lao folktales translated into English and accompanied by a traditional local instrument called the khene, similar to a bagpipe.

We had begun to feel guilty that we were never using the phrase for "you're welcome" in Lao, and were instead constantly on the receiving end of hospitality. So, we were grateful to find an opportunity to volunteer in Luang Prabang with Big Brother Mouse, a center for literacy that offers English conversation time with visiting tourists. We really enjoyed speaking to young people about their families and lives in the surrounding villages. A couple even wanted to be hired as guides for groups of Chinese tourists, so Mica had conversations in both English and Chinese!
The ethos of PDR infused our time in Laos and provided the perfect transition to the 2nd half of our journey.
However, the contrast between Laos and the chaotic cities of its neighbor, Vietnam, has already been stark. We tried to keep our zen on a tight 50 minute connection, despite an odd requirement that our proof of a visa had to be printed in order to board the plane. We scrambled to find WiFi and an airport printer, and ended up sprinting through the terminal, most definitely in a full rush. As we settled into our seats, the last two people to board, we realized just how sad we were to be leaving this unexpected gem!