Before we landed we knew very little about Tasmania other than it was far, wild, and home of the Tasmanian devil. But we'd read enough accounts describing the island as the "love child of Australia and New Zealand" for us to devote 12 days to exploring the island (almost as much time as our whirlwind tour of Vietnam).
We're glad we did. Tasmania, or Tassie as it is affectionately known, was deserving of each day we gave it. This post covers the first section of our trip around the Eastern section of the island while the second post covers our hiking of the more rugged and remote Western areas.
Tasmania was deserving of each day we gave it
The east coast has a combination of lovely vineyards, rugged coastline, sandy beaches, alpine hiking, and interesting wildlife along with relatively short distances between each diverse area made it an ideal place for a long and winding roadtrip.
View from Sloop Reef Campground

Headlands near Port Arthur
Cradle Mountain

View from a Mt. Field National Park hike
Tasmanian Roadtrip: How to Spend 10+ Days Around Tassie
We began our January road trip in Hobart, the capital of the State and its largest city. The 200,000 residents here live sprawled across beautiful hills and have access to a nice selection of breweries and restaurants.
After grabbing our car (reserve well in advance as Tasmania has limited rental car availability) we picked up a cooler, or Eskie as the Aussies call it, stocked up on groceries and checked into our AirBnB up in the hills West of town. It was only minutes into our stay there that we met our first Wallabee, a type of marsupial that looks like a smaller version of a Kangaroo.
From there we met up with my friend Cameron (who would join us off and on for several parts of the Tassie adventure) in order to celebrate Australia Day at the Hobart Brewing Co. While Australia Day is seriously controversial as it effectively celebrates the stealing of land from the Aborigines, we did enjoy the outdoor scene at the brewery and the nearby Gin-uary tasting festival.
The partying hipster vibe also revealed the Aussie obsession with the Top 100, a country-wide voting process to select the year's best music. Both in Melbourne and Tassie treated us to endless radio DJs discussing the list over and over again. It was a fun glimpse into an aspect of Aussie culture and revealed that population-wise the country is small and relatively homogonous (aside from the aforementioned Aboriginal communities).
Knowing we were returning to Hobart we headed out of town early the next morning. We had elected to follow a roughly counter-clockwise route beginning with the East Coast and returning via the more rugged West Coast. If, like us, you plan to backpack and hike keep an eye on the weather and adjust accordingly (the Western side of the island has much more rain and cold weather vs. the milder East Coast).
As it was, our first stop was the nearby Tasman peninsula just a 90 minute drive away.
Highlights of a Night on the Tasman Peninsula
The Port Arthur peninsula possesses sweeping coastal cliffs and headlands, accessed via the beautiful Three Capes Track, as well as the historical convict prison of Port Arthur. We based ourselves at a cheap AirBnB/hostel at Eaglehawk neck with three goals:
Hike part of the Three Capes Track
Visit the Port Arthur prison
See the Tasmanian Devil at the "Unzoo"
All three of these goals were easily accomplished with one night in the area.
How to See Tasmanian Devils
After arrival we visited the Tasmanian Devil Unzoo, a sort of wildlife preserve with a mixture of wild and human-habituated animals. It was set up with the express purpose of preserving the Tasmanian Devil. We took an excellent 45 minute tour here in which we learned/saw the Tasmanian devil, hand-fed gentle kangaroos, and wild parrots and generally had ourselves a good time. Mica even overcame her fear of birds to have them land on her!
We highly recommend the unzoo as a well constructed one-stop shop that offers a range of wildlife encounters. Plus your fees support a good cause.
Visiting Australia's Best Preserved Convict Prison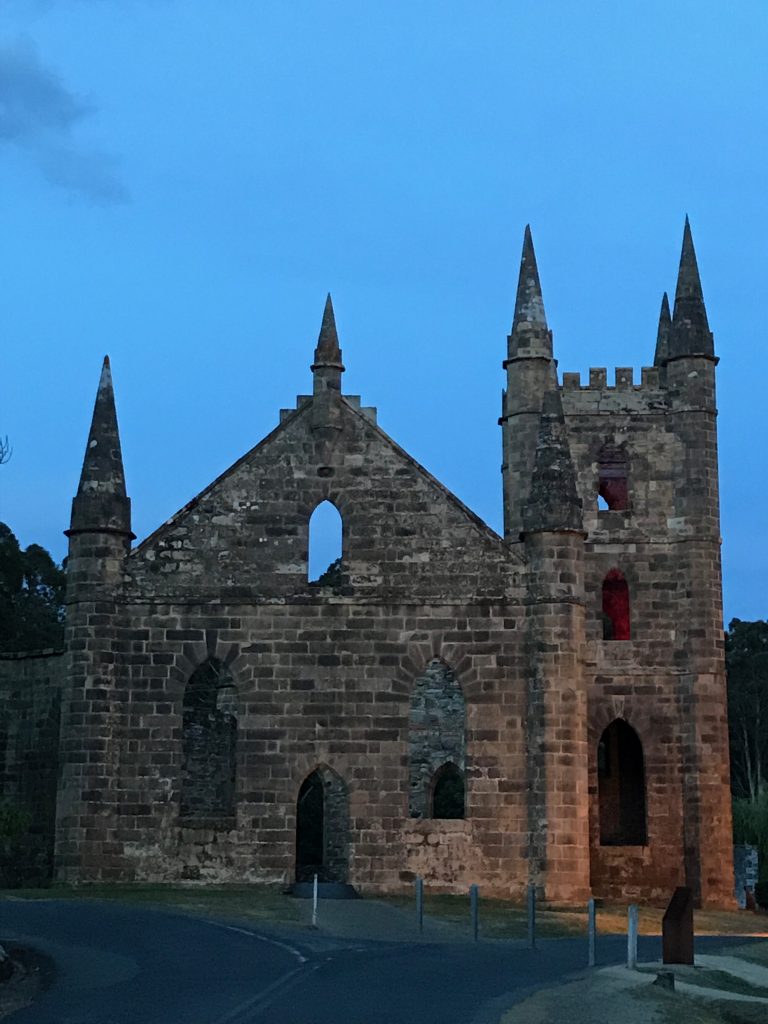 Port Arthur is a historic site and a well preserved set of ruins where one of Australia's oldest and largest penal colonies was located. Here many convicts were sent from Britain for a range of crimes, many shockingly petty for the sentence they received. One of the most striking buildings here is the so-called Separate Prison, where prisoners spent 23 hours a day in solitude within their cells while being masked for the lone hour they were outside each day to prevent communication with fellow prisoners.
Port Arthur is worth a visit, just pay for the main entrance/tour and don't go on the ghost tour like we did. It was a bit cheesy, not at all scary, and meant we learned less about the actual history of the prison and its inhabitants than we might have liked.
Hiking in Tasman National Park
The Tasman national park encompasses the beautiful Three Capes Track. While we opted not to complete the full trek as an overnight, there are two beautiful sections you can cherry pick for a day hike: Cape Raoul a ~14 km hike, and Cape Huay, an ~8km hike.
We chose the shorter hike, and together with Cam set out in cloudy, somewhat wet conditions, on the head-land hugging route.
The Cape Huay Track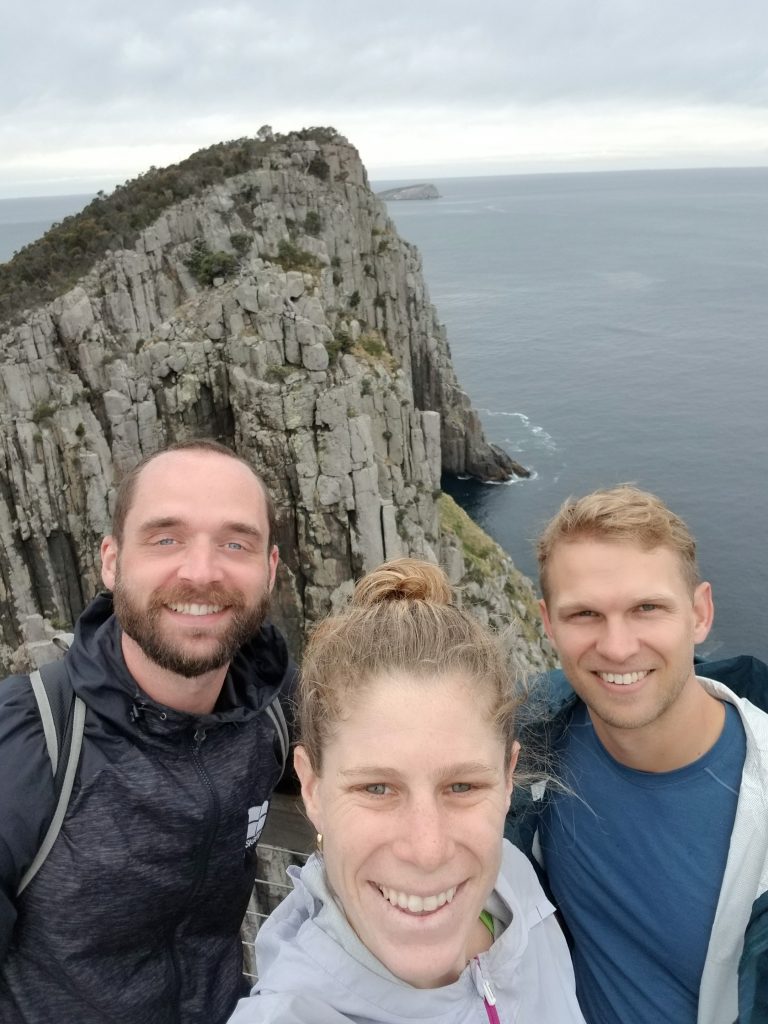 The Cape Huay out-and-back is a worthwhile hike. If you do go on it, I suggest you time the hike to either leave early enough to get to the end before the guided group on the Three Capes Track arrive or leave late enough to miss the crowd.
The beginning few kilometers climbs steadily from Forescue Bay (which has a campsite that looks basic, but would be a scenic place to camp subject to availability).
The first section crosses an old burn forest and isn't the most interesting trail, but it soon opens up to views of Fortescue Bay. Before long the route opens up and follows the headlands to "the lanterns" at the tip of Cape Huay. This section has majestic views of the coastline stretching out in the distance and plunging down overfoot.
The hike ends at a nice viewpoint. From here we were actually able to see seals swimming in the cold Southern ocean before. We lingered for awhile before turning around and retracing our steps.
Other Coastal Attractions on the Tasman Peninsula
The Tasman peninsula is also known for several geological features: the Tasman Arch, the Blowholes, and Devils Kitchen. All of them are easily accessed via car, so with some time to kill we toured each. Of them, the Tasman Arch–a naturally eroded bridge–was the most interesting and offered a ~3 minute walk to a gorgeous coastal viewpoint. Otherwise the ice cream and coffee cart at the Devils Kitchen made for a nice treat!
We left Port Arthur via the adorable solar-powered Cubed Espresso van for a leisurely drive up to the Freycinet National Park region.
Freycinet National Park and Tassie's Southern East Coast
The drive from the Tasman Peninsula to Freycinet is a perfect example of the beauty of Tasmania's East Coast. We began our meander north by taking the unsealed Wielangta Forest Drive through old-growth forest. It was a nice drive despite the road having quite variable quality. Along the way there are a few forest hikes and an opportunity or two to detour to fresh-water swimming holes before emerging in wine country.
Back on paved roads we stopped at Darlington Vineyard (cute but skippable) and Milton Vineyard (highly recommend) broke up our trip. Continuing on we passed the popular Maria Island National Park ferry before swinging into Freycinet National Park around 6pm.
Camping in or near Freycinet National Park
A quick pizza in Coles Bay followed before we headed into the national park only to find all the campsites here occupied (not a huge shock on the Tuesday after Australia Day). The Big4 in Coles Bay may have had availability but was closed for the night so we drove twenty minutes north to try to camp at Friendly Beaches. The free beachside camping here looked lovely but was also full. In the end we drove north and winded up camping at Freycinet Paintball. Yes, our first camping of 2020 was at a paintball park. And…it was wonderful! While the camping is essentially on a large field there is plenty of space, and the paintball clubhouse has a lovely shower and bathroom plus a big-screen TV and couches that is available all night.
It was a huge plus to be able to sit there and watch the amazing Nadal-Kyrios Australian Open showdown for less than half the cost of the Big4.
Hiking Mount Amos
The next day we got an early start and tackled the popular Mount Amos hike. This relatively short but steep hike was awesome. Filled with panoramic views from the get-go and interesting but not technical rock scrambles (some quite steep) it was an adrenaline fueled ascent with lots of bang for your buck (It really reminded us of Acadia National Park in Maine).
At the top we soaked in the sweeping views of Wineglass bay and lamented that we didn't have enough time to tackle an overnight hike along the beaches.

Binalong Bay and the Bay of Fires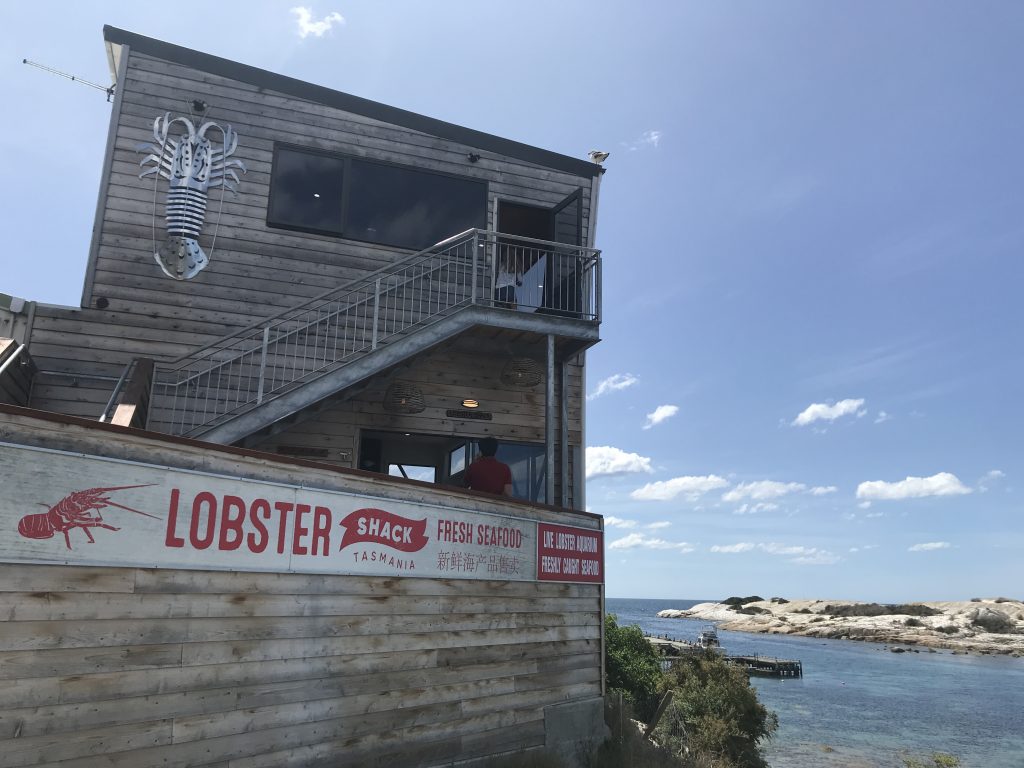 From Freycinet we continued north along the coast past Bicheno for a quick seafood meal at the Lobster Shack Tasmania. The food was as good as the views.
After lunch we headed towards St. Helens. On this stretch we passed countless signs pointed towards an endless series of sweeping, sandy, and near deserted beaches. At one we watched rays float in the waves near shore before skipping Iron House Brewery and cruising north into St. Helens.
St. Helens is the center of the region and had the grocery store and restaurants to prove it. In the end, however, we didn't find it especially charming and opted to drive just North to the numerous campsites dotted along Binalong Bay and the Bay of Fires.
We ended up poking into 6-7 campsites, most full and some just not as desirable as we'd like, before ending at Sloop Reef Campground. We pulled in and took the left fork in the road down to one of our favorite campsites of the entire trip. A pristine sandy beach stretched north for miles towards Eddystone Point and we found a tent-only site (the first one on the right as you drive in) perched above the famous red rocks of the region just above the ocean and watched a glorious sunset.
St. Helens to Launceston via Cheese, Lavender, and Wine
The next morning we grabbed a coffee in St. Helens before meandering to the Pyenga Cheese Factory via a highly recommended fifteen minute hike to a swimming hole at Halls Falls.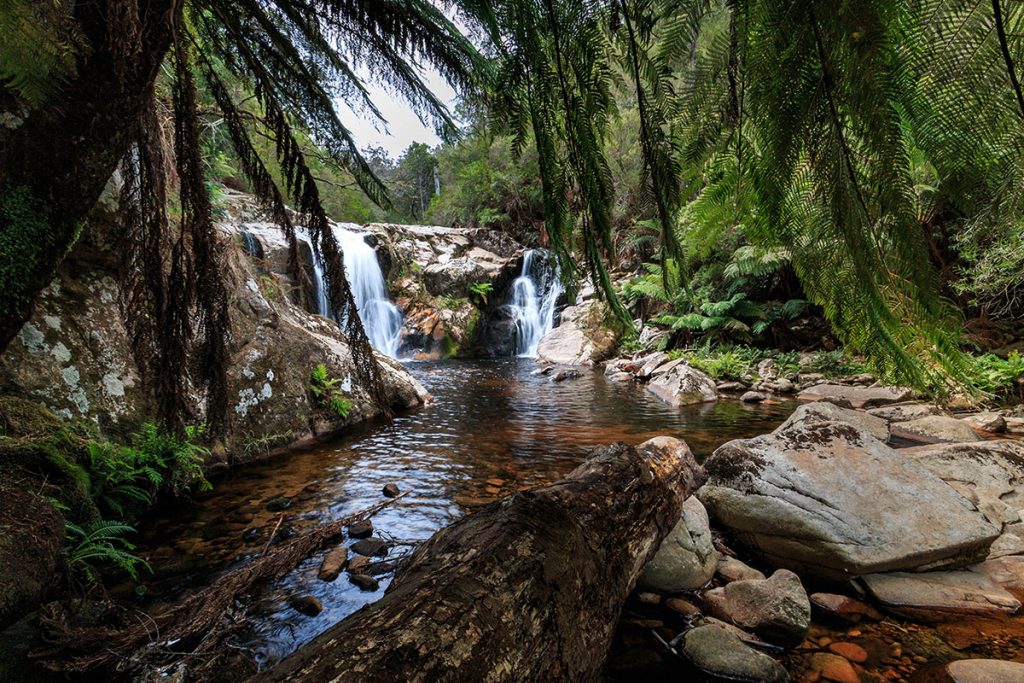 Buoyed by plenty of cheese samples and stocked with some excellent sharp cheddar we choose to meander towards Ralphs Falls rather than head back to the highway.
The road quickly became unsealed as we climbed up an unnamed ridge in an unnamed nature preserve. The going was slow but the views of the lush, rolling pastural valley below was worth it. At Ringarooma the road became paved again and we made good time to our next stop: the Bridestowe Lavendar Estate where we also met back up with Cameron.
While the mid-day light and slightly-too-late-for-blooming-lavendar timing made the sometimes majestic purples a little muted we still enjoyed the sweeping views and delightful yet subtle scent of lavender in the air. And the homemade lavender ice cream was magnificent.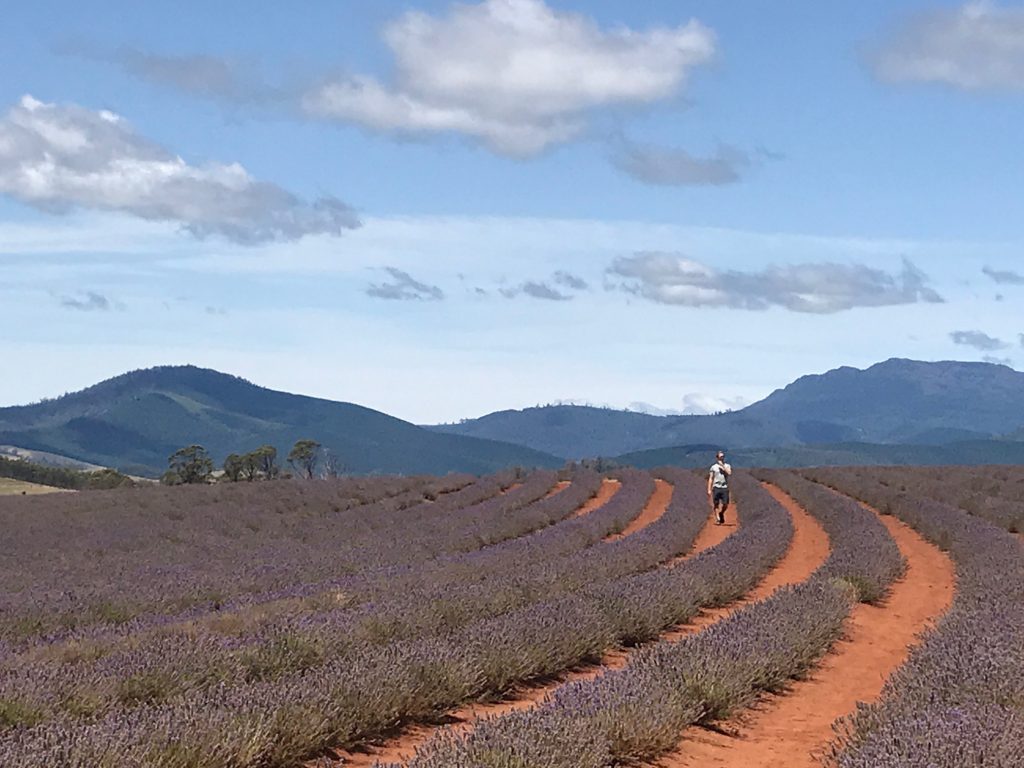 Wine in the Tamar Valley
Lying just north of Launceston, the Tamar Valley is arguably Tasmania's largest wine producing region with over 30 vineyards in close proximity to one another.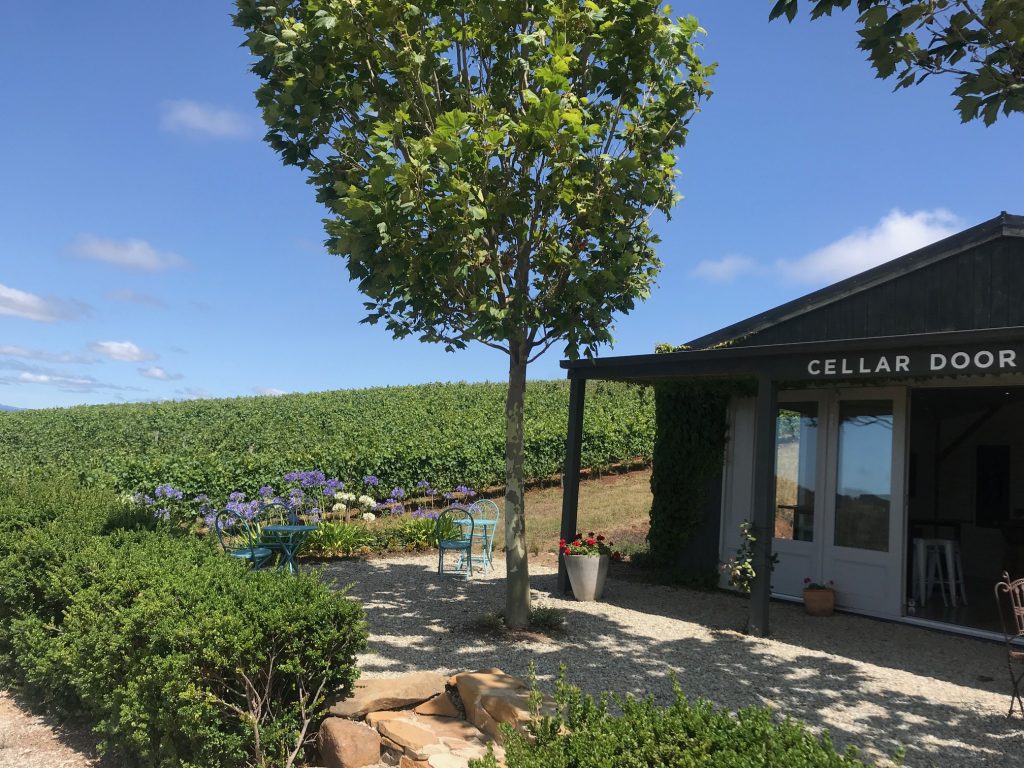 We opted to stop at two, one of which Sinapius Vineyards offered one of our favorite tastings ever. We learned a lot about the terroir and history/people of the region.
And the wines here combined fun and sophisticated. From a zany orange wine to three classic pinot noirs (each is made in the exact same way but taste completely different due to the different soil and microclimates found on the small ridges of the estate) we cannot recommend this vineyards enough.
Filled with cheese, lavender, and a little wine we drove into Launceston and topped the day off with beers at a pub and truly excellent Indian food at Cinnamon (which also has a Hobart location). It was a good end to the East Coast portion of our Tasmania road trip.