Queenstown, New Zealand is jaw-droppingly beautiful even from the first glimpses you get as your plane lands. It is nestled in the Remarkable mountain range on Lake Wakatipu, and provides the perfect jumping off point for exploring both Mt. Aspiring and Fiordland National Parks. We spent 5 days in Queenstown and were instantly enchanted by the gorgeous mountain views in every direction. Here are our recommendations for what to eat, drink, and do with a few days in this alpine gem on the South island.
Eating
Tanoshi Iko

: We had delicious ramen here on a chilly day. I loved the tan tan men spicy broth, and the shouyu ramen helped soothe Victor's sore throat. The guys next to us ordered a dumpling platter which looked so good we fantasized about it during our Routeburn trek, and went back for it as soon as we got off the trail. The dumplings did not disappoint! They also have sashimi, bentos, and a sister restaurant (Tanoshi) a couple blocks away. Both restaurants serve a variety of sake, which we also enjoyed.

Pedro's House of Lamb

: This place is a total gem! They only have one thing on the menu: lamb shoulder with roasted potatoes ($50NZ). As you drive around New Zealand, you'll notice that they specialize in sheep, and Pedro's is a great example of the national delicacy of roasted lamb. It serves about 3-4 people (or 2 hungry hikers), and the lamb was fall off the bone tender. Pedro's is about a 15 minute walk out of the center of town. We recommend taking a 5 minute Uber to Searchlight Brewery, filling up a growler, and enjoying it at Pedro's on the way back into town. While the lamb roasts all day and is ready on the spot, you can reach Pedro at 800-NZ-LAMB.

Hawker and Roll

: We loved the Malaysian eggplant roll at this sandwich spot. The bread wrap was flaky and soft, the eggplant and sauces were flavorful, and there were lots of greens on top. We didn't love the chicken one as much, but want to return to try the pulled pork.

Smiths Craft Beer House

: We had burgers here twice, and loved both their classic and their award-winning pulled pork sandwich. All burgers come with thick-cut, crispy cajun fries that will have you licking your fingers.

Fergburger/Fergbaker

: We didn't try the famous Fergburger itself because the line was always out the door. However, their bakery next door had delicious scones, breads, and traditional pies (steak and cheese…yum!) which we did enjoy.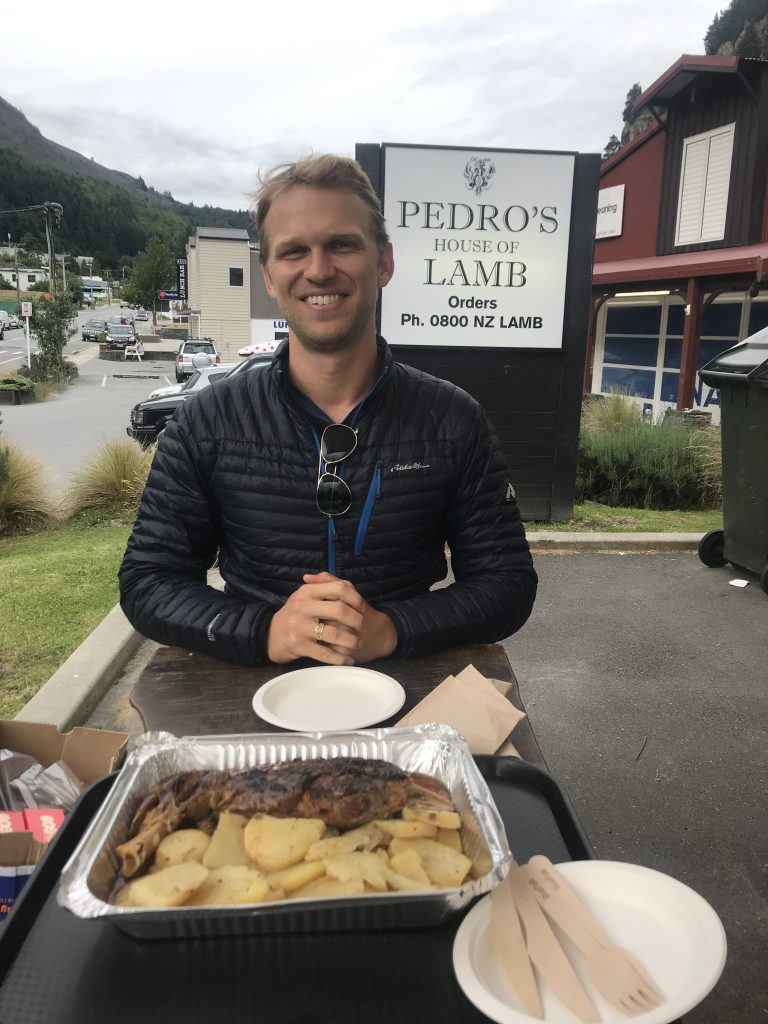 Drinking
Searchlight Brewery

: This place is a 20 minute walk from the center of town, but it is totally worth it! We loved every beer in our flights, especially the Mix Master Mike Dry Hopped Sour, Iggy Pop NZ IPA, Hugh Hefe, So Long Saison, Milk Stout, Vanilla Ice Spice Baby, and the Cerveza Negra. We even took home a growler of the Belgian Blonde.

Smiths Craft Beer House

: This place had a great selection of local New Zealand beers, especially a range of sours when we were there.

Atlas Bar

: This place also had good local beer on tap. Unfortunately, only some liquor stores and breweries can fill growlers in NZ because of strict licensing laws, so we couldn't fill our growler here.

Pub on Wharf

: We went here when we needed a spot to watch the Ravens (crash and burn) in their playoff game. They had big TVs (including one on their awesome wharf-front patio!) and really good food. We enjoyed both the Caesar salad and nachos (and we are discerning connoisseurs of both those dishes).

Wet Jacket Wines

: Wine, beer, cheese…this place does it all! The owner developed serious wine-making chops while launching several successful vineyards elsewhere in the Otago region, and this is his latest (and most casual) venture. It is about 15 minutes from downtown Queenstown near Lake Hayes. You can sit on their sunny lawn, enjoy their wine and beer, do a cheese tasting, or grab a taco from the on-site food truck. Needless to say, we loved our pit-stop here!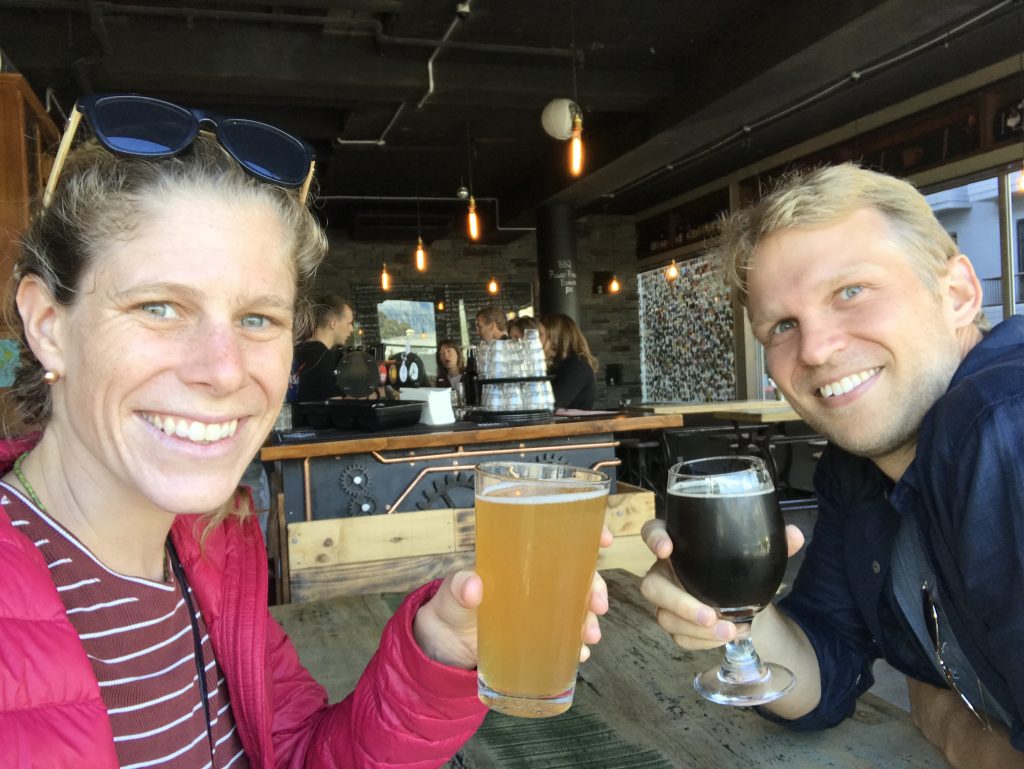 Tramping and Fitness
Ben Lomond Track

: This 11km hike was the perfect warm up for Routeburn! The gondola chops off a large chunk of your vertical climb, and the whole route provides panoramic views of the Remarkables and Lake Wakatipu.

Mt. Crichton Loop:

This was a lovely 2 hour walk that winds through an old gold-mining valley, up through a manuka forest, and then reveals a beautiful view of Lake Dispute.
Queenstown Gardens: This botanical garden on the bank of Lake Wakatipu is a great place for a jog. You can also extend your run by taking Seven Mile Point Track along the lake.

Routeburn Trac

k: This Great Walk requires advance booking in the high season and transportation to/from one of the ends because it is a point-to-point trek. However, it is totally worth the planning and the leg work! If you are lucky with weather as we were, the ridge between Lake McKenzie and Harris Saddle provides uninterrupted views of snow-capped peaks. Most people do the hike in 3 days, but it can certainly be done in 2 with one longer day between The Divide and Routeburn Falls Hut.

Queenstown Gym

: We worked out here twice because our hotel gave us free passes. Apparently, about a dozen hotels in town have this deal, so check whether day passes are included before booking your Queenstown accommodation. The gym has 2 big rooms of well-maintained cardio and weight equipment, clean bathrooms with showers, and classes a couple times a day.
Amazing ridge views from the Routeburn Track

Glimmering blue water on the home stretch of Routeburn
Shopping
While Queenstown is an alpine adventure paradise, it can be pricey to get all your gear in town. We were in need of a variety of backpacking items, so here are our recommendations of affordable and high-quality places to shop.
Outside Sports

: This was the best upscale outfitter we found in town. It had a great Icebreaker selection (NZ's top tier brand of outdoor clothing). However, expect to pay top dollar here.

Torpedo7

: This place also had a nice Icebreaker selection, and we were lucky to catch the last day of a good deal on a North Face rain jacket for Victor.

MacPac

: This place has a high quality house brand and offers good sales. We visited it elsewhere in NZ, as well.

Small Planet

: This place had the best deals in town, and we liked supporting one of the smaller independent shops in town. They also offer rental gear.

Wild South

: If you're in need of clothing for town (not trail), this shop has good looking duds at great prices. It is located in the Remarkables Park Town Centre near the airport.

The Warehouse

: This is NZ's equivalent of Walmart. It is a great place to pick up roadtrip essentials like a cooler, snacks, and toiletries on the cheap.
Bonus! Wanaka
If you've got time to spare in Queenstown, we recommend driving about an hour to the town of Wanaka. The drive itself is worth the trip as it provides stunning mountain views. We hit it at golden hour on our way out of town. The town itself also has a lot to offer!
Ground Up Brewery

: We filled our growler with the delicious Kiwi Pale Ale and also grabbed a bottle of the Alpine Start Oatmeal Stout. We were in a rush, so we couldn't taste more, but would love to return and continue our conversation with the lovely chap who works there!

Rhyme and Reason Brewery

: This place had nice outdoor seating and served food. Our favorite beers were the Go-To Kolsch and the oddly interesting jerk-chicken flavored, Jamaican Me Thirsty Spiced Rum Ale.
Big Fig: This spot is great for tea and coffee, and their salads looked delicious. They have also eliminated single-use plastic cups, and replaced them with an innovative borrowing system!