While we have lots of grand plans for foreign adventures, the first two months of our gap year have actually been spent returning to familiar places and surrounding ourselves with family and friends we don't get to see enough of:
The granite ridges of the Sierra re-kindled our love of the wild and sparked reflection on several pivotal backcountry trips in our relationship (Yosemite, Glacier)
Care-free days in CA with Maddie, Mike, Eve, Kevin, Val and Matt, and Mica's other Park friends evoked memories of school days and endless summers
Time at home with family (Rehoboth/DC/NY) prepared us mentally for departure
A visit to Tripp Lake to visit Anna opened talk of tradition while ticking an important box for Victor in his understanding of Mica
Extended time in Amsterdam with Philip, Roland, Fred, Tisna, the VVZ cousins, and our dear friends Jan and Beth overflowed with gezelligheid (cozy, familial warmth) and prompted discussion of what it would feel like to make a European home
The final ten-day phase of our tour around familiar places and faces has been spent in England. Despite saying goodbye to quality time with so many loved ones as we set off on the more independent phase of our adventure, this week has not been such a melancholy farewell. We are in ENGLAND after all! England–where we fell in love over an idyllic six-week stretch in the summer of 2011.
This time began by celebrating a Sidwell wedding with the whole '05 crew. Victor's childhood friend, Jake, married a British woman, Sophie, amidst the rolling hills and heather of Dartmoor National Park in Devon (4 hours southwest of London). We stayed at a castle/manor house with all of our friends and road tripped past Bath (cool Roman history!) and Stonehenge (honestly, underwhelming) on the way. We also spent a night in Bristol with Mica's friend Laura who she studied with at Cambridge.
I hiked with Joey and Katie in Dartmoor while Victor did his groomsman preparations for Jake's wedding.

Since living together in Magdalene College, Laura and I have met up on the beach in Marseille, in South Africa, in London, and now in Bristol!
Finally, we got to explore London from the cozy, convenient home base of the Kat-Johnson family's lovely flat in Camden Town. London's grunge scene is still alive and kicking in Camden–its canals are splattered with graffiti and the stalls of its outdoor market are filled with skull imagery and black leather.
Throughout the week we largely walked, criss-crossing miles of town on foot each day. We traced old routes (our post-Wimbledon 2nd date drinks at the Fitzroy Tavern, Mica's old building, etc), and enjoyed exquisite cocktails in Shoreditch followed by curry on Brick Lane. Regent's Park was a wonderful home for long runs in the still vaguely summerish weather. Along with stops at the British Museum and the Tate Modern much of our time was spent munching food from Borough and Camden markets–Kappacasein grilled cheese made with raclette is still on Mica's top list of food she's ever eaten, so we went there twice. We paid more homage to the familiar by seeing As You Like It and Henry IV at the Globe–both plays Mica has performed in. Later in the week, we took ourselves on separate theatre dates: Victor loved finally seeing Fid(d)ler on the Roof and Mica saw The Secret River at the National Theatre, a tragic story of British encounters with First Nations in Australia. Overall, we both agreed London felt less foreign to us than it did in 2011 after 6 years living in New York. The 2 cities felt more alike than different, and we kept labeling London neighborhoods with New York equivalents (ex: Camden Town is the East Village and Shoreditch is Williamsburg).
After a lovely goodbye dinner at Jake and Sophie's flat with Andy, Alex, Marcus, Hamish and others we have now turned to Bulgaria. Terra incognita! We are excited for the mountains, wine, and (one more) wedding that await us in this new country. But we are also already feeling that in this new phase the weight of what we want to do with this time and get out of this experience will settle more squarely on our own shoulders. It will be what we make of it and–oddly–we are finding that that's requiring more discipline and structure for ourselves than you might expect.
What's next? In our upcoming travels, we will see friends briefly in Bulgaria, Hong Kong, and Laos, but from here on out everywhere on the itinerary is a new place for both of us!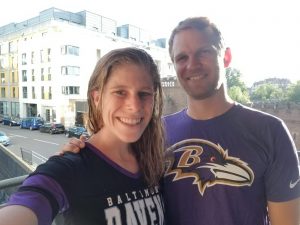 P.S. The Ravens started the season with an INCREDIBLE showing from Lamar Jackson and a varied array of receivers and tight ends! We will continue to tune in no matter what time zone we are in. CAW!