I, like most, have grown up with the photos and mystical lure of Angkor Wat. It was enough background to know I wanted to go there, but not enough to know much about the 1,000 year Khmer Empire that spawned the construction of so many monumental temples.
But with a 40 hour window of time between Vietnam and Indonesia off I went to explore (with Mica heading to Singapore and our first time apart in ~3 months).
Angkor Wat met expectations. The temples were magnificent, alluring, and certainly crowded.
But my overall time in Siem Reap far exceeded what I hoped to get out of it. This was because of three factors:
The immediate friendliness of the varied Cambodians I met
Enjoying the vibe of the city of Siem Reap (which seems to be a love/hate thing for many)
A few decisions I made of what to do/see and how to get around that set the stage
If you want to know how to maximize your time in Siem Reap, read on.
What to do when you first get to Siem Reap
By the time I secured my Cambodian visa, cleared customs, and made my way into town it was 11:30. In order to meet a few travelers I had opted to stay at a hostel, Lub d'Cambodia. This is a well-run, well-located hostel with many private rooms, a nice pool, and good breakfast and is a solid option among the many in town.
My first and best decision was to immediately rent a bike for the duration of my visit. Having a bike allowed me to quickly traverse the compact center of Siem Reap without burning up my limited time walking or hoping in and out of lots of tuk-tuks. Plus, I love biking. If you are nervous about the traffic or practicalities of biking, my experience is that traffic was mild and drivers well-attuned to bikes. This was especially true outside of 4-5 streets on the main drag. The only thing that gets some getting used to is how to turn left into traffic :).
Many guesthouses and tourist shops offer bikes. I went with the well-regarded but more expensive Grasshopper Adventures for my rental, largely because I had decided to take one of their temple bike tours the next day and this gave me a discount. I didn't regret the decision to pay a premium as the bike was perfectly maintained and thus allowed me to go fast and navigate the jungle tracks and bumpy dirt roads that abounded everywhere. Bike secured I made a beeline for the Angkor National Museum.
Is the Angkor National Museum in Siem Reap Worth Visiting?
With a $12 entrance and an extra $5 for an audio guide the museum felt overpriced for the region. Nevertheless, visiting the 10 exhibit rooms covering the 1,000 years of the Khmer empire felt vital to maximizing my visit to the region. Even with a good guide the next day, I don't think I would have had near the level of understanding of what I was seeing at the temples in terms of religious and architectural significance. Plus it would have been much harder to follow the rapid-fire information I got the next day if I hadn't visited the museum. The exhibits also covered who built what/when/why and did an OK job on the background of the politics and warfare with the neighboring kingdoms at that time—the latter information was largely absent from the actual temple tour.
In terms of notable highlights, the room of 1,000 Buddhas was truly spectacular (I especially loved many of the small Buddha statues in the various alcoves) and the timeline of the Khmer kings was the most informative area.
Finally, in terms of whether the audio guide is worth it, I think it was. Just don't expect it to be amazing. The narrator was boring, and over 50% of the recordings were exhaustively detailed explanations of single pieces found in the museum that I started skipping over fairly quickly. But the introductions to each exhibit were worthy. All in all, I found the Angkor National Museum to be a highly worthwhile couple of hours and it did a good job putting the temples of Angkor Wat and Angkor Thom into context.
A "Lazy" Non-Angkor Wat Afternoon in Siem Reap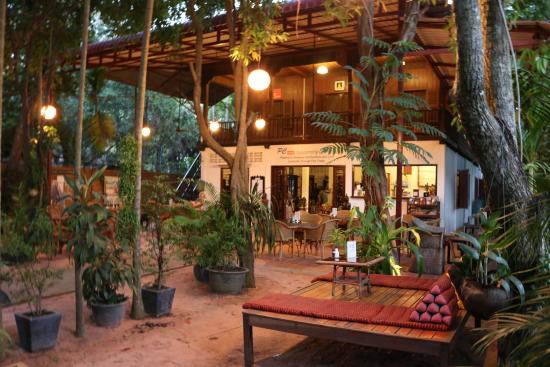 From the museum I crossed the bridge to nearby Peace Café for a late lunch. A fair-trade vegetarian restaurant and shop that holds community events and twice daily yoga classes this is a fun, funky venue recommended by Lonely Planet. The vegetarian Amok I ordered was also excellent and the combination of tables, vibe, and lounge-like sofas in a nice garden makes this a spot you could definitely chill at for awhile.
Hopping back on my bike I headed up towards Angkor Wat thinking I would steal a couple hours of time at the temple and catch a sunset before heading back to town. En route I opted to swing by the Fair Trade Village, a collection of fairly high-quality vendors. It was fun perusing what was on offer, and if you were in a buying mood there seemed to be some reasonably priced quality goods here that certainly exceeded the bulk of what you can find in the more central Night Market.
From the vendors I headed due North towards Angkor Wat on a series of dirt backroads. I was only minutes outside of the touristic center of Siem Reap yet I already felt like I was in a different place, a world of small villages. Laundry dropped from $1/kilo to 15 cents, tourist faces completely disappeared, and kids ran alongside the bike waving and laughing as I passed. It was hard to believe that 500 meters to the West was the good but crowded paved road heading more directly to the temples.
After weaving my way through the roads for 20 minutes I stopped at the Cambodia War Remnant Museum. It looked more like an active but sleepy army base than a museum and I was the only person there. Overall it was a somewhat half-assed museum. It didn't dive super deep into the legacy of the Khmer Rouge, instead focusing more on the UXOs and aftermath of the Vietnam War (which we had encountered in Laos and Ho Chi Minh City) but it was all generally run down. I'm glad I found it and stopped, mostly because it felt so far off the beaten path, but this is easy enough to skip.
Immediately after the museum I got onto the paved road and started biking fast towards the main temples. Minutes later a cop on a scooter waved me down and asked if I had my temple pass. I said no, figuring that I was supposed to purchase them at the actual temples. As it turns out my route had bypassed their traditional ticket checkpoints and the ticket office is actually quite a ways away from the temples, almost back by the Fair Trade Village. Don't make the same mistake I made.
I turned around and headed back to town, figuring I would take a siesta and then try again for sunset. Ultimately, this is exactly what I did, although the bike there and back was a bit further than expected and if I did this again I'd probably tuk-tuk in order to pull this off (Siem Reap to the main Angkor Wat temple is ~10 kilometers one-way).
I refueled at Tevy's Place, a restaurant owned by a Cambodian woman whose entire family was killed in the 1970s. The restaurant purports to focus on training disadvantaged Cambodians in the hospitality industry so I felt good eating there. The food was just OK but super cheap. For better or worth it's also clear this is a well-established backpacker destination.
From Tevy's I found my next gem of a spot in Siem Reap: Angkor Inter Fitness. Five bucks gets you a day pass to this well equipped gym. Even at 8:00pm on a Friday night this place was bumping with a mix of locals, ex-pats, and tourists. I ended up returning here several times and had good conversations with the trainers and some NGO workers. All in all, a fun place and a different insight into the city.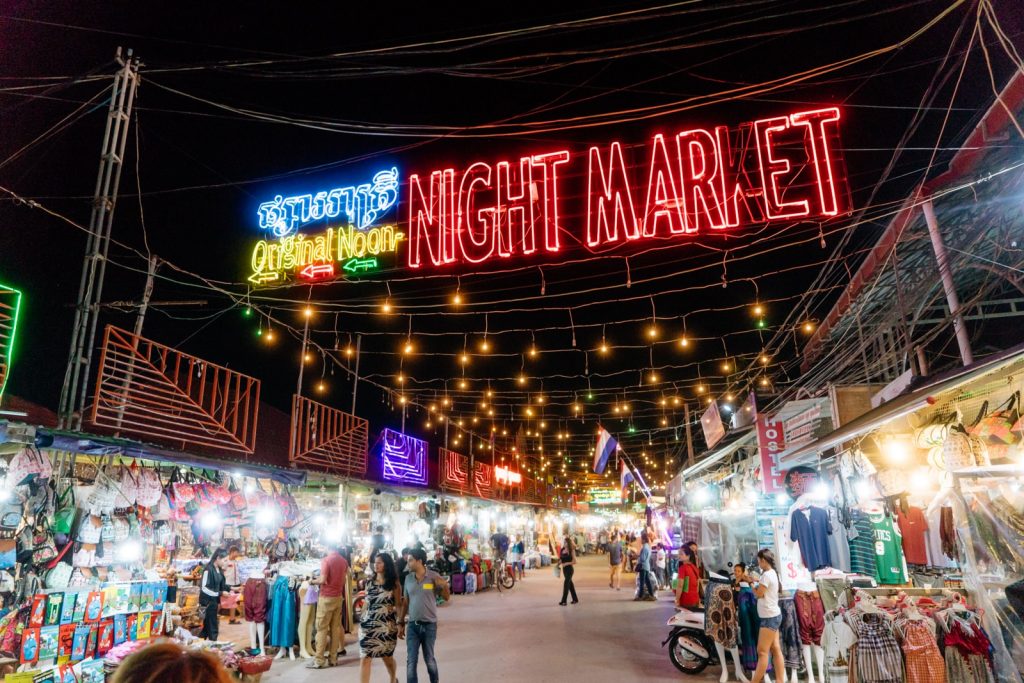 After the night workout I wandered down Pub Street and visited the Night Market. This is the glitzy, touristy part of Siem Reap that people seem to either love or hate. For a casual walk through I liked the noise, the crowd, and the market but could do without having to dodge the furtive yet ubiquitous offer to take me to a "KTV" bar (where the Cambodian sex trade seemingly takes place).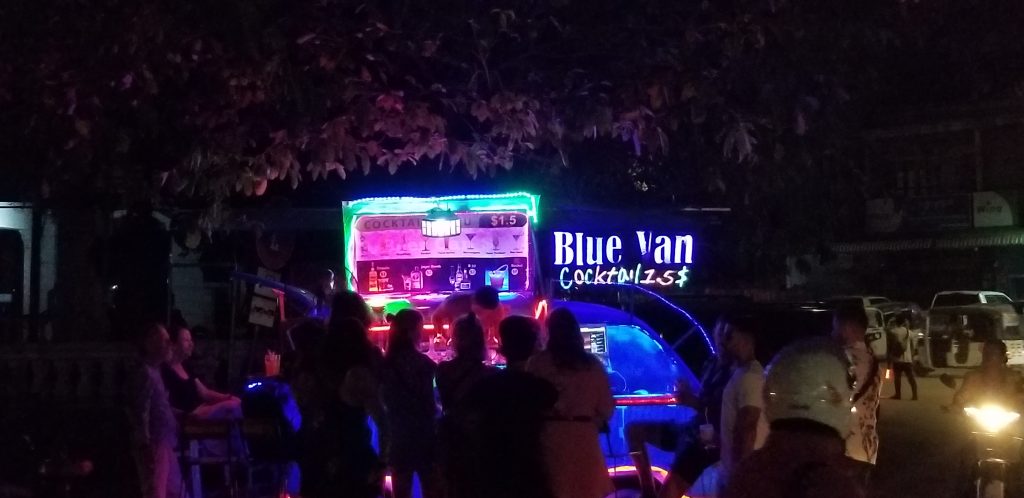 To end my night I ended up getting a drink on the street from a neon blue Volkwagon mini bus bar that was blaring Latin beats and had a fun crowd dancing away while dodging the occasional oncoming traffic. Exhausted and alone I only lasted one drink before turning in for the night.
Visiting Angkor Wat by Bike
For my full-day at the temples I opted to visit by bike (but skipped the popular sunrise option starting at 7:30 instead). In addition to getting some exercise the ride promised to escape some of the crowds by taking narrow jungle lanes between the sites and getting off the beaten path.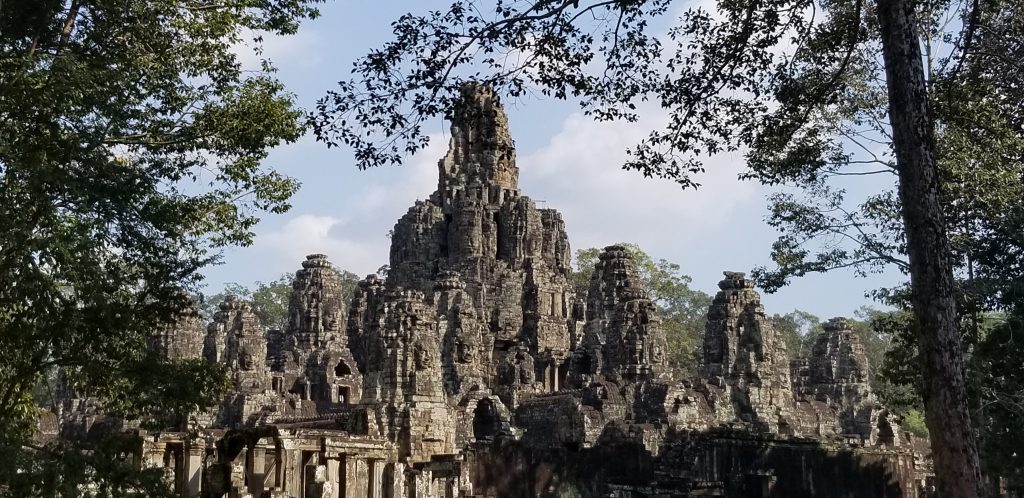 I found the Grasshopper Adventure temple tour largely delivered. The bikes, as previously mentioned, were excellent and our guide was fun, entertaining, and knew way more about the sites and history than I had dared to hope. Lunch and fruit was included and tasty and there was an endless supply of water as well. It was also fun to meet other travelers. My group of 6 ended up being all Americans. Four adventurous women who lived in the DC area who were traveling for 10 days and an Air Force mechanic chief on leave from his station in Korea. The downsides were (a) the pace of biking was quite slow to me, and (b) the temples we visited were the "big 3" of the popular Inner Loop. So while our biking was indeed on empty jungle lanes, when we emerged we were at the same places as everyone else. For a $45 tour I thought there was room to introduce a few less traveled sites.
Overall though, I'd highly recommend Grasshopper Adventures and I thought seeing the temples on bikes was a unique twist to a well-trodden tourist venue.
After a quick nap (we got back around 3) I headed out for an early dinner, this time going to The Sugar Palm, a fancier Cambodian/fusion restaurant that had been featured in at least one Food Networking show for it's Amok. The ambiance here was wonderful and they made a good mixed drink, but ultimately I only enjoyed one of my two dishes here and it was expensive (for Cambodia). If Mica had been with me I think it would have been worth the romantic atmosphere, but for my tired self I probably should have found an empty plastic stool at a hopping street restaurant.
I ended my day with a massage at Cool Sense Spa. While more expensive than the $8/hour places up and down Pub Street the reviews I saw convinced me I'd be getting a really good treatment. And I did. The 90 minute traditional Khmer massage I got was one of the best of my life, and a well spent $20. Obviously I highly recommend this place.
How to Spend a Morning in Siem Reap Before your Flight
I was so beat from the frenetic (but awesome) pace of my last 48 hours that I decided not to set an alarm to bike up to the temples for sunrise. By the time I woke up I actually decided that I wouldn't go back to the temples at all.
After a good workout I instead went and found a haircut and ended up having an amazing experience and conversation with Hatta at her shop Hatta Hairstyle (ignore the online booking system and text or swing by). Hatta had recently returned to Cambodia and had been in Siem Reap for the past two years. Hatta, her roommate, and I chatted the entire time and I learned a lot about the ex-pat clientele she has, the dogs and cats of Siem Reap (she has somewhere in the neighborhood of 4-12 dogs at any given time), and a little about her family. To read about why I love getting a haircut on the road see my post on "Haircut Tourism."
Looking fresh, I went and had a bougie coffee at The Little Red Fox Espresso, which anchors a one block radius of really fun, fresh boutiques of various stripes that are remaking a small part of Siem Reap. This collective has branded themselves Kandal Village. Caffeinated and feeling good, I walked the block popping into every shop and finding some really beautiful work and clothes. Prices were Western-level boutique here (read: outrageous) so I didn't buy anything, but there was no pressure from any of the shops and it was a pleasant way to kill some time in a central neighborhood.
With my flight beckoning I dropped my bike off, showered back at the hotel, and took a Tuk-Tuk to the airport. Getting through immigration was a breeze (no line at all), and the Priority Pass lounge you have access to at the Siem Reap airport is excellent. Spacious, good food, wifi, and alcohol (plus showers if you need it).
As I got on my flight I reflected that this was indeed an excellent 48 hours in Cambodia. Angkor Wat delivered on the promise of interesting history and fascinating archeology while Siem Reap offered a variety of interesting experiences and friendly people. I left wanting to spend much more time in the rest of the country.